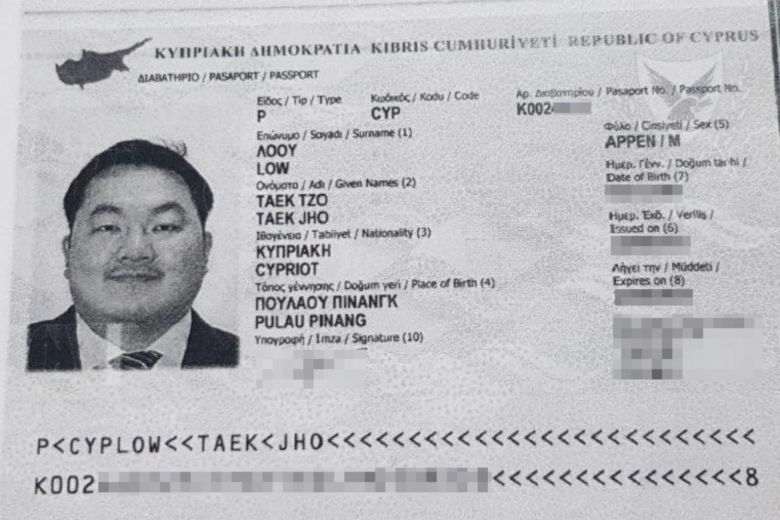 A document published by Cyprus newspaper Politis shows an invoice by Henley & Partners' real estate subsidiary demanding a payment of €650,000 into their Bank of Valletta account in Malta from Malaysian fugitive Low Taek Jho, known as Jho Low.
Jho Low has been named by the US Department of Justice for being at the centre of the alleged misappropriation of US$4.5 billion from Malaysian state investment corporation 1MBD.
Henley and Partners has forcefully denied reports in Cypriot and Malaysian media that Jho Low acquired a Cypriot passport through them. In their strongly worded denial Henley & Partners insist that "contrary to what has been stated in multiple articles, Mr Low has never been a client of Henley & Partners. Whilst he approached Henley & Partners' in 2015, the firm declined to accept Mr. Low as a client. It is therefore false to state that 'Henley & Partners helped Jho Low acquire Cypriot citizenship.'"
But Politis hit back with a copy of an invoice issued by Henley Estates, a Henley & Partners' subsidiary, that appears to be the commission it charged Jho Low on the sale of a $5 million property in Cyprus. The purchase of the property in Cyprus is possibly part of the fulfilment of requirements to obtain a Cyprus passport.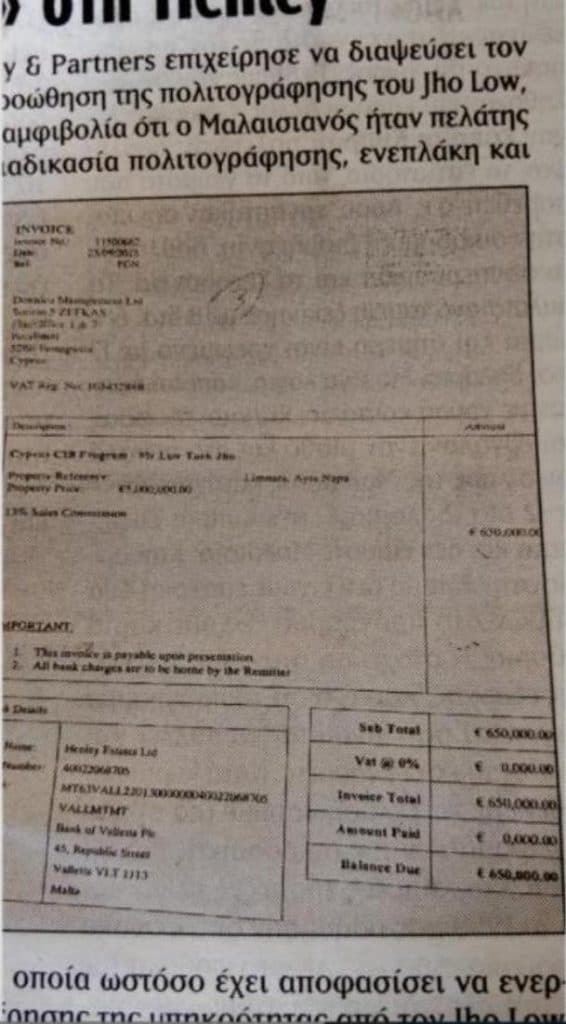 The search for Jho Low and his passports has taken Malaysians through an atlas of little islands in the shadow of Henley & Partners. It is illegal for Malaysians to be citizens of any other country. In August 2018, financial crime blogger Kenneth Rijock reported Jho Low had acquired a passport from St Kitts and Nevis, the same jurisdiction where Pilatus Bank owner Ali Sadr Hasheminejad had acquired his multiple Kittitian identities. There have been no further reports of Jho Low's alleged association with St Kitts.
Singapore's The Straits Times reported last week that Jho Low could have obtained a Maltese passport, a claim Prime Minister Joseph Muscat strenuously denied. Low's name does not appear on any published Maltese naturalisation list not on other unpublished lists seen by this website.
There is a further Maltese connection however between Jho Low, the 1MBD scandal and Malta, that this website reported on in August 2018. A year earlier, in 2017, The Wall Street Journal revealed it had seen emails between Jho Low, the Emirati ambassador in the US Yousef Al Otaiba and the ambassador's business partner, Shaher Awartani. The three were discussing enquiries they had received about alleged payments from entities connected with Jho Low.
Shaher Awartani acquired a Maltese passport through Henley & Partners and was listed a Maltese citizen in the Gazette of 22 December 2017.
The Politis revelations about the possible connection between Jho Low and Cyprus have started a political crisis in that country. The government has stripped 26 passport buyers of Cypriot citizenship and opened a review of all other passport buyers who acquired citizenship before 2018. An independent committee has been set up to investigate corrupt practices by Cypriot officials selling passports to people who should not be eligible to them.
Henley & Partners does not have exclusive rights on the sale of Cypriot passports but the ongoing Jho Low story has put pressure on the company with exclusive rights on Malta's scheme.