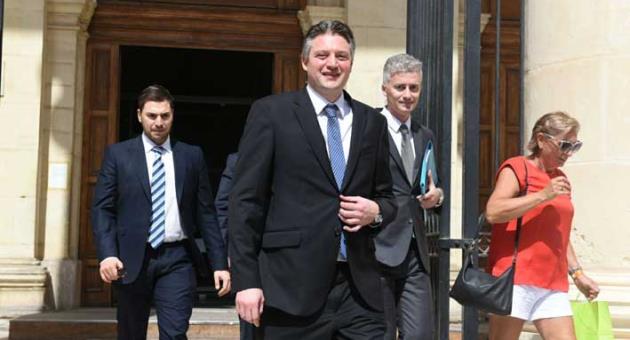 The Chamber of Advocates reacted to my recent blog posts where I wrote about Aron Mifsud Bonnici's triunal roles as Konrad Mizzi's personal lawyer, as Enemalta's board secretary and as an advisor on the corrupt Montenegro deal. The representative body of Malta's lawyers also kick The Shift News because they were the ones to reveal Aron Mifsud Bonnici was travelling to Montenegro with Konrad Mizzi.
This website carried today a right of reply letter sent by Mifsud Bonnici himself. Incidentally, his name is not Aaron, but Aron: that I didn't know this is excusable, since most normal people spell it Aaron, but the Chamber don't seem to know how to spell their own colleague's name either.
The Chamber of Advocates made the statement later in the day.
They said that this website and The Shift News:
give the impression that Mifsud Bonnici appears to have acted in his personal capacity and not as a lawyer and there are allegations or inferences about him based on the fact that Konrad Mizzi was his client.

The Chamber of Advocates reminds that a lawyer acts for their client. When a lawyer signs judicial acts on behalf of their client, they would be expressing the position of their client; if they are advising their client, they cannot be equated with the decision their client takes. It is not right to attribute to the lawyer, allegations that one may make on their client because that might tamper with the lawyer's professional status simply because of what their client may have done wrong.

The Chamber of Advocates condemns without reservation, any act that can in any way equate the lawyer with their client, and to use this as an excuse to criticise without restraint a member of the legal profession fulfilling their duties as a lawyer. The serious journalist should recognise that the role of a lawyer in a free society is to defend and safeguard the interests of their clients and it is therefore not acceptable and one can never justify attacks on a lawyer simply based on their fulfilling their duties in accordance with their oath.
Thank you Chamber of Advocates for that lesson in the ethical conduct of lawyers. And thank you for even attempting to teach me what a serious journalist should or should not be doing.
But I receive your statement with utter contempt and here are my reasons.
Firstly, Aaron, sorry, Aron Mifsud Bonnici was not Enemalta's lawyer. He was the secretary of that company's Board of Directors. The fact that he is a lawyer by training may help him advise the Board on procedural matters but that's just a matter of convenience. His function there is to support the Board of Directors and the Board of Directors' job is to defend and represent the interests of Enemalta first, and its shareholders and stakeholders second.
He served this role at the same time as he was Konrad Mizzi's advisor, including, as it appears, as his advisor when negotiating the scandalous Montenegro contract.
The Montenegro contract was not in Enemalta's interest. Enemalta paid €10.3 million for a business that 18 days earlier cost €3.5 million. Enemalta was shafted. Konrad Mizzi stood to make a killing because the difference in price was pocketed by a company – 17 Black – that promised Konrad Mizzi's Panama company €5,000 a day as a kickback.
The interests of Enemalta and the interests of Konrad Mizzi were divergent. Whose interests was Aron Mifsud Bonnici serving?
Secondly, the fact that a lawyer acts on the instructions of their client does not excuse the lawyer for conducting wrongful or illegal acts on behalf of that client. If Konrad Mizzi knowingly overspent Enemalta's funds to pocket a part of that over-spending and share some more with friends, it is legitimate to ask what Aron Mifsud Bonnici knew when he assisted Konrad Mizzi in the Montenegro deal. Especially since as secretary to the Enemalta Board appointed to the position by Konrad Mizzi and as personal attorney to Konrad Mizzi he may have been in a position to learn more than he is obliged to let on.
It is correct that one cannot equate the lawyer with their client. But if a lawyer executes illegal instructions on behalf of their clients they would be doing their own equating.
Thirdly, the Montenegro deal is an egregious waste of public funds and, as Prime Minister Robert Abela described it, a "disgusting" occurrence of corruption that was enough to justify the exclusion of Konrad Mizzi from his parliamentary group.
Konrad Mizzi's lawyer is not guilty by association. But the scrutiny of his conduct, even if he belongs to the legal profession, is a matter of public interest. And speaking for this website, and I hazard to dare to speak for The Shift News as well, we will not shy away from pursuing public interest stories simply because they might involve a member of the legal profession.
Fourthly, Aron Mifsud Bonnici is, no doubt, a lawyer. But he is also himself a political figure in the wider sense of the phrase. His conduct is transparently a legitimate subject for scrutiny by the press, including 'serious journalists'.
Fifthly, any serious journalist should indeed, as the Chamber demands from astride its high horse, recognise the role of a lawyer in a free society to represent the interest of their clients. This website assures the Chamber this serious journalist appreciates that role, perhaps more than most.
A serious Chamber of Advocates, on its part, would recognise the role of the journalist to investigate and denounce wrongdoing by whoever commits it, and this is particularly the case where public officials act to serve and service private interests. As secretary to the Board of Enemalta plc, a company almost completely owned by the Maltese public, Aron Mifsud Bonnici was an officer of the company owing a primary duty to his country. If he felt conflicted because of his duty as lawyer to his client Konrad Mizzi, he had the ethical obligation to choose one role and leave the other.
It would be interesting, while on the subject of professional ethics, to hear the views of the Chamber about a lawyer who is in a position to be privy to the innermost deliberations of an entity that has a significant proportion of its workforce represented by a union that is a major client of that same lawyer.  To my knowledge, Aron Mifsud Bonnici, throughout his tenure of office as Board Secretary to Enemalta plc was (and remains) the General Workers' Union legal advisor.
Sixthly, the nature of the relationship between Konrad Mizzi and Aron Mifsud Bonnici is also relevant here. One understands a purely professional relationship between client and lawyer. But one cannot ignore the fact that Konrad Mizzi handpicked Mifsud Bonnici for publicly remunerated office outside the legal context.
A Times of Malta investigation had found that the Mifsud Bonnici firm, which includes Aron Mifsud Bonnici and his wife Katrina Borg Cardona, received more than €200,000 worth of direct orders from departments and entities falling under Dr Mizzi's responsibilities between 2013 and 2018.
Aron Mifsud Bonnici was board secretary of at least nine public entities, in most cases nominated to the post by Konrad Mizzi. Aron Mifsud Bonnici was also heavily involved in Projects Malta and Projects Plus when these were in Konrad Mizzi's political competence.
When Aron Mifsud Bonnici discontinued acting for these two companies, Konrad Mizzi replaced him with a junior lawyer from his office, keeping the income in the firm. This in spite of the fact that she was a relatively recent graduate with a focus on family and employment law. She was also appointed as board secretary of the Mediterranean Conference Centre when Konrad Mizzi was tourism minister.
The other partner in Mifsud Bonnici Advocates, Katrina Borg Cardona, was also given various public appointments by Konrad Mizzi. She was appointed to the board of directors of Air Malta and to act as board secretary of the Selmun Palace Hotel Company Ltd and the Grand Harbour Regeneration Corporation, Malta Industrial Parks and Keys Security Services Ltd. And she was the lawyer to Malta Enterprise and Projects Malta, where her firm's associate was board secretary.
This makes Aaron Mifsud Bonnici an effective extension of Konrad Mizzi's political will, a fact that cannot be ignored in any examination of his conduct.
Lastly, I find the behaviour of the Chamber of Advocates disturbingly inconsistent.
When Jason Azzopardi recently represented Repubblika in its efforts to protect the interests of refugees and the prime minister, no less, attacked Azzopardi for this, letting loose the rage of his party's media and its trolls, the Chamber of Advocates, at least as far as anyone can ascertain, said nothing in that lawyer's defence.
In view of this grotesque inconsistency, this website will wait for the Chamber of Advocates to examine the 'seriousness' with which it conducts its own business before taking lessons on serious journalism.