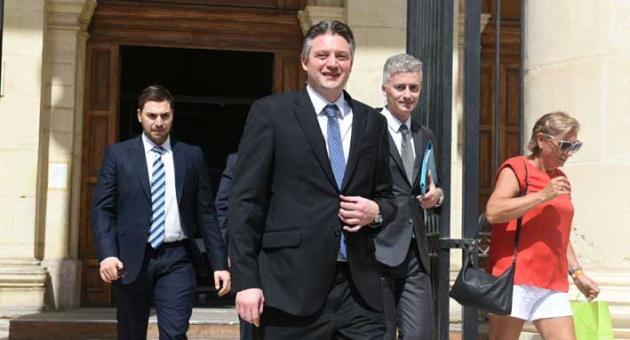 Last Friday I published this post reacting to the Reuters and Times of Malta story about corruption related to Enemalta's spending spree in Montenegro. I pointed out that someone at Enemalta is responsible for taking the decision to spend over €10 million in a purchase of a property that 18 days later had changed hands for a third of that.
And I wrote this:
"Stop there for a minute. Even if you understood nothing more than this, this is screaming criminal. Chairman Kevin Chirchop, Deputy Chairman Sheng Baojie, Directors Yongxin Gao, Salvu Sant, James Piscopo and Ingrid Zammit Young and Secretary Aaron Mifsud Bonnici are responsible for the proper governance of Enemalta plc. These people are personally responsible to protect the interests of the shareholders of Enemalta. They authorised the expense of the eye-watering sum of over €10 million for something they could have bought for €3 million two weeks before."
This comment provoked the wrath of Charmaine Craus, Communications Coordinator in the Ministry for Energy and Water Management: that's Michael Farrugia's ministry. She wrote to me and said:
"Please note that the part where Enemalta board members were mentioned is factually wrong. This was not the same board who took decisions at the time. In view of this, please remove the names mentioned in the article as they were not the same Directors at the time."
When I asked her who the board members at the time were, she said I should look for that information myself as "I was not employed at the Ministry for Energy at the time".
First, for accuracy's sake, I did do the searching. Enemalta plc was set up by memorandum of association received at the registry of companies on 19 December 2014. The memorandum was tabled in parliament on 21 January 2015 by opposition MP Mario de Marco.
It lists Frederick Azzopardi as Chairman, and Stephen Agius, Salvu Sant, Saviour Zammit, Kevin Chirchop and Jonathan Scerri as Directors. And Aaron Mifsud Bonnici, Konrad Mizzi's personal attorney, as Company Secretary.
That was before the sale of part of the holding of the plc to Shanghai Electric. The board changed slightly in January 2015 with the following members added to the above list: Ji Sun as Deputy Chairman and Yongxin Gao as Director. All other members remained in place.
Now that's cleared, some observations.
Firstly, the present board members are obliged to protect the interests of shareholders and to keep them informed about what they're doing now that it emerged the company they are responsible for bought something for three times its real value. So instead of chasing journalists to remove any suggestion they were part of the decision when it was taken, their job right now is to tell us what they're doing to fix this and get that money back.
Secondly, Salvu Sant and Yongxin Gau were indeed Directors throughout this time and still are there. Perhaps Charmaine Craus can tell us what explanations they are given their colleagues.
Thirdly, and most importantly, Aaron Mifsud Bonnici was Company Secretary throughout this period, was also personal attorney to Konrad Mizzi, and negotiated in Montenegro this rotten deal. Aaron Mifsud Bonnici still, in theory, reports to the present board, and his answers to their questions interest all stakeholders of Enemalta. That's you and me both as tax-payers and as consumers.
A final footnote for Charmaine Craus. In 2015 I did not work at the Energy Ministry either but just because the Minister who hired you was fucking over some other government department in 2015 does not mean you can abdicate your job and not provide answers about your ministry when they're put to you.
Therefore, here's a reminder of an outstanding question from my last email to you which so far you have proceeded to ignore. Did the Enemalta board discuss the decision to purchase the shares in the Montenegro project? If yes, how many times? And for each please provide relevant extracts from the minutes.