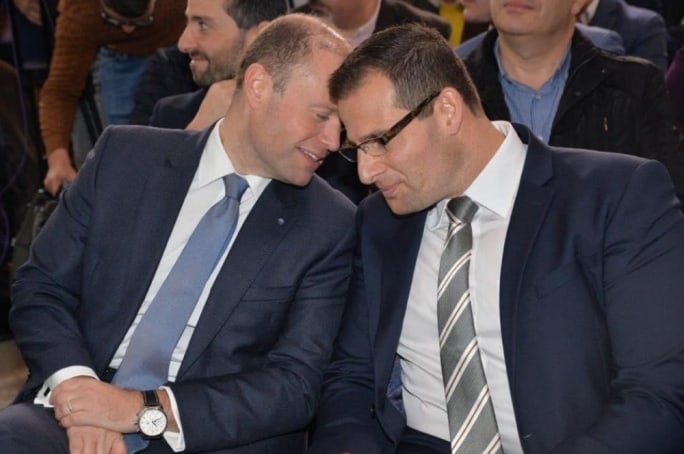 Robert Abela, newly crowned Prime Minister of Malta, must be either a naïve, wet behind the ears politician or a scholar of Machiavelli's political thoughts. He thinks that by kicking out of the Partit Laburista Chris Cardona and Konrad Mizzi all his troubles just faded away like an early mist when hit by the sun. Earlier this week he read like we all did, or perhaps he already knew, that the corrupt man of the year 2019 Joseph Muscat, will be hanging his political boots forever. Hopefully.
Joseph is ready to leave centre stage, his financials secured and very well hidden. He can now live in luxury. He said it himself: "To go into elected politics, you have got to be a missionary, a thief or just plain mad." Everybody knows that his is not the stuff of missionaries, no one can say he is mad, so that leaves us with 'thief'.
Abela is mistaken, totally. Nothing has been changed and nothing will change until all those involved are not only out of the way but behind bars serving their sentence for the horrendous execution of Daphne Caruana Galizia, the mess that they put Malta in and for all their ill-gained fortunes. Only then can Robert Abela say that he has done his duty, not a single day before. And I very much doubt that he has what it takes to get there.
The note written by Konrad Mizzi after being forced out of the PL has to be read carefully. He is implicitly advising Robert Abela that if he is investigated and taken to Court he will spill the beans. He might and most probably he will because he is the weakest link in the whole set-up. Maybe that is why Joseph Muscat just gave his notice, because in six months there could be interesting developments until he lets go. His spouse will be treading water at Pretty Bay because now she cannot use AFM patrol boats, helicopters and divers giving her a hand underwater.
Angelo Gafà and Alexandra Mamo have a very tough mission ahead of them. They have to clear Malta from the corrupt, thieving crooks that invaded every corner of the island. They have to revert Malta's reputation which was dragged through sewage through Joseph Muscat's roadmap which was carefully planned and executed. They have to not look at faces belonging to politicians like Joseph Muscat, Konrad Mizzi, Chris Cardona, Michael Farrugia, Edward Scicluna or Owen Bonnici, fellow police officers like Lawrence Cutajar, Silvio Valletta and Ian Abdilla, businessmen with loads of money and power like Keith Schembri and Adrian Hillman and the usual suspects – the sundry Neville Gafà, Brian Tonna, Karl Cini, Kenneth Camilleri and a host of others. Angelo Gafà and Alexandra Mamo's allegiance is due now to Malta, not to corrupt people.
Robert Abela, the man who promised 'continuity' keeps defending his mentor Joseph Muscat. He has been repeating that the ex-prime minister did one mistake, that of not taking early action about Konrad and Keith. Maybe he is doing this as he knows that Joseph the Kink is still the hero of thousands of Labour hardliners in the Party. Reading social media comments makes one cringe. But Robert Abela is wrong, Joseph Muscat did many mistakes, errors of judgement or – let's call a spade a spade – corrupt deals.
Mr Prime Minister, Café Premier in Valletta closed its doors from the day after the PL election victory result, with Dr Muscat meeting the Café Premier Director just days after taking oath as Prime Minister. Dr Muscat has also been personally involved in the negotiations for the debts of a private company, and it was he who negotiated a €4.2 million out of the tax-payers' money to be paid to the operators. This was a 'calculated' mistake. A few weeks later Joseph Muscat, as Prime Minister donated Joseph Muscat as Leader of the PL a property, Australia Hall, worth €10 million. Was this also a mistake?
Joseph Muscat travelled to Baku with his 'gang' which consisted of Konrad Mizzi, Keith Schembri and Kurt Farrugia. No media and no civil service personnel accompanied the delegation. In Azerbaijan they concluded a corrupt deal with Aliyev that is costing the tax-payers millions of euro every year, and will continue for the next 16 years. This too was a premeditated mistake. Accepting a €25,000 Bvlgari watch and bottles of €5,000 Petrus wine from someone he knew to be a criminal was also a mistake.
Do you agree Robert Abela ?
We know that Konrad Mizzi informed Joseph Muscat about his Panama account way back in February 2016 and the prime minister accepted it. Two months later Muscat declared that he was 'disappointed' when he heard about Tillgate and Hearneville. Yet he defended Mizzi and even allowed him to run alone for deputy leader of the PL.
Was this an oversight Robert?
Then came the Vitals corrupt deal, again devised by Konrad Mizzi. Joseph Muscat knew about it. In fact a few months before, he had Godfrey Farrugia resign from Minister of Health and appointed Konrad Mizzi in his stead. Maybe another small error of judgement? Like the mistake about the Montenegro wind-farm deal.
You cannot deny that Joseph did not know about it Robert, because he was there, meeting and taking photos with the corrupt Montenegro prime minister Duško Marković.
Robert, you were his advisor, attending Cabinet meetings. You know that this was never discussed at Cabinet level. It was a secret deal which cost the people of Malta millions of euro. Forget the pittance of the €100 voucher.  As Seneca may or may not have said: "to err is human, but to persist [in error] is diabolical."