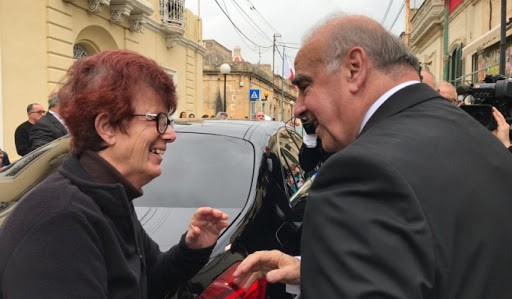 Malta's presidents are expected to behave like the Queen of England. Whatever their opinions on decisions taken by their government, they are supposed to smile politely and assent without comment.
But the Queen of England was bred for the sort of steely ambivalence that she needs to weather any and all assaults on her dignity. Our presidents are invariably former politicians, people who made a career out of speaking their minds. Sometimes the mask of stoic aloofness falls off.
George Vella couldn't bear to stay quiet about a permitted development in the street where his permanent home is. Officially he now lives in one of the presidential residences, but when his term as president is out he'll go back home to Żejtun. His pretty little street is going to be scarred by greedy construction that some would euphemistically call 'development' but is more like wanton destruction.
On a personal level, I have some sympathy for George Vella. Just because he's given his life to public service does not mean he has renounced his right to wail when he suffers personal pain. I thought that a Facebook post by a "George Vella" somewhat undignified and ill-advised. But the emotional grounds for the exclamation are eminently understandable.
The fact is this is happening everywhere. It is not new. It's been going on for decades. Regulatory attempts to slow down the ruination of the country have been inconsistent and despite good intentions, they have often failed.
Instead of making rules tighter, we have given anyone with a wrecking ball and a concrete mixer a license to join in the sack of Malta and Gozo.
I could criticise George Vella for unpresidential behaviour, for making public remarks about a purely personal cause, and for missing every opportunity of his time in politics to restrain Joseph Muscat's methodical demolition of any semblance of planning and conservation.
But in all honesty, I don't have the heart to. If there's a street in Żejtun that could be saved from the stumpy, grey behemoths that now possess our ancient villages like tumours out of control, it hardly matters to me if a former president lives there. One day our children will take their children there and show them what Malta looked like. May it be our Genbaku Dome or our Gedächtniskirche, a memorial to the peace-time bombing that tore down our past.
But more likely, George Vella's objections, like the objections of the rest of us without money to pay the salaries of propagandists working for political parties, will be buried under the rubble of whatever jewel of vernacular architecture will be knocked down to make way for this fresh circle of hellish fletsinijiet.