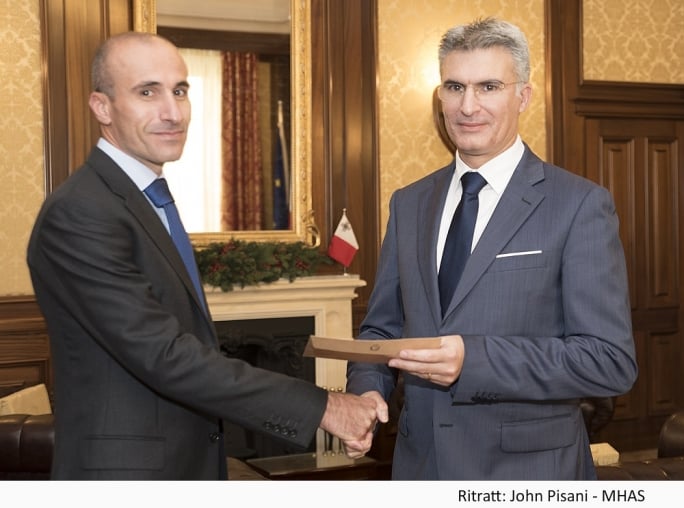 On 30th May 2020, in an adjournment speech in Parliament, Jason Azzopardi said:
"Konrad Mizzi is supposed to be under investigation, which means he should be arrested over money laundering and corruption. Instead he is hatching a plan with Robert Abela to be given a guarantee that the new police commissioner will not arrest and investigate him, and this is why he remains in the UK."
Disgraced former minister Konrad Mizzi had at the time been abroad on a "business trip" since 13th March. On 8th June, the cabinet proposed Angelo Gafà as the new police chief, and bang on cue, Mizzi returned to Malta a day later. This was a sign of things to come.
It was also one of the most cunning decisions by Prime Minister Robert Abela to date. By replacing the carnivalesque figure of Lorry Cutajar with the soft spoken, well-versed Angelo Gafà, Abela had appeased protesters who had long been calling for Cutajar's head. The chess move was bound to work. People tend to give the benefit of the doubt to diplomatic, presentable people. Consider how many protesters, in good faith, perceived Edward Scicluna and Chris Fearne as more honest than their brash cabinet colleagues.
In my humble opinion, civil society and the PN fell for this trap. The consensus at the time was to grant Gafà some time to show his mettle. Granted, this coincided with the Covid-19 outbreak that brought protests to an abrupt end. Still, civil society organisations and the PN hardly ever criticised Gafà in the past year. In answering a direct question of mine in a recent Q&A event organised by the PN, Bernard Grech said that he continues to trust Gafà ("inkompli nisilfu l-fiduċja").
Sometimes I wonder how jealous Lorry Cutajar must be, he who was (deservedly) ridiculed for his inaction, to see his successor getting away with comparable performance. For what were Gafà's achievements in the past year? He replaced the useless Ian Abdilla with the competent Alexandra Mamo, which eventually led to the Times of Malta printing press scandal arraignments (on direct orders by a magistrate). He also arraigned the Tal-Maksar gang (on the strength of yet another plea bargain). What else? I can't think of anything else.
What I can indeed think of is promises he didn't maintain. In his first press conference, he acknowledged that the police force grew detached from the media and promised that this was bound to change. Yet, press conferences and media appearances remained scarce. In the rare occasions he spoke (e.g., the Xarabank interview), he kept repeating that he cannot speak about any investigations, or on people under investigation, or on whether people were under investigation. Which begs the question; what are journalists supposed to ask the Police Commissioner about? His favourite dish? His favourite colour?
Another unfulfilled promise. In an interview with the Times of Malta following his appointment, Gafà claimed that the police were in the process of concluding investigations into a bank and were expected to proceed with court arraignments. Times of Malta ascertained from other sources that he was referring to Pilatus bank. This was 7th August 2020. I am not aware of any arraignments on this case to date.
The Pilatus case is just one of a string of scandals that happened under the disgraced former Prime Minister's helm. Others include the Panama papers, the Electrogas deal, the hospitals privatisation deal, the Montengro wind farm deal, the ITS land deal, and the medical visas scam. Despite all the evidence unearthed by courageous journalists with limited resources and investigative powers, Gafà has not managed to crack any of these cases.
Then there is the murder of Daphne Caruana Galizia. Adrian Vella, the doctor who visited Yorgen Fenech in hospital, reportedly admitted passing on information from Schembri to Fenech. Despite his admission, he remains at large. The same kid gloves treatment is reserved to those other "messengers" who are practically named in every court sitting, as well as the friendly cop, Valletta l-oħxon, who the state fought tooth and nail to keep on the investigation.
Following Prime Minister Abela's grand announcement that no politician is involved in Caruana Galizia's murder, Gafà declared that with the evidence in hand, the police believe that all executors and masterminds have been caught. Quite a categorical statement considering the consistent name-dropping in court of two key figures in Muscat's government.
In my book Angelo Gafà embodies Robert Abela's electoral slogan of #kontinwita. In his probationary year, free from a civil society breathing down his neck, he failed to deliver the "truth and justice" we crave so much. While we remain on the receiving end of the siege, it would be a grave sin on our part to lower our own standards and be satisfied with so little progress. It is therefore high time for Repubblika, Occupy Justice, and the PN to up the ante, and demand a police force that truly functions and delivers.