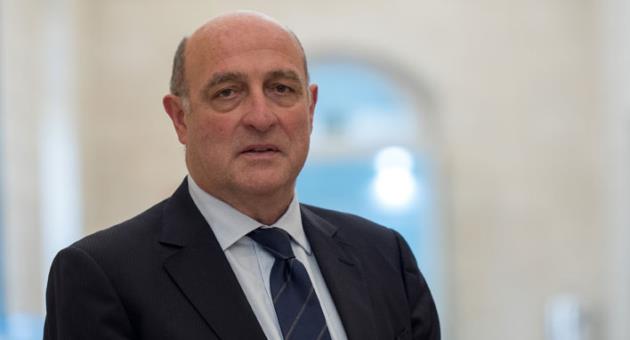 It is to George Hyzler's credit that many interpreted the news the prime minister will nominate him to the court of auditors as a way of getting him out of the government's way. I don't think anyone agrees with all his decisions. He could have taken up cases and investigated complaints he found creative reasons not to.
On the other hand, however, he built the office from scratch, and some of his decisions have set new standards for conduct in public life. His rulings on Carmelo Abela, Rosianne Cutajar, and Justyne Caruana were important and consequential. And would have been more consequential if this had been a normal democracy. It's not surprising that Robert Abela and his colleagues would want him out of the way.
The decision to nominate him to the court of auditors, however, is probably more complicated than 'let's find a nice way of kicking Hyzler out'. Here are a few observations on this:
Firstly, George Hyzler's term expires in October next year and the law does not allow an incumbent Commissioner to have their term renewed. Sooner or later, he will have needed to be replaced.
Secondly, suitable candidates for the EU's court of auditors do not grow on trees. The last two nominees from Malta were humiliatingly rejected by the European Parliament. The government nominated Toni Abela who was rejected, and his nomination was withdrawn. He was subsequently placed on the bench in Malta's courts. At the time the Maltese government could still take a decision like that without restraint.
Then the government nominated Leo Brincat who was also rejected by the European Parliament. The only reason he got the job was that Joseph Muscat persuaded the European Council to overrule the European Parliament and appoint him anyway.
It's not likely they'd do us that favour twice. Robert Abela has probably been advised that the EU would likely reject any candidate whose past includes supporting one way or another Joseph Muscat. No one who looked away from the Electrogas and the VGH scandals, to mention just two, can be trusted to guarantee the integrity of EU spending.
That means the government needed a candidate unsullied by any association with Joseph Muscat. They don't grow on trees. George Hyzler would have been on any shortlist.
If the nomination and approval process for Malta's candidate to the EU court of auditors were to run relatively smoothly, the government would be able to send a positive signal for those reviewing Malta's grey listed status. It would prove a refreshing contrast with the atrociously misguided and counterproductive appointment of Edward Scicluna to the Central Bank (and therefore the European Central Bank). We'll regret that for years to come, particularly if the ongoing VGH inquiry ends up determining that Edward Scicluna has a case to answer in that story.
In summary, therefore, I don't think the story here is in the departure of George Hyzler. The story will be in finding his replacement. Now this is where it gets interesting.
The Commissioner for Standards is chosen by cross-party consensus. The President appoints someone chosen by at least two-thirds of Parliament. Joseph Muscat nominated George Hyzler when the position was first created. Presumably he underestimated the zeal and honesty with which Hyzler would do his job. If I can hazard to apply Joseph Muscat's brand of logic, he will have placed George Hyzler in a "De Marco box" which, Muscat would have expected, would have distanced Hyzler from the interest of the PN mainstream and would have conditioned him not to touch any story that Daphne Caruana Galizia would have worked on. George Hyzler did not oblige.
As Robert Abela comes up with names to replace George Hyzler, he'll be under a lot of pressure from his colleagues and his party to avoid appointing or accepting some "nazzjonalist" in the post that would be appointed by a Labour government only to cause grief to those in their ranks caught ethically short. And ethically deficient Labour politicians do grow like weeds.
This is already known to be a problem in the search of a replacement for Ombudsman Anthony Mifsud, whose term expired months ago. There's a safeguard in both the Ombudsman and the Commissioner for Standards laws that says that when the incumbent's term expires, they are to stay in their post until a replacement is agreed upon and appointed with a Parliamentary two-thirds majority. That's why Anthony Mifsud is still there because Parliament hasn't found anyone on whom they agree to appoint in replacement.
But. Here's the rub. That safeguard does not work if the incumbent has left office before their term expired by resignation or death. If the position is vacated (say because the Commissioner for Standards is successfully nominated to the EU Court of Auditors), then it can only be filled by Parliamentary agreement and until that happens the position remains vacant.
How to avoid filling the position at all? Make some absurd nominations to ensure the Opposition blocks them. Some obvious names come to mind: Emmanuel Cuschieri, Jason Micallef, Karl Stagno Navarra, Jeffrey Pullicino Orlando, Tony Zarb, or some other rabid partisan the PN could never stomach.
And this is where things become problematic. There's no safer way for the government to avoid the scrutiny of a Commissioner for Standards in Public Life than by making sure there isn't one.
That may very well be where the story is.