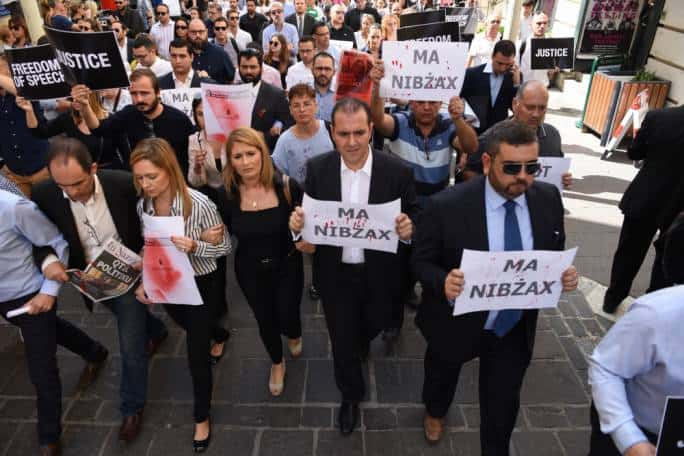 Media in Malta is at high risk of not being politically independent with significant problems in restrictions on plurality and weak social inclusiveness. These are the conclusions of the 2022 media plurality and freedom report penned by University of Malta academic Louiselle Vassallo. Malta's rankings place it among the highest risk jurisdictions within the EU.
The report published today says that political party-owned media remain problematic. It also expresses concerns on the governance, funding and editorial independence of state-owned media.
"The conversation about party-owned media needs to be placed high on the agenda again, with clear and realistic targets." The report also recommends the drawing up of a policy "with a set of clearly defined objectives, and a strategy outlining concrete goals, need to be put forward for public broadcasting, so as to restore, safeguard and strengthen their role as a trusted public service."
The report laments the absence of transparent data pertaining to market shares of media companies, both legacy and digital, advertising revenue, as well as lack of information on print media circulation figures and online activity. These, the report argues, "are the main contributors to the high risk score obtained in the area of Market Plurality. More research and data collection needs to be carried out on a regular basis. Without reliable research and objective strategies based on information gathered, the media landscape cannot be strengthened in a systematic and reliable manner, and, although problematic areas may be identified at present, it is essential for media operators and regulators to have access to accurate, publicly available data that would inform decisions that need to be taken."
This year's media pluralism report carries forward a so-far ignored recommendation from previous years for "the establishment of a comprehensive and independent Media Authority, overseeing all platforms, set up with the input and participation of all stakeholders." The new Authority "would contribute towards improving the Maltese media landscape, and would, not only protect the rights of those who operate within the field, but serve as a determining factor towards improving each sector operationally, as well as strengthening the credibility of its practitioners, by overseeing that expected standards are met by all media houses across all platforms."
Although the report sees Malta score reasonably well in providing fundamental protections to the media, the country is found to have "a number of pressing issues that need attention, especially in relation to Freedom of Information requests, and self-regulation of the profession, as highlighted by the Caruana Galizia Inquiry report. There is an urgent need for cooperation from Government and its agencies in addressing FOI requests in a timely and transparent manner."
The report recommends a wider consultation to be held by the Committee of Experts appointed as a result of the Caruana Galizia Inquiry recommendations, if the latter are to be implemented effectively, "thus involving all stakeholders in creating a safer environment for the journalistic profession and ensuring that effective self-regulation is achieved."
The report is also concerned with how poorly minority groups are represented on Maltese media. There are also problems with access to media for women, media literacy and protection against illegal and harmful speech. "The drafting of a comprehensive media literacy policy has become all the more urgent, if Malta is to start seeing an improvement in all aspects of this area. The educational policy recommendations need to have clear goals and timelines, that include empowering consumers by strengthening their critical evaluation of all media content, as well as significantly reducing any form of hate speech."
The report also recommends that the Broadcasting Authority addresses issues of underrepresentation (ethnic minorities, women, persons with disabilities) and disinformation, not through guidelines, but by means of clear and comprehensive directives that apply to all practitioners.