Conflict of interest is not an absolute. It's not like virginity: you either have it or you do not.
Which is why it is always so controversial. There are lines you should not cross in public life but however real they are, they are invisible. Standards and expectations change over time and normally, one would expect, in the direction of reducing latitude and ambiguity.
Judges should not mingle with people who might be brought before them for judgement. Some judges live as hermits to avoid falling foul of this standard. Others think that would be over the top and accept wedding invitations. Others host parties and get drunk with policemen, journalists and unsavoury characters. There's a point when one has gone over the top in either direction. You cannot legislate the Aristotelian golden mean but you can recognise when someone goes too far off it.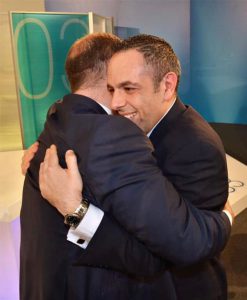 Joseph Muscat this week had to repeatedly assure us his personal assistant Keith Schembri has no conflict of interest.
Keith Schembri's business partner Malcolm Scerri now runs his partners' businesses on his behalf. Government policy is driving plastic bottle recycling. That was while Malcolm Scerri invested in the sector and fully expects to have a dominant position in the sector. We are assured there has been no insider knowledge of the government's plans. We're not assured Keith Schembri will not personally profit from government policy he helped shape.
Keith Schembri's wife owns a company in his group that provides services at the Mediterranean Film Studios. Keith Schembri himself has personally pitched to the government to take over the Film Studios. He controls government policy on its management and how and if and to who it is awarded.
Lo and behold, it's @keithaschembri again! The frontman for his Kasco business interests now wants to get hold of the lucrative plastic bottle redycling business. It's one big feeding frenzy. @BorgJake https://t.co/w80CiGBBJw

— Simon Busuttil (@SimonBusuttil) February 6, 2018
Keith Schembri is the agent for the equipment used by Crane Currency. He controls government policy that crafted the incentives paid to it to open here. Having secured these incentives the value of Keith Schembri's personal client increases manifold and is sold on to new owners. Government policy benefits private interests and both are directly connected to Keith Schembri.
We are expected to consider these as acceptable conflicts of interest. Of course. Joseph Muscat does not think his wife being in business with a partner appointed directly to a representative office job in New York is an unacceptable conflict. He does not think the spouse of one of his Minister appointed directly as Consul in Shanghai is a conflict of interest. He does not think that sons of Ministers appointed to office are a product of conflicted interests. And on it goes.
There was a time when Joseph Muscat considered it unbearably unacceptable for a Minister to accept a gift of a cheap, imitation wall-mounted clock he was too embarrassed to refuse. And now, anything goes.
Because the ultimate conflict of interest is that Joseph Muscat has no sense of judgement when he needs to decide on conflicts concerning his friends, his wife and himself.