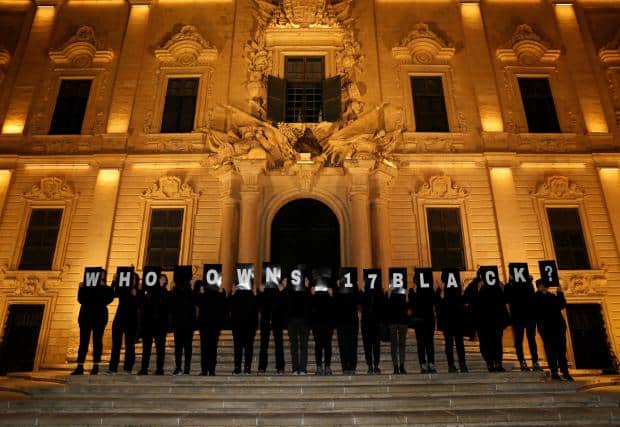 All partners in Electrogas should by now have made clear statements explaining what they knew and did not know about the creation of a Dubai company — 17 Black — and its commitment with Panama companies Hearnville and Tillgate to pay them large amounts of money.
A Reuters investigation has confirmed that 17 Black was set up by Yorgen Fenech of the Tumas Group. In responses to questions from The Daphne Project he declined to say whether he owns 17 Black though he denied any wrongdoing. 
Today another partner in Electrogas, German company Siemens, told The Malta Independent they had nothing to do with 17 Black but were monitoring news coming out of Malta very closely. That does not say much but it's a statement of sorts.
Who's missing?
Electrogas is owned by 3 companies: Socar Trading SA that is owned by the Azerbaijani State, Siemens Project Ventures GMBH and Gem Holdings Limited.
Gem Holdings Limited is a grouping of the Maltese interests in the power station contract. It's owned by 4 entities: 3 companies and an individual.
The three companies represent three of the largest family conglomerates in Malta. Tumas Energy Limited and Gasan Enterprises Limited hold a third each of Gem Holdings Limited. The other third is split further in threes. Two-thirds — that's 23.9% of Gem Holdings is held by CP Holdings Limited for the Apap Bologna family.
Then there's a 9.1% share in Gem Holdings Limited held by Yorgen Fenech personally. With what we know now about Yorgen Fenech's holding 17 Black in Dubai this 10% interest looks curious indeed.
Given what we have learnt so far we deserve some answers. The claim that these are private and commercial matters is unacceptable. Gem Holdings Limited has been awarded a strategic and lucrative contract by the state. It's not like any of us can choose not to buy from them. It's not like we can go to buy electricity from a cheaper power station where we are not being charged to cover suspected kickbacks paid to politicians.
It's probably a waste of time to hope Socar ever answers any of these questions but Siemens and the Fenech, Gasan and Apap Bologna groups should be seated in front of some open inquiry wiping sweat beads right now.
Why is Yorgen Fenech as an individual a shareholder in Gem Holdings? If he is representing the interests of his family why is his shareholding separate from that of Tumas Energy Limited?
Is Yorgen Fenech's personally held shareholding a front for someone else?
When did these partner companies become aware of 17 Black? Did Yorgen Fenech ever disclose the existence of this company to them and the fact that he owned it? Given that 17 Black as the name of a company has been in the news for over a year, are these partners not concerned if Yorgen Fenech never disclosed his ownership of this company?
Can all shareholding companies, and their shareholders in turn, state whether they have ever been aware that a company held by Yorgen Fenech, a director of Electrogas Malta Limited, Gem Holdings Limited, Tumas Energy Limited and of course a shareholder of Gem Holdings Limited in his own right, has been identified as a paying organisation for the Panama companies owned by Keith Schembri and Konrad Mizzi?
Have they have commenced an internal inquiry to establish the facts?
Have any of them ever made payments to 17 Black?
Are they aware of Macbridge — the other company identified as a target payer into the politicians' Panama company? Have they established who owns it or owned it and why it was set up?
Justice is not just about punishing wrong-doing. It's also about getting to be bottom of vitiated, even corrupted public procurement. Every single household in Malta pays for the services provided by Electrogas. Are they paying too much? It would appear that they are and too many people are still laughing.