This is the text of the speech read out yesterday by Daphne Caruana Galizia's nieces: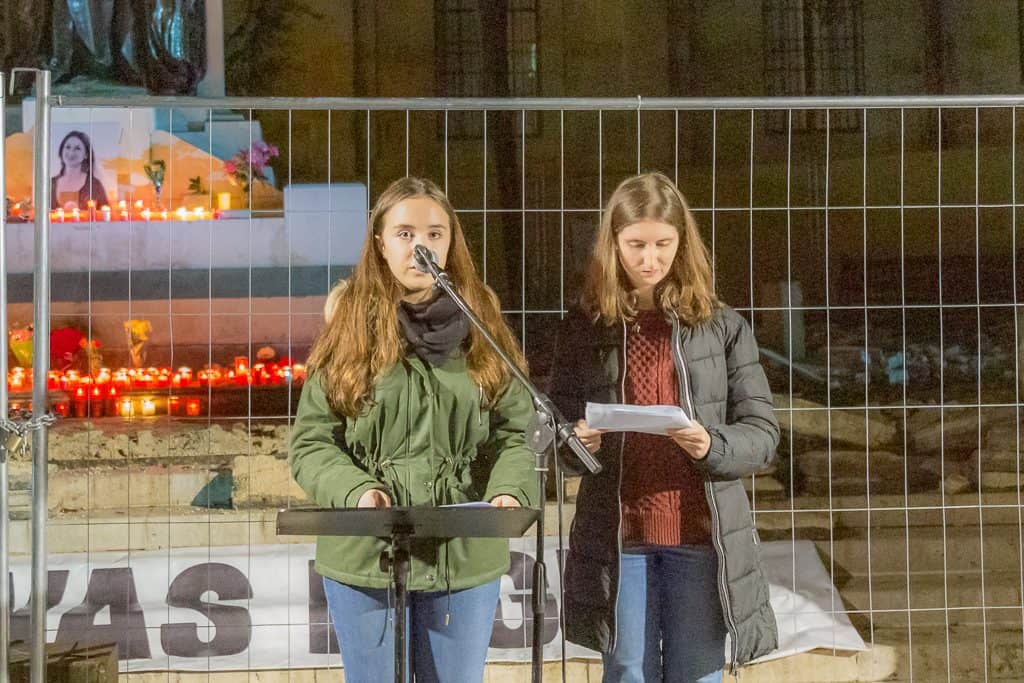 Many question the value of honours and awards for our aunt Daphne when she has already been killed for her work, when those who ordered her assassination are still at large, and when the conditions that enabled her murder remain as desperate as ever.
But as her nieces, we think differently, as does the rest of our family.
Killing Daphne was only one first step in making her disappear.
They try killing her legacy by distorting her work now that she can no longer defend it.  They try to turn the public against her, calling her a "hate blogger", a traitor, a witch. They continually intimidate and harass those calling for justice for her and for her stories, even now.
All of these things are yet another step in their attempt to make her legacy disappear.  A legacy which is a gift to society, and which has inspired many, including all of you here.
The Maltese government has done its utmost to tarnish and eradicate both the memory and the legacy of our brave aunt, after years of her being harassed.  Denigrated.  Dehumanised. Vilified.
But the government does not see beyond the shores of this tiny rock.  
In the thirteen months that have passed since her assassination, Daphne has received several honours and awards worldwide – awards and honours which are important in helping to keep both her legacy and her memory alive.
These are the ones Daphne has received so far:   
14TH November 2017
European Parliament Press Room in Strasbourg renamed "Salle Daphne Caruana Galizia"
14th November 2017
The European Parliament in Brussels announced that a
"Daphne Caruana Galizia Prize for Investigative Journalism" 
was to be awarded annually 
1st December 2017
Holme Award, Sweden
11th December 2017
Honorary Deutscher Reporterpreis for Investigative Journalism, 
by Reporter-Forum, Berlin
14th December 2017
Premio Giornalisti Toscani 2017, by  Associazione Stampa Toscana, Tuscany
December 2017
Pegaso d'Argento, by the Tuscan Regional Council, Florence
21st December 2017
"Person of the year" by La Repubblica newspaper, Italy
5th January 2018
Premio Nazionale Giuseppe Fava "Nothing but the truth", by the Giuseppe Fava Foundation, Catania
3rd April 2018
Tully Award for Free Speech, by the Newhouse School Tully Center for Free Speech, Syracuse University, New York
12th April 2018
Civitas Award, by ANDE, Nocera, Italy
16th April 2018
Astor Award, by the Commonwealth Press Union Media Trust, London
23RD April 2018
Anna Politkovskaya Award, by the Swedish National Press Club, Stockholm
2nd May 2018
Premio Mario Francese 2018, by the Sicilian Order of Journalists, Palermo 
3rd May 2018
A wooden sculpture commemorating Daphne's life and work was unveiled at the European Parliament in Strasbourg on International Press Freedom Day.
It is now on permanent display in the press room there.
5th May 2018
"Difference Day Honorary Title 2018" awarded to Daphne and her family by the Brussels University Alliance, Belgium
18th May 2018
"Conscience in Media Award", by the American Society of Journalists and Authors, New York. (Daphne was just the 13th recipient since 1975.)
23rd May 2018
Contribution to Society Award, by Euronews and the European Business Society at the inaugural European Leadership Awards ceremony, Brussels
29th May 2018
Inaugural award for "Journalists, Whistleblowers and Defenders of the Right to Information" presented by the GUE / NGL European parliamentary group in Daphne's honour
4th June 2018
Award for the Protection of Journalists presented to Daphne's family by the Press Emblem Campaign, Geneva, in her honour
4th June 2018
Inclusion in the Journalists' Memorial during the rededication ceremony at the Newseum, Washington 
9th June 2018
Premio Daphne Caruana Galizia – named in Daphne's memory by Leali delle Notizie, Ronchi dei Legionari, Italy
15th June 2018
Premio Luca Colletti, Rome
21st July 2018
MCCV Annual Award, by the Maltese Community Council of Victoria, Australia
16th September 2018
Gieh il-Mosta, by the Mosta Local Council
11th October 2018
Inclusion in the Reporters' Memorial in Bayeux, Normandy, by Reporters Without Borders
22nd October 2018
Anti-corruption Award, by Transparency International, Copenhagen
23rd October 2018
Portrait of Daphne inaugurated at Salle Daphne Caruana Galizia, at the European Parliament, Strasbourg
28th October 2018
Premio Europeo di Giornalismo Giudiziario e Investigativo, Taormina
1st November 2018
Martin Adler Prize at the Rory Peck Trust awards ceremony, London
1st November 2018
The lights at the Eiffel Tower in Paris were switched off for one minute in honour of Daphne and other journalists on the initiative of Reporters Without Borders, to mark the United Nations International Day To End Impunity For Crimes Against Journalists
5th November 2018
Golden Victoria Award, by the Association of German Magazine Publishers, Berlin
14th November 2018
Forum Mondial de la Democratie in Strasbourg dedicated to Daphne
14th November 2018
Medal of Honour of the City of Strasbourg, France 
 In a way, these honours and awards are yours too – for helping to keep Daphne's memory alive by your commitment in the fight for justice, and for recognising our aunt's work as a contribution to all of us, and her assassination as a crime against us all. 
But no matter what honours and awards Daphne receives, what she deserves most of all – and what we want for her – is justice.
Thank you.