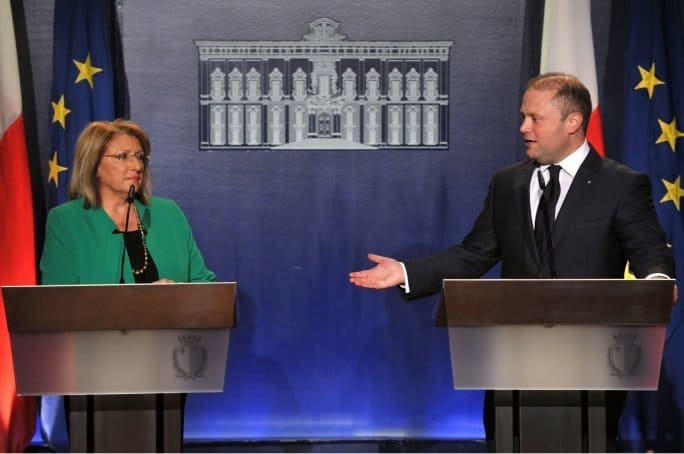 If the President of Malta doesn't want to be criticised for her speeches, she should not deliver any. It is hard enough not to think of Marie Louise Coleiro Preca as just another agent of the Labour Party. Her remarks today about Pilatus Bank are not merely a disgrace to the office she occupies, I think they betray a deeper, more sinister intent of which Marie Louise Coleiro Preca is but a willing accessory.
She was asked at the Oxford Union if Malta learnt any lessons from the Pilatus Bank scandal.
Let's see now. She could have dodged that question by saying it's a matter of controversy and her role does not allow her to speak for the government. However, Malta is a country that is committed to fighting money laundering or some such commonplace drivel.
But of course she wouldn't do that, would she? Instead, she says "Pilatus Bank is closed," a non sequitur if ever there was one. She doesn't stop there: "As yet, there has never been legal proof of what Pilatus Bank was doing".
If you take it at face value that's just the weirdest statement ever to be spoken by a Head of State since John F. Kennedy proudly stood by the Berlin Wall and declared he was a doughnut.
What's "legal proof"? As opposed to what, illegal proof?
Perhaps she meant no crime was ever prosecuted in a court of law and therefore no one has yet been convicted. But if that's what she means, it is a poor reflection on Malta's law enforcement structures which even that interlocutor at the Oxford Union knows about. If anything it means the answer to that question is "no, Malta has learnt fuck all from the Pilatus Bank scandal".
The President's statement, however, is pregnant with much more than our mendacious reluctance to enforce anti-money laundering law.
Marie Louise Coleiro Preca, rather, takes the side of the bank, and the crooks that owned it and ran it, and effectively denies what they have been accused of on their behalf. She does this in the vein of Joseph Muscat and Konrad Mizzi and that client of Pilatus Bank Keith Schembri who say all they are accused of is false because it has never been proven in court. 
Is that what Marie Louise Coleiro Preca means by "no legal proof"? I think it is.
But there's more to this than the surface. 
Ali Sadr Hasheminejad is in New York awaiting trial due in October for 6 counts of bank fraud and sanctions busting. But on his behalf the directors of the bank are suing the Malta Financial Services Authority for massive damages because, they claim, the bank has been taken away from them and shut down "in bad faith, in violation of their constitutional rights, and beyond the powers of the Authority."
Their line is the European Central Bank closed Pilatus Bank down for no reason whatsoever, certainly no reason that is backed up by "legal proof".
Marie Louise Coleiro Preca makes the case for Ali Sadr Hasheminejad in his massive law suit against the government. What better character witness can you have than the President of Malta who publicly and openly repeats his line that there were no "legal" grounds to take his bank away from him and close it down?
This is no slip of the tongue. Simon Busuttil in a tweet encouraged the President to retract her embarrassing statement.
The @presidentMT really ought to rectify or withdraw her embarrassingly incorrect statement. #PilatusBank had its licence revoked, its owner risking 125 years in a US jail, and the FIAU found in breach of EU law by #EBA for failing to act. What else do you need? https://t.co/HsYCy7Wlvw

— Simon Busuttil (@SimonBusuttil) February 20, 2019
He'll likely find the President is not the least bit embarrassed.
It's starting to look like the government is not all that keen on winning the case filed by the Pilatus Bank directors.
There are many reasons why it would not want to win.
A victory in court by the Pilatus Bank directors would not only vindicate them. It would also vindicate Joseph Muscat who continues to insist that the whistleblower and the journalist that effectively brought the bank down — Maria Efimova and Daphne Caruana Galizia — are not credible. They were credible enough for the investigations by the European Banking Authority to find systematic breaches of anti-money laundering laws and for the European Central Bank to shut it down.
But those are "foreign". Read my earlier post about everyone "abroad" being nuts.
Joseph Muscat needs the directors of Pilatus Bank to win an acknowledgement in Malta's courts that the case against them was not "legally proven".
After all the case against them is also the case against him and the Egrant scandal.
Of course, if this is really what is happening, it would be a callous dereliction of the duty of care the Prime Minister has to represent the national interest in a legal dispute like this.
This is not just about the material damages the government would suffer from such a loss which Joseph Muscat cannot be fagged about because he won't have to pay. It is that of course.
But it's also about the can of worms Joseph Muscat is impatient to see open. Ali Sadr and Pilatus Bank had already sued Daphne Caruana Galizia in Arizona for $40 million in damages because she hurt their reputation, such as it was. They also threatened the Times of Malta, The Malta Independent, Malta Today and Lovin Malta with similar lawsuits.
You wanna bet they'll do so again after they win a court decision here in Malta in their dispute with the MFSA?
An Iranian man who lied about his age and his nationality is awaiting trial in America to pay for his old crimes. But our President is satisfied he did no harm here because she saw "no legal proof".
I'm not seeing any legal proof she's giving Ali Sadr a helping hand but I sure can't help believing it.