This is the third part of a series arising from an interview with an ex-staff member at the AUM. Part 1 is here.
'Whenever a theory appears to you as the only possible one, take this as a sign that you have neither understood the theory nor the problem which it was intended to solve.' [Karl Popper]
A quick glance at John Ryder's publications shows his ongoing interest in philosophical pragmatism. This branch of philosophy disputes notions of absolute truths, proposing we act on the basis of our best understanding while aware this information is always incomplete and subject to possible error. 
With no small amount of irony in relation to the AUM, the basic scientific principle for one of the leading pragmatists, Karl Popper, is falsifiability. For any hypothesis to be credible, it must be inherently disprovable. It remains open to scrutiny and can be falsified when more knowledge and resources come into play. Ultimately, the quest for definitive meaning is a search for ghosts. That previous image of the Mary Celeste suddenly springs to mind. 
Go East, John Ryder
As well as being a pragmatist, John Ryder has longstanding connections with Eastern and Central Europe. Beginning his career at the State University of New York (SUNY Cortland), Ryder was co-founder and director of the Project for Eastern and Central Europe. Established in 1994, the project was, and is, designed to develop partnerships between US academics and their colleagues in the post-Soviet regions, including the Caucasus and Central Asia.
In a similar vein, Ryder was the director of the Centre on Russia and the United States from 2002 to 2010 after which he became President of Khazar University in Baku, the first appointment of its kind in Azerbaijan.
In 2012, when his two-year term of the contract came to an end, Ryder became Provost and Deputy Vice Chancellor of Academic Affairs at the American University of Ras Al Khaimah, UAE. Like the AUM, this university is not without controversy. It began as the George Mason University in 2005 with the support of Sheikh Saud bin Saqr Al Qasimi, Crown Prince and Ruler of Ras Al Khaimah. Three years later, George Mason University pulled out after developing a full-degree awarding campus at a university which failed to produce a single graduate.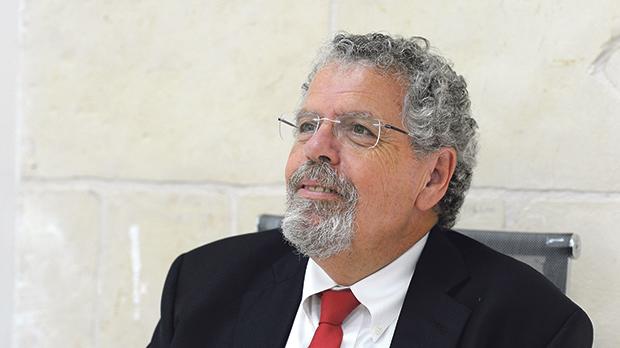 As with the AUM, estimated student enrolment failed to materialise. George Mason predicted 2,000 students in 10 years but there were only 120 when it withdrew from the venture in 2009. George Mason offered its name, expertise and support to the new university but didn't contribute to any operational costs. 
Likewise, DePaul University stated that it provided initial curriculum materials to the AUM but gave no financial resources to the land, buildings, etc. and had no involvement in the selection process for the site. DePaul submitted curricula so that Sadeen Education Investment Ltd could 'receive a license to operate the American University of Malta as an institution of higher education and, subsequently, as a University.'
When the American University of Ras Al Khaimah (AURAK) originally began as the George Mason University, funding came from a government-supported foundation known as RAK Education Company (Edrak). Given that it was established by Sheik Saud bin Saqr Al Qasimi, there's a blurring of distinctions between government-funded and government-run.
In early 2009, RAK Education Company halved its subsidy to the university, refusing to pay the cost of hiring a new Vice President and insisting that the Dean report directly to the foundation rather than the Provost. In addition, the new university still hadn't completed the accreditation process at the local level, leaving students with limited ability to transfer to other institutions. 
As the New York Times observed in its report on George Mason's decision to withdraw: 'In recent years, many American universities have been drawn to the Persian Gulf by lucrative deals in which a local entity – in this case, a government-supported foundation – provides all of the infrastructure and financial support, and the American university oversees the academic program.'
One wonders what drew Ryder to a university which swiftly assumed its title as  'American University' immediately after the actual American university had walked away. Pointing ahead to later events at the AUM, AURAK also engaged in a widespread removal of staff, dismissing two-thirds of its management two years before Ryder joined the team.
Comments on a blog post about AURAK's behaviour include one from a man who had worked there and there are parallels with some of the sentiments voiced by those dismissed at the AUM:  'There is nothing 'American' about the American University of RAK. It is the ill-fated successor to George Mason University's attempt to franchise its name to a UAE campus. At that time one commentator on a teachers' blog described it as "about as authentically 'American' as a Kentucky Fried Chicken outlet in downtown Calcutta". The administration was mostly from the Sub-continent, and two or three of the senior administrators had difficulty producing acceptable written and spoken standard English. I know. I taught there for a while. Most of these people were retained after GMU bailed out. If they have been dismissed recently it is long overdue. AURAK is a dubious institution.' 
Another commentator who personally knew some of the staff writes: 'What happened was also an irony, since the newly appointed was fired earlier in 2006 due to his inefficiency as a director while George Mason RAK branch operated in the same premises. The same guy is now given charge as president to settle his old score to the senior employees of GMURAK who decided to continue at AURAK! The selection of employees to be made redundant was done using a corrupt and biased methodology.'  
Despite this, Ryder was happy to take up his post at AURAK and continued working there until appointed head of the AUM in January 2016, or (to be discussed in a later part) whenever exactly it was. 
The allegedly corrupt behaviour at AURAK may have been preceded by unethical practices at Khazar University.  According to the ex-AUM staff member interviewed for this piece, Ryder 'would go on and on about how at Khazar University they kept two sets of books and the financials that they showed…everybody else…to make it look legitimate…But there was definitely a lot of questionable things going on there.' The author could not independently verify this claim made by the interviewed ex-staff member.
And so we move from allegedly questionable procedures at Khazar to questionable actions at AURAK to indisputably questionable activities at the AUM. Where Ryder's concerned, there seems to be a pattern, even if it's only one he's following. 
The Jordanian University of Baksheesh
In her investigations into the fraudulent nature of the AUM, Daphne Caruana Galizia described Ryder as 'the only American aspect of the project', undercutting this with references to his academic posts at Khazar and Ras Al Khaimah. Being American was, after all, noted as an advantage by Ryder at the interview stage for the ex-AUM staff member cited in Part 1 of this series. Sometimes, as, for example, in instances of money laundering, where a company is deliberately set up as a front, appearances are crucial. 
Ryder arrived in Malta with a specific set of cultural baggage. He was very familiar with the operations of private universities in a Middle Eastern context. He was accustomed to countries in which ruling elites operate vast networks of corporate financial interests ranging from hotels to porcelain to ceramics to hospitals to banks to offshore companies to education. 
Perhaps it's no surprise that he was happy to accept a job offer in Malta from a Jordanian hotel company. The fact that Sadeen Group later morphed into Sadeen Education Investments Ltd owned solely by Hani Salah, and that large swathes of public land were transferred to him by the Malta Government, may not have perturbed him. It may have been familiar territory.
As familiar as the name of Baku now is in Malta as the place where Joseph Muscat, Keith Schembri, Konrad Mizzi and Kurt Farrugia held their secret meeting in December 2014 with a high-powered delegation led by President Ilham Aliyev. There was no press briefing and the Maltese media were not informed, although Caruana Galizia writes of the run-around given to two TVM reporters and a DOI photographer who were, apparently, supposed to accompany the Prime Minister's coterie.
Baku is the place where Mizzi, then Minister of Energy, signed two memoranda of understanding between his Azeri counterpart on strategic co-operation in the field of energy and the now infamous SOCAR which would plan and implement this co-operation. This agreement was kept under wraps by the Malta Government, with the news being delivered by the state-controlled Azeri media.
Like Baku, the Aliyev family are also no strangers to Malta. Pilatus Bank, now closed down, is described by OCCRP as 'A Private bank for Azerbaijan's Ruling Elite'. Leyla and Arzu Aliyeva, the Azeri President's daughters, were two of Pilatus Bank's largest clients. A report by the FIAU revealed that the overwhelming majority of Pilatus' clients were politically exposed companies or persons from Azerbaijan. Pilatus could be described as an Azeri laundromat. 
Daphne Caruana Galizia exposed much of this information in the months leading up to her murder, claiming that money was being funnelled through a company owned by Leyla Aliyeva to companies owned by Mizzi, Schembri and the 'mysterious' owner of Egrant who she named as Michelle Muscat.
The Daphne Project confirmed that a Dubai company, Sahra FZCO, held an account at Pilatus and may have been one of the first accounts opened there. Just as Ras Al Khaizah is dominated by RAK, so one of the biggest conglomerates in Azerbaijan is Gilan Holding in which Sahra FZCO holds a majority stake and may indeed be the sole owner. 
When Ali Sadr did his disappearing act along with his suitcases, a private plane left Malta airport and stopped at Baku before setting off again for Dubai. And now, of course, we know that the Dubai-based company 17 Black, set up as a target client for Mizzi and Schembri's Panama companies, is owned by Yorgen Fenech, Chairman of Electrogas. 
Where Dubai and Baku are concerned, it's a tangled web and geographically one from which Ryder just happened to appear as head of the new AUM.
Perhaps the reason is as simple as the ex-AUM staff member suggests:
'I don't think he's evil. He's got a conscience. He knows what he's doing is wrong but he continues to do it because why? He's making a shitload of money.'