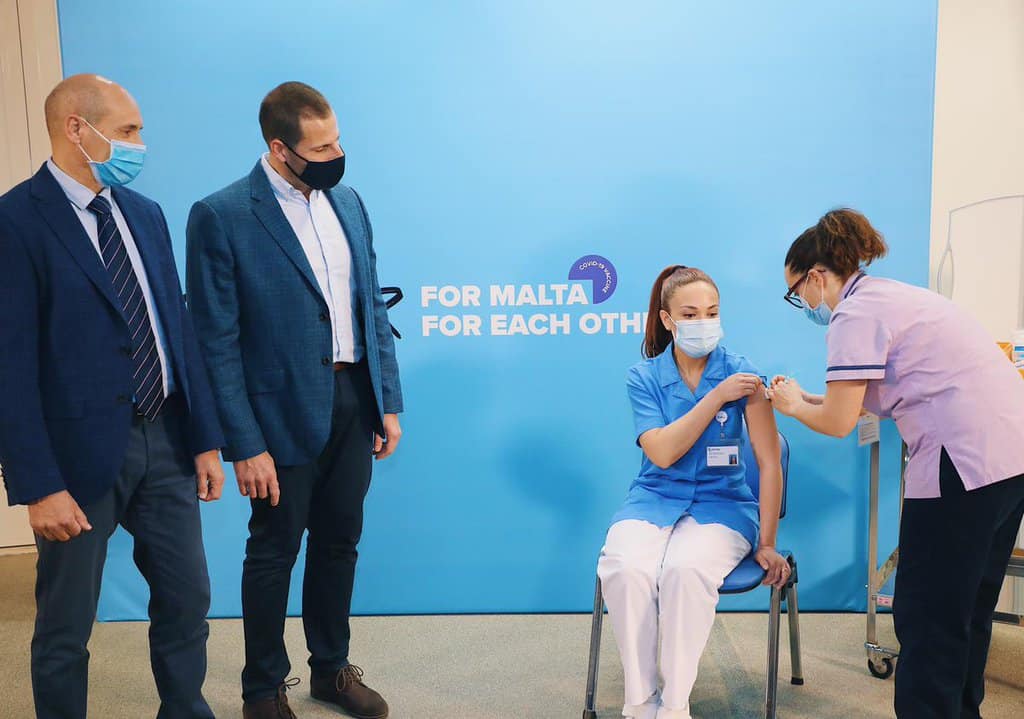 The government needs to submit itself to some serious questioning over its handling of the covid situation now. The policy of releasing carefully written statements that leave the reader with more questions than answers and then dodging journalists with a microphone as if they carried the plague just does not cut it.
And there doesn't seem to be the space for parliamentarians to squeeze ministers in Parliament anymore either.
Consider yesterday's statement that "some 4,400 people who live in 37 homes for the elderly, and frontliners at the residences, have started being vaccinated against covid-19 (…) All residents at homes for the elderly across Malta (should) receive the first dose by the end of March."
This is incredibly sluggish. It amounts to 50 or so doses a day, generously 4 person-hours a day. At this pace, Malta's population will need 28 years to get the first dose.
Now, I understand that old people's homes are not the only priority targets, but let's agree they are a priority. If this is how priorities are being handled, it would seem the health department does not consider this as the sort of health crisis that the rest of us think it is.
We have not been told about any urgent capacity building for the roll-out of the vaccine, no volunteer retired nurses and doctors have been called up to help, no resources have been freed up to get the vaccination program out of the way. This could be because of a limit of supply of protective equipment, or a training bottleneck, or a complex negotiation between employer and employees.
Whatever it is, there is clearly a bureaucratic barrier to get this thing out. Given the millions being pumped into propping up dried up businesses, the millions in lost tax revenues, and the unimaginable millions still to be spent to being the economy back up to its knees instead of stretched prostate, it makes pure economic sense to spare no expense in the vaccination roll-out. Any single day gained in bringing closer to the present herd immunity and a measure of normality, will give huge returns on that investment.
We should be in a state of total war over this thing. We should be fighting the bloody virus on the beaches. All possible resources that can be spared should be focused on getting as many arms pinched as rapidly as possible.
And yet we're rolling this out rather less quickly than McDonald's discount vouchers on Republic Street.
Robert Abela congratulated himself when the EU secured for all Member States an early supply of vaccines, but it seems that for a long while we are going to have immune freezers and not much else.
The real issue here is that in its effort not to stain its projected aura of infallibility the government is not being transparent at all about the barriers it must overcome to get this job done.
Consider Justyne Caruana's responses to the press before the MUT strike was called off. Her line was that everything was done right for schools to be open but remote learning was not possible because of "teacher resistance". Why are teachers resisting? What is the government doing about it? How are they addressing their concerns? What are they offering to compensate them with for the work they have to put in? No answers.
Ministers – not only Justyne Caruana, but she's a bit of an expert at this – instantly put on that wounded puppy, indignant and insulted look, shocked that they are being asked questions when things are not quite working right. They profess amazement that anyone complains. It is ever beyond their control.
And yet, at the end of negotiations with the MUT yesterday, it turned out the union had not been entirely misguided in calling for a strike after all. Teachers have now been assured of prioritisation in the vaccine roll-out, something which should have been in the original roll-out plans to begin with but required a strike to get the government to see sense.
Let's see why it makes sense. Let's take at face value Charmaine Gauci's counter-intuitive and likely utterly bollocks argument. She claims that while schools are open, there are fewer social interactions happening and that makes contagion slower than it would be while school is closed. If that were true, we are using teachers as human shields. They are now our own protective equipment against the coronavirus. We put them at greater risk so we can all be safer. Which is why we must surely realise that we must give teachers all the protection that is available, in order to live through this risk.
Instead, the government scores cheap points at the expense of the entire teaching profession. They make teachers the enemy. The mock shock of the government at the MUT's strike was intended to make teachers look petty, egocentric, uncompromising, even lazy.
This is a country plagued by people that are happy to post "prosit, Ministru" on Facebook like they were tossing coins in a 1980s arcade game but will call a striking teacher lazy and useless because they dare demand proper safeguards to minimise risks to the health of the children they teach.
Now teachers have agreed to go back to class apparently on the assurance that after the more obviously vulnerable, they will be inoculated next. At the current roll-out rate they may look forward to a vaccine some time before Christmas, though the Christmas of which year remains unclear.