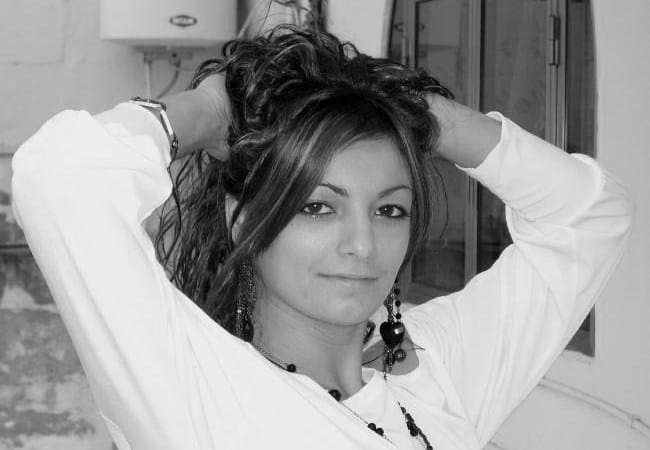 In between Robert Abela's macabre murmurings that the institutions are working, a phrase he's repeated ad nauseum since he began his reign of continuity just over a year ago, let's not sweep Nuxellina under the table in a brown paper bag. Just because she's (conditionally) resigned as Parliamentary Secretary for Reforms (pending an investigation) doesn't mean she's disappeared from view. She's yet to step down from parliament after all and, if the precedent set by Justyne Caruana is anything to go by, Cutajar isn't going to slip off quietly into some Bvlgari sunset. And nor should we let her when she's been, and no doubt will continue to be, such a busy little bee – intensely so if today's new revelations in Times of Malta are anything to go by.
Immediately after the assassination of Daphne Caruana Galizia, Cutajar set to work reinforcing her status as Laburista sal-Mewt, although she'd proven her credentials long before. Those with no qualifications for any form of public office please stand up, kick your heels off and leave your powders at the door.
Brushing aside Cutajar's personal history – like the Labour Party deletes all those pesky little crimes from our past with 'the right to be forgotten' – let's focus primarily on her behaviour since a journalist was assassinated under her government's watch.
Five days after this brutal murder, Cutajar stood in Parliament and stated that 'It's too soon to tell whether Daphne Caruana Galizia was killed for telling the truth.'
Cutajar then busily set about trying to cover up these truths but given everything that's been exposed since, neither her assertion nor her squirreling attempts have aged well.
In response to the huge public protest mounted less than a week after Daphne's killing, Cutajar continued in full Laburisti swing, decrying the accusation that Malta is a Mafia State and insisting that 'No one will tarnish our positive reputation.'
This is not the real #Malta.Shame on whoever wrote this! Malta is a safe & democratic country. No one will tarnish our positive reputation. pic.twitter.com/au6wgIKID3

— Rosianne Cutajar (@RosianneCutajar) October 22, 2017
You'd think it would be difficult to tarnish Nuxellina's pristine reputation as 'a vibrant young hostess from Catania', but she's made a bloody good try.
Not content with the murder of a journalist her party demonised for decades, she stuck her claws into Matthew Caruana Galizia, impervious to the unspeakable horror he has to live with at finding his mother dead. O'erstepping the very basic standards of human decency, Cutajar refused to stop. How could she when she was gagging to go in there for a cat fight? 'Embarissing' doesn't come close.

Cutajar 'disliked' this 'worship' so much that she persistently took to Twitter in a manner akin to Trump before he was forcibly evicted. Echoing the crudities of her partner-in-crime, Jason Micallef – the guy who just labelled peaceful civil society activists as 'extremists' – Cutajar made another failed attempt to appear clever, adding the caption 'crooks' to a photo of posters stuck to the protest-memorial containing pictures of Daphne Caruana Galizia, Simon Busuttil, David Casa and Maria Efimova.
'Instead of affixing photos I would have cleared everything,' she declared. Her other partner-in-crime, Owen Bonnici, did just that, hundreds of times, until he was found guilty of violating human rights in January 2020.
Never one to be outdone, Cutajar joined in the chorus of trolls screaming 'Where's the laptop?', again trampling all over Matthew Caruana Galizia's grief one day after the six-month anniversary of his mother's murder: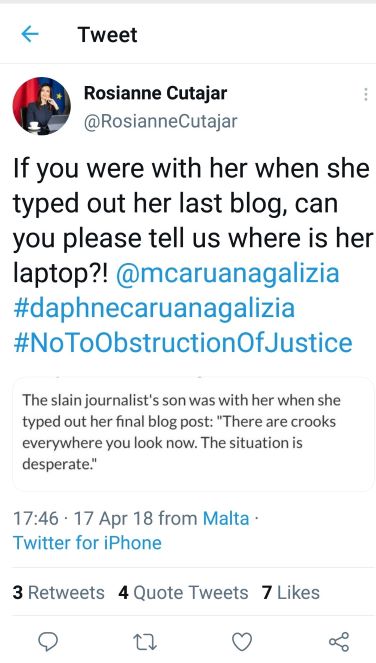 Ignorant of everything, including crimes against grammar, Cutajar got her knives out for Ana Gomes, a former Member of the European Parliament and leader of the ad-hoc Delegation to Malta to investigate the state of the rule of law in the immediate aftermath of Daphne's assassination. In a bizarre comparison with the Madeleine McCann case, Cutajar again tried to advertise her intellectual wares in a manner worthy of a tabloid celeb. She then drew on a bastardised definition of 'freedom of speech' (swiftly borrowed by Owen Bonnici to defend Jason Micallef at Leeuwarden) to accuse Gomes of trying to silence her.
Like everything in Malta, it would be funny if it weren't so grotesquely dark.
There was nothing amusing about Cutajar's further attempts to slander Gomes by spreading baseless allegations emanating from a fake news portal. In her efforts to defame a person at the forefront of ensuring justice for an assassinated journalist, Cutajar – and her alter-ego, Nuxellina –  converged as Queen of the Troll Factories.
Defamation and dehumanisation are key features of the secret Facebook hate groups uncovered by The Shift News and it's no surprise to learn that Cutajar – along with Joseph Muscat, Keith Schembri, Chris Cardona, Glenn Bedingfield, Neville Gafa, Tony Zarb and Robert Musumeci – was a flag-waving devotee there. These groups mounted 'coordinated attacks on anti-corruption activists and Daphne Caruana Galizia's family, including calls for sexual violence.' How Cutajar can square this up with her recent role as Parliamentary Secretary for Civil Rights and Reforms, responsible for Malta's equality and civil rights policy and implementation, is beyond me. And yet it wasn't even this glaring discrepancy that forced her, finally, to resign.
Perhaps it was the glimpse of her own face staring back at her from placards demanding her removal that tipped her over the edge and even then it was a question of vanity rather than ethics. Nothing like praising your own integrity when you're in bed, literally or metaphorically, with a man charged with masterminding an assassination, the assassination of a woman Cutajar vilified from day one.
€46,500 in a bag under a table in undeclared income isn't a sackable offence? Come on. Way back in December when the news about Cutajar's flirtations with Yorgen Fenech came to light, Manuel Delia gave a concise list of the many reasons why Cutajar had to go. He was being kind. The list goes on.
And so it did. Two minutes later, it was revealed that not content with nearly €50k, Cutajar took another €9,000 as part of the same property deal being 'brokered' for Yorgen Fenech who had long since been outed as the owner of 17 Black and was already an assassination suspect. And now it seems this extra €9k tip came replete with a breathless little thank you from Cutajar-Nuxellina because gratitude's good manners when there's an extra little wad of cash for you:
'Thank goodness you told me,' she said, her fingers busily texting Fenech, 'as I was going to keep on going with it [the money] straight to him [Farrugia], but he told me he's not home.' 'I know how much you have done for me…You could have just bought me a small birthday present to serve as a memento of you…More than enough,' was what, apparently, she said. Birthday presents always work as Joseph Muscat knows. 
'I will always be there to help you,' whispered Fenech https://timesofmalta.com/articles/view/rosianne-cutajar-solicited-help-from-yorgen-fenech-for-2019-survey.852956.
All those text messages with hushed promises of how they'd go to the ends of the earth for each other which, it seems, they did.
Nobody can forget Cutajar's anomalous appearance in the Council of Europe flanked by Azerbaijani minders whose very looks could kill. She stood there, like a fishwife out of water, disputing references to 17 Black and other corruption cases in Pieter Omtzigt's report on the assassination of Daphne Caruana Galizia. All the while, she was soliciting Yorgen Fenech's help for a political survey in her electoral district while crossing her palms with as much as silver as she could. Hardly surprising that she voted against the setting up of a public inquiry into the Electrogas deal last year.
"Let me be clear,' Cutajar stated when announcing her resignation, 'in the years that I knew Yorgen Fenech, I never used my political posts to influence any process or decision.'
You've got to wonder how far back this 'friendship' goes. We might not like having our past dragged up but Cutajar began her political life as a propaganda journalist for One TV. She was recruited by none other than Glenn Bedingfield, who relied on the same bastardised concept of 'freedom of information' as Cutajar to launch a full-scale assault on Daphne Caruana Galizia. Unsurprisingly, his hate blog featured the 'where's the laptop' disinformation campaign which Cutajar trumpeted with her trademark and unbridled vulgarity. Like Cutajar, Bedingfield was vociferous in his contempt for the democratic protest opposite the Law Courts, demanding it be removed to 'someplace in the wilderness, out of sight and mind'.
Despite her (conditional) resignation, Cutajar is neither out of sight not out of mind. Indeed, back in 2012, Cutajar was on TV blabbing about electricity bills, the ones supposedly sorted by the corrupt Electrogas deal, now cited as the motivation for Daphne Caruana Galizia's murder.
Yorgen Fenech's 17 Black is pivotal to this deal and its relevance to the assassination was suggested in the Council of Europe's resolution which Cutajar tried to shout down. The corrupt Electrogas deal involves, of course, not only Cutajar's bosom buddy, Yorgen Fenech, but others equally incriminated in Daphne's murder: Joseph Muscat and Keith Schembri. And that's just for starters. There's more, no matter how much Abela and his new Police Commissioner splutter. There's more. There's many more.