My brave, conscientious officers of the law, if you want people to trust you, don't use the phrase "police are your friends", for it only makes you sound authoritarian, egoistical and condescending – instead remind them "police are humans too" – acknowledge your mistakes and work towards correcting them so that you can truly become the Caretaker of the People, which is the very definition of a cop.

– Abhijit Naksar.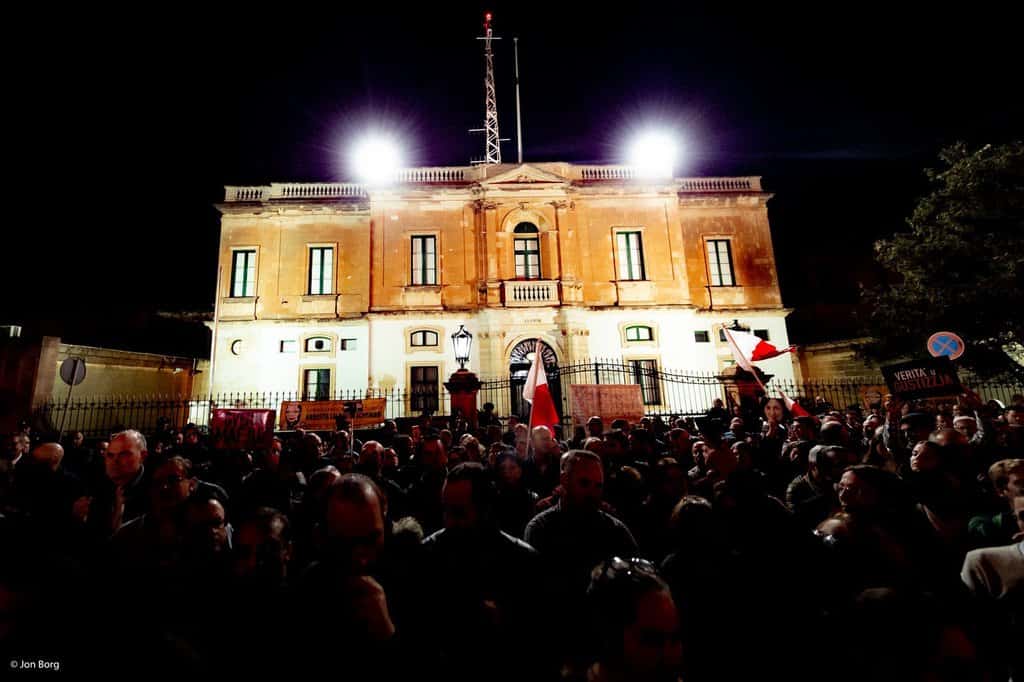 The Malta Police's official motto is 'Domine Dirige Nos' (Lord, Guide Us).
However, since Labour came to power in 2013, it unofficially changed to 'Castille, Guide us.' Since then we had six Police Commissioners, with the latest being Angelo Gafà who was appointed Commissioner in June 2020 with a one-year probation period.
Angelo Gafà declared earlier this year that "with the evidence we have, we are in a position to say that every person involved (in the murder of Daphne Caruana Galizia, be it the mastermind or accomplice, is under arrest or facing charges." He was referring to the mafia-style assassination of Daphne Caruana Galizia, killed by a car bomb in October 2017.
This does not match with evidence given under oath by Melvin Theuma and by Vincent Muscat known as 'il-Koħħu', both given a Presidential pardon. Add to those two the failed applicants for a pardon – the Degiorgio brothers – and you have quite a list of accomplices insisting that an ex-Labour Minister involved in the murder has not yet been arrested.
Let's look at some other strange decisions taken recently by the Police. The National Audit Office, on the Opposition's request, published a damning report on the extension of the St Vincent de Paul residence for the elderly. The conclusion of the Auditor General's investigation found that the direct order, worth €274 million, awarded to the DB Group and to James Caterers in November 2017, breached the law.
That simply means that the Ministry for Family and Social Solidarity and the Department of Contracts broke the law. The NAO remarked that the Government (read you and me) is paying significantly much higher rates per bed for the SVPR than it pays to buy beds from private homes for the elderly. The report said that the Ministry and SVPR did not ask for clearance from the Ministry of Finance and the contract was not even sanctioned by Cabinet. The NAO report concluded that "the actions were in breach of the Public Procurement Regulations, thereby possibly leading to the invalidity of the procurement undertaken."
Premier Robert Abela told journalists that a contract like the one awarded by St Vincent de Paul to the DB Group and to James Caterers should have been approved by Cabinet. He continued to say that the report was being analysed in detail and – wait for it: "we will learn from our mistakes."
Present and former ministers for social solidarity passed the buck to each other, promising only "internal scrutiny". Let's be generous and call Michael Farrugia's remarks 'strange'. He said that SVPR needed a new kitchen. Perhaps. But if it needed it so much why is the new kitchen not being used while James Caterers delivering food daily in trucks.
How is it the Police think this is not a police matter? Who steps in when the Auditor says there's been a breach of the law? How investigates whether there's been a crime and who's responsible for it?
How is it ok for Angelo Gafà's force to investigate Toni Bezzina for the whitewashing of a PN's club attic by government workers, after working hours, in 2012, but not a direct order of a quarter of a billion euro in breach of regulations?
How is it ok not to investigate the building of a terrace by government workers during working hours at the residence of Minister Carmelo Abela? How is it ok not to investigate Carmelo Abela for misuse of public funds for a personal advert in all Sunday newspapers (except Il-Mument, of course)? The advert cost more than €7,000.
And Angelo Gafà has yet to arraign Konrad Mizzi on money laundering and tax evasion.
"The police are often as corrupt as the corporate government that employs them."

– Steven Magee.
The Police took no action against Rosianne Cutajar who failed to declare a brokerage profit of around €50,000 in a deal for the purchase of a palazzo in Mdina by Yorgen Fenech, the alleged mastermind behind the murder of journalist Daphne Caruana Galizia. During a press conference in August 2020, the Police Commissioner told journalists that the Police were to arraign people in connection with money laundering at Pilatus Bank. Up to today, eight months later, we are still waiting.
But the Police were very efficient when they arrested and arraigned a homeless man for stealing a can of tuna. (Price:€0.83). He admitted stealing the can of tuna from Maypole because he was hungry and desperate. He was kept in jail.
A magisterial inquiry recommended that charges should be filed against Joseph Muscat's former chief of staff Keith Schembri and former Allied Group director Adrian Hillman. The inquiry started on the request of Simon Busuttil after information from a leaked FIAU report showed that Schembri allegedly transferred more than €650,000 to Hillman in over 30 suspicious transactions between 2011 and 2015. It was discovered that Hillman deposited €250,000 in cash into his HSBC account between 2011 and 2016.
Hillman is in the United Kingdom and since the Malta Police started extradition procedures nothing has happened with Keith Schembri still free as a bird.
In Ġenna Malta, the problem with law enforcement is not corruption, but the denial by the government and its agencies of the existence of that corruption.