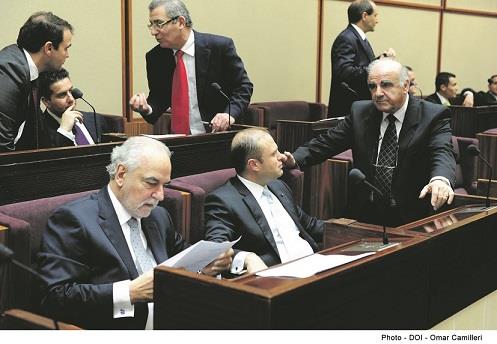 George Vella has been reacting a bit touchily to what he clearly perceives as lèse-majesté. Yesterday he issued a petulant statement reacting to a response by 2% of a random sample in a survey that said they perceived corruption in the President's office. George Vella went all "fejn huma l-provi?" and told the anonymous responders they should take whatever evidence of corruption in his office they had to the police.
This is beneath your office, Mr President.
Let's not try to reduce this to absurdity, shall we Sir? The President's office doesn't decide much at all. I don't think many people suspect the President's office takes back-handers to visit this band club before the other or to prefer this charity over the next.
I'm not in the minds of that 2%, but I can tell you, Sir, from where I stand, what I perceive. I perceive that the office of the President is presently occupied by Joseph Muscat's political godfather who commended him to us. The President's office is occupied by a career politician who made it is his career's unique proposition to be exceptionally skilled at looking away from the wrongdoing being perpetrated by the ministers sitting across from him.
As a young MP, the present President, distinguished himself as having been untouched by the corruption of his colleagues to the extent that he was handpicked by Karmenu Mifsud Bonnici as his replacement, a prospect he honourably declined. You could criticise him for not standing up forcefully enough to corruption and violence in the 1980s but he could defend himself by saying he was still a beginner and led by his own example instead of futile noise.
There was never a reason to suspect he was tempted by corruption as he rose up the ranks and eventually became a veteran and senior minister. But as scandal after scandal emerged in Joseph Muscat's government, as the Panama Papers confirmed what had already been exposed and mendaciously denied, as Chris Cardona's shenanigans came to a head, as John Dalli was recruited to advise the government after the European Commission scandal, as Daphne Caruana Galizia was killed, the senior minister remained silent. He enabled Joseph Muscat with his complicit strategic silence, his cooperation, his failure to use the respect he earned by his own party faithful after long years of service, to insist on a moral line, to force his party to make changes and do the right thing.
He walked into the President's office unblemished by allegations of corruption but weighed down by his determined vocation not to fight it, not to defeat it when he could.
When the wind blew hot, thanks to the dogged determination of the few who resisted the country's hostile take-over by criminals, not because of the President, but in spite of him, he mouthed some platitudes about "the gang that shamed our country". He chased the crowd of street protesters that he had so long treated with the contempt of his indifference, in order to appear to lead it.
Asked many times to follow the example of his Slovakian colleague, and to represent the Maltese State on the side of the fighters for justice by visiting and paying tribute at the protest memorial for Daphne Caruana Galizia in Valletta he refused, only going to the place on the 8th of September of each year after making sure the memorial for Daphne is swept away and its guards pushed back by police barriers and army patrols.
Every day he remains neutral between those who cover up corruption and those who fight to expose it. That neutrality, couched in the nobility of the Head of State's office, above politics and controversy, is a tacit alliance with corruption. It legitimises it, justifies it, protects and aligns itself with it.
If George Vella is to be amazed about the 2% who say they believe his office is corrupted should marvel at how small the number is. He should give credit to himself for managing to live through the years of Lorry Sant and the years of Keith Schembri, to be venerated as the wise old man of party politics with his protected arm over the shoulders of his creature Joseph Muscat, and still to manage to impress 98% of the population into thinking his office is beyond reproach.
For every opportunity George Vella missed doing the good thing, an absurdly small portion of the population says it is disappointed that the man that could have done the right thing, didn't. And still, he expects us all to like him, down to the last man.