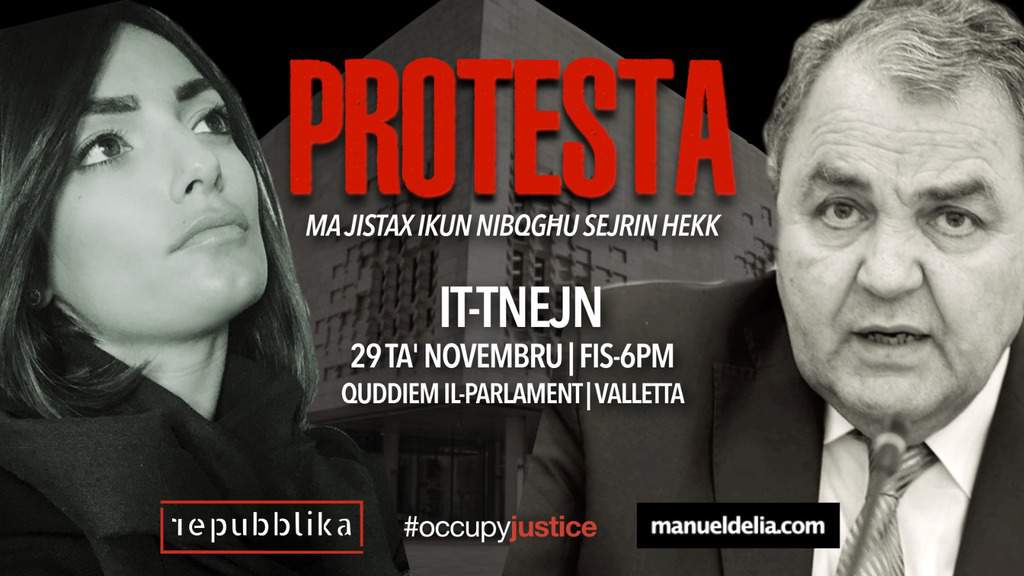 Protest on Monday 29 November 2021 at 6 pm: Anġlu Farrugia and Rosianne Cutajar should no longer be in our Parliament
Repubblika, Occupy Justice and manueldelia.com support Matthew Caruana Galizia's demand for the resignation of Speaker Anġlu Farrugia and express their agreement with remarks made by former prime minister and former Speaker Lawrence Gonzi that "we can't go on like this".
We are calling for a protest on Monday 6 pm outside Parliament.
It is truly shameful that the institution that is supposed to be representing honest citizens has been captured and is now defending corrupt politicians instead.
It is truly shameful that we have a Speaker who defends an MP found guilty by the Standards Commissioner and the Parliamentary Standards Committee and at the same time hires a lawyer to attempt to intimidate and silence a citizen.
All this is aggravated by the fact that the citizen concerned is the son of a journalist killed mafia-style in an assassination that 3 judges found the State was responsible for.
To make matters worse, the Speaker is defending an MP caught taking cash and gifts from a man accused in court for the murder of Daphne Caruana Galizia.
Anġlu Farrugia should not be Speaker of the House of Representatives. We can't go on with a state of affairs where the Speaker defends the corrupt. We can't have a Speaker that acts in contempt of the Standards Commissioner. We can't have a Speaker that attempts to silence citizens, especially when these citizens have lived through what the Caruana Galizia family has had to endure because of the impunity allowed by the State.
Rosianne Cutajar should not be an MP. If she does not resign of her own accord, she should be thrown out of the Labour Party's whip as Konrad Mizzi before her.
If PM Robert Abela wants us to believe he's for a change in direction, he most certainly cannot allow Rosianne Cutajar to contest the general elections on the Labour Party's ticket. She should have no place in Parliament or any public office.
On Monday 29 November 2021 at 6 pm, Repubblika, Occupy Justice and manueldelia.com will be delivering these messages at a protest outside Parliament. We call on people to join us.