Weakness in attitude becomes weakness of character.

– Albert Einstein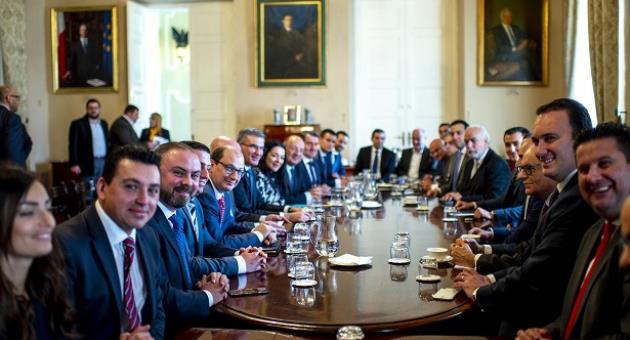 That Robert Abela is a weakling is a known fact. He's been prime minister for nearly two years now and his actions or rather his inactions and his preference for sitting on the fence prove just how puny he is. Our premier thinks that ignoring the elephant in the room will make it disappear. He relies on Norma Saliba and the goons at One to paint a Mark Kostabi masterpiece when in reality it's just a child's scribbling.
Sitting next to Robert Abela in Cabinet, at Parliament and his Castille office there's Carmelo Abela, the minister named by il-Koħħu and the Degiorgio brothers as being part of the gang that attempted the famous HSBC heist in 2010. Abela used to work at the headquarters of HSBC at the time of the attempted robbery.
They also alleged that he was given €300,000 for his part. He was among a select number of HSBC staff who had access to security equipment used to generate key cards suspected to have been used during the robbery.
At first, Carmelo Abela denied that he was ever questioned by the police, but a few weeks later Abela changed his version of events and stated that he had not 'recalled' the questioning.
Carmelo Abela was found guilty, by the Commissioner of Ethics Standards in Public Life, of breaching ethics when as a minister he published an advert in all Sunday newspapers promoting himself. The advert cost €7,000 and was paid out of tax-payers' money. Carmelo Abela has yet to refund the money.
Edward Zammit Lewis, minister for justice, also sits at Robert Abela's Cabinet table. He is a bosom friend of Yorgen Fenech, the businessman charged for being the mastermind behind Daphne Caruana Galizia's assassination four years ago.
Zammit Lewis kept up intimate chats with Yorgen after it was known that the magnate was the owner of 17 Black, the company set up in Dubai to pass payments to Keith Schembri and Konrad Mizzi.
Lately, his WhatsApp messages to Yorgen were published. In the messages Zammit Lewis shows his admiration and love for 'his friend'.
We learnt some more about the extent of sleaze that pervades Maltese politics. The publication of these exchanges between Justice Minister Edward Zammit Lewis and murder suspect Yorgen Fenech should have sent a clear signal to this minister that his time in politics was over.
Instead of having the decency to accept the obvious consequences of his slimy messages to the businessman, Zammit Lewis insisted that his behaviour is beyond rebuke and that he will continue "to do his duty" towards the ġaħnijiet that elected him.
Justyne Caruana, Minister of Education and former Minister for Gozo, also forms part of Abela's Cabinet. Justyne, known for calling anyone opposed to her party 'snakes', resigned when her then husband Silvio Valletta was caught colluding with criminals involved in the killing of Daphne Caruana Galizia while he was Assistant Commissioner of Police.
But while she was just an MP, Robert Abela took care of her pecuniary needs by awarding her 'legal consultancy' by direct orders worth around €50,000 per annum. Soon, Caruana was in the fold again this time as Education Minister.
Old habits die hard and she was in the news after granting her friend, retired footballer Daniel Bogdanovic, a €5,000-a-month consultancy contract. When the contract was exposed by the media, Robert Abela had no choice but to order Bogdanovic's contract rescinded. Justyne must have managed to convince the prime minister not to do anything about her wrong doing.
Justyne Caruana replaced Owen Bonnici as education minister after he messed up big time during his short stint at the helm of our children's learning. After only a few months, Owen Bonnici was transferred to something called Ministry for Research, Innovation and the Co-Ordination of Post COVID-19 Strategy.
A bombastic name for a bombastic person who claimed that when he was minister of justice he repeatedly cleared the Daphne Caruana Galizia's memorial to 'bring unity in the country'. Owen Bonnici was found guilty of breaching the constitution by the Courts. Yet he stills sits at Robert Abela's cabinet table while tweeting that Filfla forms part of his electoral district.
Rosianne Cutajar is another classic example of Robert Abela's inefficiency and weakness. Some time ago, Rosianne Cutajar and her associate Charles "it-Tikka" Farrugia were implicated in allegations they received more than €46,000 in cash to negotiate a €3 million property in Mdina for Yorgen Fenech.
Rosianne Cutajar did confirm that Yorgen and herself are very close friends. They must have been as he gave her €9,000 as a birthday present. She also confirmed that Fenech handed her over €31,000 in cash at the Porticello restaurant. Now the Parliamentary Ethics Committee has adopted the report made by Standards Commissioner George Hyzler that the MP had breached ethics when she did not declare her income to the Tax Commissioner. Both government members voted against their colleague MP.
In his book published recently, Mark Camilleri asserts that there had been or there still is a personal relationship between Cutajar and Yorgen Fenech after he was identified as the owner of secret company 17 Black.
He goes further and contends that "in fact, Rosianne had an intimate relationship with Daphne's alleged murderer Yorgen Fenech, who gave her corrupt money… While Cutajar was enjoying her time with Fenech, at work she was pouring scorn on Daphne's memory both in parliament and abroad. Cutajar also opposed and challenged those who called for public inquiries into Daphne's murder whilst defending and apologising for the corruption of the Muscat government even after the 17 Black revelations."
Notwithstanding Rosianne Cutajar's resignation after she was forced to give up her Cabinet seat, she is still a Labour MP and has already expressed her intention to run in the next general election.
Robert Abela's elephants in the room include disgraced former prime minister Joseph Muscat who looks like he is still pulling the strings from Burmarrad, while receiving money from his corrupt deals. But the prime minister is too weak to disown him. He is too frail to dissociate his administration from the sleaze that permeated Muscat's government.
Last week the local media reported that Joseph Muscat, Malta's disgraced former prime minister, had received €60,000 into his BOV bank account in four payments on behalf of two Swiss companies run by Wasay Bhatti.
This happened just two months after Joseph Muscat resigned. The companies involved, Accutor AG and Spring X Media, received millions from Steward during the company's takeover of the hospital concession from Vitals Global Healthcare. Steward Health Care are reported to have wired €3.6 million to Accutor. Joseph Muscat wrote on social media that he had declared his income and paid tax. That's what a money launderer would have done.
The list of deaths at the Corradino Correctional Facility in the past three years has reached 14. This happened while the facility was under the control of sadist Alexander Dalli. We heard stories about physical and mental brutality, torture chairs, guns in mouths, solitary confinement and more.
Some said Dalli called himself 'god'. He certainly acted as if he believed it. Robert Abela did nothing. He continued to support the director until Alex Dalli suspended himself after the latest tragedy, the death of a 35-year-old inmate.
For the umpteenth time, Robert Abela was too weak to take the decision to remove Dalli and it had to be the latter to suspend himself. Robert Abela is still retaining home affairs minister Byron Camilleri as the latter is still defending his position.
Clearly, Robert Abela was put in his position because Joseph Muscat wanted him there, a safe way of avoiding the rocking of boats, or yachts.