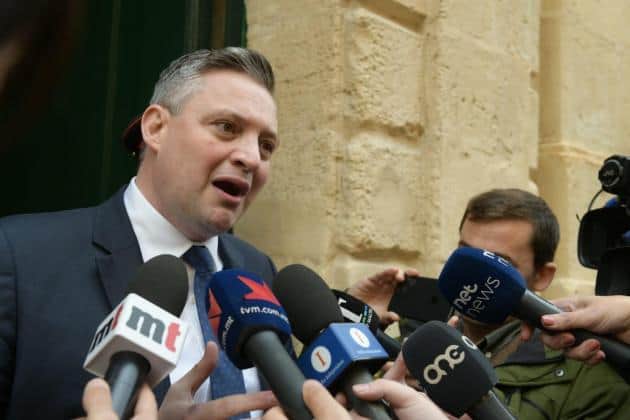 I came to the court building in Valletta today to attend the first session in a court case started last year on Repubblika's initiative to make the point that (bear with me here) Electrogas is buying gas from Socar at higher than commercial rates, and therefore Enemalta is buying electricity from Electrogas at rates higher than it would pay if it bought it from elsewhere like through the interconnector to Sicily, and therefore Enemalta directs Arms to charge its customers, bills worked out on electricity rates that pay the difference, and (you may need to breathe here) since the higher rates are the result of the corruption in the background of the deal with Electrogas, and (still here?) we have no choice but to buy our electricity from Enemalta, the Maltese state (which forces us to pay more for the electricity we are forced to buy) is unlawfully taking something that belongs to us (our money).
I should really break that down into something like 10 sentences. Or I could sum the whole thing up by saying someone is skimming off every single electricity bill issued in Malta and that we want our money back.
This is not going to be a quick one as court cases go. We're asking quite a few complicated questions here and there are a lot of people who need us to stop asking them. We're at the early stages of the case where the people we sued (the government, the energy company, the billing agency) come up with all sorts of reasons why they shouldn't have to answer to our complaint, why the court shouldn't have to hear us out, and why it's none of our business which part of our bill we should be paying and which we shouldn't because it's being charged to bribe someone.
There wasn't much to lighten the mood this morning. Still, I confess I chuckled behind my mask as the government's attorney bristled with indignation when our own lawyer, Edward Debono, dared to use the adjective "corrupt" when describing the Electrogas contract. That's like rain protesting it is offended because someone described it as wet.
It's fascinating that there are still people who somehow still think it's their job to pretend Konrad Mizzi and Keith Schembri weren't on the take after all they've seen. What do these inveterate loyalists hope to achieve? Perhaps to go to a konradmizzian heaven where bureaucrats are rewarded with an eternity of random code switching, populated assets, and protestations of innocence nobody else believes?
Though we think we're right, we are not naive enough not to allow for the relative likelihood that one of a thousand esoteric technical reasons given by the government why this case should not be heard would not prove fatal to the lawsuit. We hope it isn't and our lawyers are working hard to see our argument through.
But there's one achievement that we secure merely by starting this case. And that is that some 50 plaintiffs who signed their name in this case are publicly stating that they are neither impressed by Konrad Mizzi's protestations of innocence nor by state officials who continue to persuade themselves there was nothing corrupt about Electrogas. Someone needs to say this. And we are. While we're still allowed to, we're not going to just stay unimpressed like mumbling Victor Meldrews. We will denounce the corruption, work out its burden on the backs of Maltese citizens, and insist it is paid back to them irrespective of where they stand on Konrad Mizzi (corrupt bastard or tragic hero).
The case continues in February. Bear with me. This will be a long road.