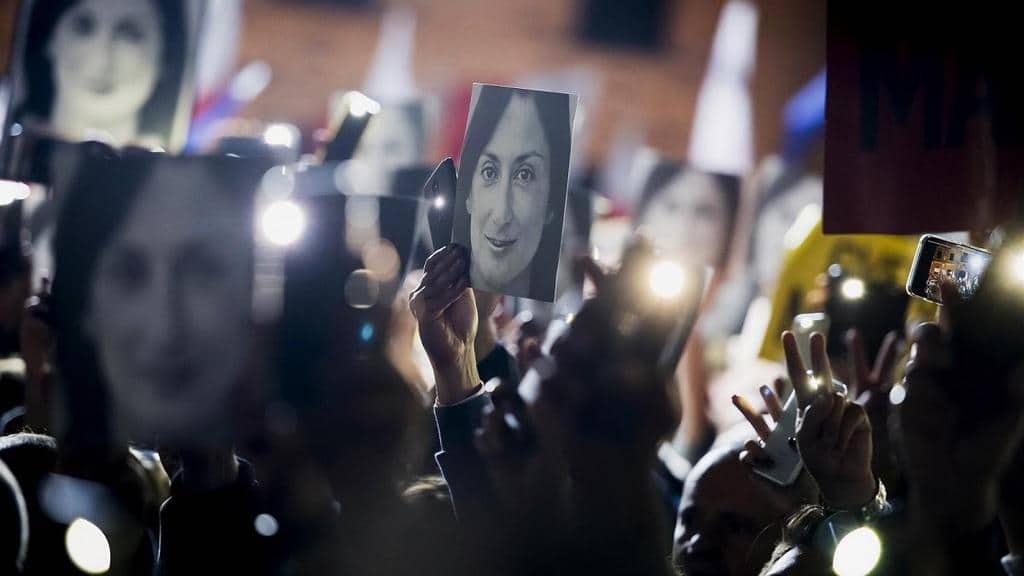 These aren't my words. This is the title of a piece Daphne Caruana Galizia wrote in February 2017, 8 months before she was brutally assassinated. In this article, she writes:
'Malta is governed by a crime syndicate, and the first thing that crime syndicate set about doing, when it achieved its suspiciously-funded objective of getting itself voted into power, was to set about dismantling, or undermining through shady appointments, every institution or investigative body it could.'
The reality and extent of this crime syndicate has continued to unfurl in all its grubby clarity since Daphne was assassinated for exposing it for what it is. Daphne was murdered because she saw details many of us only grasped after her cruel killing. Daphne was blown up by a car bomb because she spoke the truth, she was right, and she's never stopped being right. Her fearless insights and her refusal to give in no matter how dangerous the threats – threats which culminated in her assassination – remain fiercely pertinent and chillingly so because Daphne's physical presence is no longer here.
Yet her presence is everywhere. It's there in the promises made in the inauguration speech of Roberta Metsola, the new President of the European Parliament. It was there when the EP President stood in Bidnija with Daphne's family and paid tribute to Daphne at the site of her horrific death.
A sombre moment, with #DaphneCaruanaGalizia's family, at the site where she was assassinated – a woman, a journalist, a European.

The @Europarl_EN will keep demanding truth, justice and accountability.

Journalists must never be the target.

Europe stands for media freedom. pic.twitter.com/pMsPBzfgQ9

— Roberta Metsola (@RobertaMetsola) February 10, 2022
Daphne's presence is there in the words of the Council of Europe's Commissioner for Human Rights, Dunja Mijatović, as she calls 'on the Maltese authorities to continue their investigations to identify anyone involved in the murder', insisting that those responsible 'must be "held accountable" to the law'.
Daphne's presence is on every page of the report emanating from the public inquiry into her murder and in its recommendations which so far Robert Abela has persistently refused to implement. Daphne's presence is felt at each monthly vigil held by those who refuse to carry on with business as usual in a grey-listed country constantly under the spotlight for its (deliberate) failure to ensure that justice is done.
Daphne's presence is felt in the European Parliament's concerted efforts to introduce anti-SLAPP legislation to protect journalists and civilians from abusive lawsuits aimed to silence them. Daphne's voice is heard beneath Roberta Metsola's when she states 'the rule of law is non-negotiable'. It is Daphne's presence which is always here.
And Daphne's presence is there in every member of Daphne's family as they unfailingly pursue every possible route in their dignified quest to get justice for the person they love and for the journalist whose life and work is at the beating human heart of it all.
Daphne was and is right and further confirmation of this, if any were needed, emerges alongside the staggering revelations about the links between the government, the PL and Christian Borg, the alleged ringleader of a criminal group whose crimes are said to include kidnapping, money laundering, the dark web, cryptocurrency, the smuggling of drugs, explosives, and no doubt many more.
When I first read the report on this gang, I was only half-joking when I posted the following tweet:
I thought I was reading a story about @MaltaGov & their friends. It's got all the elements & rounded off with a large cat cub which must've escaped from L-Arka' ta' Noe 🐯#Malta, where anything goes.https://t.co/FHuFXuFy3g

— Dr Lizzie Eldridge (@lizzie_eldridge) February 9, 2022
Three days later and it turns out I had indeed been reading a story about Malta Government and their muckers, and it started right at the top, with the Prime Minister himself. Robert Abela was embroiled in property deals with Christian Borg, the alleged leader of this criminal gang, as well as acting as his lawyer. I mean, a lawyer should know what his client's up to, shouldn't he? But hey, there's nothing that your 'Good Friend' and 'Best Legal Advisor' won't do, no matter how deep your crimes run.
Keep it in the family as far as the law's concerned and while you're at it, use a guy who until recently was the official PL photographer as guarantor for your bail request. Joseph Camenzuli – the man with the flash and the cash – also brokered a property deal for Borg for a €20k garage in Swieqi and it's only fair to get a cut when you're in business with the alleged boss of a criminal gang and director of one of his vast range of companies.
All this talk of property deals brings to mind Rosianne Cutajar. She's still an MP despite taking €46,500 – more money than she'd ever seen in her life – for helping Yorgen Fenech try to buy a modest little pad in Mdina. Happy to accept an unexpected birthday extra of €9k from a man who was then a suspect in Daphne's assassination, presumably she continues to write him thank you letters while he's in prison, indicted for his role in Daphne's murder.
And what do you know? The notary in the promise of sale agreement for Fenech's pad was Ian Castaldi Paris, that outgoing PL MP who's going out of parliament with a whole stash of unexplained wealth. When not bragging to Yorgen Fenech (yes, him again) about his £16m mansion in London, Castaldi Paris was busy signing off deals for massive penthouses for that inexplicably wealthy young man in his 20s, Christian Borg.
Shortly after the news broke about Abela's bosom buddy bliss with Borg, it transpired that the ex-Tax Commissioner, Marvin Gaerty, took a trip to Vegas, Fenech's favourite haunt, with Borg and his partner-in-crime, Tyson Grech. Emulating his namesake, Tyson Grech was found guilty of raping a young woman in 2021. Perhaps boxing is in his poisoned blood as this same sport was the reason for the Vegas trip and who better to take but the then Tax Commissioner a mere 2 months after you've been summoned by the Tax Compliant Unit to have one of your companies audited.
And everything's A-OK with Gaerty in case you're worried. He's no longer on police bail despite those incriminating messages between him and Yorgen Fenech (him again) suggesting a little bit of friendly trading in influence. During his tenure as Tax Commissioner, Malta was put on the grey list with one of the main reasons being a shockingly poor record in uncovering tax crimes. Stepping down with his ignoble record intact, Gaerty has moved on to pastures new and is currently playing an advisory role on fiscal matters within the finance ministry.
Do stop me if you feel like you're in the middle of an OTT Netflix show by the way.
Next incriminating moment came from that familiar gallery of rogues – the obligatory selfie with Keith Schembri, alleged to have ordered Daphne's assassination. Given that Schembri 'lost' his phone just before that infamous police raid shortly after his buddy – yes, Yorgen Fenech again – tried to do a runner on his luxury yacht, it's only to be expected that Schembri doesn't remember a thing about posing with that lover of giant cats, Christian Borg. How's anyone supposed to keep track of all the criminals who use Castille as a photo booth?
Borg pops up everywhere. There he is running the Goldcar racket, an alleged scam dating back to 2014 with the help of pals at Transport Malta and LESA. Nothing like your mates when you want to fleece tourists by making them pay traffic fines which are then waived by the crooked powers that be while you pocket the change to the sum of €3 million.
On the theme of cars and photos, rumour has it that a member of Robert Abela's family – could be female, could be married to him – was snapped on a chauffeur-driven ride in a rented Range Rover that just so happened to be registered in Borg's name. Coincidences abound.
Further 'coincidences' emerge in relation to other wheeler-dealer car salesmen that Borg did 'business' with. One of these, James Zammit, 'is the registered owner of one of the cars seized from the Maksar brothers, Robert and Adrian Agius, accused of supplying the bomb used to kill Daphne Caruana Galizia.' And just for good measure, Zammit entered into a land deal with the Agius brothers as well.
Robert Abela meanwhile not only acted as lawyer to the Agius brothers but when James Zammit needed legal assistance, Abela was ready to step right on in there. Keep on keeping it in the family.
Talking of which, Christian Borg, always on the lookout for a posh house to go with his posh motors, splashed out €280k on a nifty little number in Baħrija. This cut-price property was bought from TUM Invest Limited, part of the Fenechs' Tumas empire.
Back in February 2017 and in the wake of the Panama Papers, Daphne wrote of the abysmal failure of Malta's dysfunctional and state-captured institutions to investigate, let alone prosecute, Joseph Muscat, Keith Schembri and Konrad Mizzi. Long before the announcement of that year's snap election, Daphne offered a note of optimism saying, 'we hope it will happen when these corrupt crooks are finally voted out, whether it's next year or in five years' time'.
It is now five years' time. Robert Abela, Muscat's continuity protégé and accomplice, has just announced the election Daphne envisaged but never lived to see. There's a strong possibility that the last election was called because the plans to assassinate Daphne had been activated. We know this now, five years on, and in the eternal aftermath of her heinous murder.
Daphne was a lone voice in the wilderness. She warned us and she was killed because she refused to stop telling us. Those who are blind remain wilfully blinded, supping the last dregs through long spoons. The criminals in power are likewise feeding off their own carcass, desperate to salvage their fast-flaying skin.
Five years ago and only months before her assassination, Daphne knew what is now unmistakeably clear: 'not only are we governed by a crime syndicate, but by a crime syndicate that is fighting for its life.'
Malta is also fighting for its life. There are crooks everywhere you look now, and you know who they are. No matter how limited or limiting the choice may seem, do not let the crooks back in.