Ronchi dei Legionari is a town the size of Żurrieq on the Italian border with Slovenia.
Their press club set up a journalistic prize commemorating Daphne Caruana Galizia. And it has announced that it has been accorded patronage for the prize by the European Parliament.
In a statement the Ronchese journalists association said "this is important recognition for the small Ronchese association which, for the past few months, has been actively promoting the journalism conference scheduled for next June and the award commemorating Daphne Caruana Galizia who killed by a car bomb on 16 October 2017. The letter from European Parliament President, Antonio Tajani confirms the parliament's official recognition.
"We are really happy because it is a further support for our daily efforts both to create an important festival for our territory and to honor the memory of a strong woman and journalist who must remain an example," association president Luca Perrino says.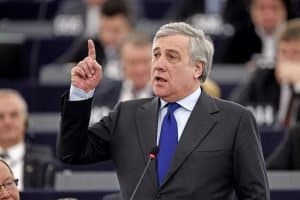 In his letter to the association, European Parliament President Antonio Tajani says: "I would like first of all to express my appreciation for the fact that the association has decided to dedicate a prize to the memory of Daphne Caruana Galizia to remind us of the fundamental values ​​on which the European Union is based: freedom of expression, democracy, and human rights
"Freedom of expression and media pluralism are enshrined in Article 11 of the Charter of Fundamental Rights of the European Union. The European Parliament strongly condemned the assassination of Daphne Caruana Galizia, called on the Maltese government to mobilise all the resources necessary to deliver the killers to justice, and called for an independent international inquiry into the matter.
"Awarding a prize to journalists who have distinguished themselves for their inquiries and their research, even risking their lives and that of their family, is an extremely commendable initiative and it is therefore with great pleasure that we accord your event the High Patronage of the European Parliament."