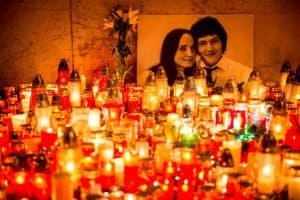 The similarities between the cases of Jan Kuciak and Daphne Caruana Galizia are inescapable. Both investigated the collusion between criminals and politicians. Both investigated the laundering of proceeds from crime in property development. Both were threatened in their lives and yet continued to work. Until both were killed.
There are several similarities also in the aftermath. Press freedom NGOs and Euro-parliamentarians lead the outrage. Civil society signifies its grief with demonstrations and public shrines that combine mourning with protest. The images of candles and flowers in front of black and white photographs are all too familiar. I expect Rosianne Cutajar will be telling Slovak civil society that to shut up about the killing of a journalist as well.
No doubt there will be equivalents of Rosianne Cutajar in Slovakia. There certainly are equivalents of Joseph Muscat and Konrad Mizzi and Keith Schembri.
As Daphne Caruana Galizia's killing laid bare to the world the secrets and lies of our government, so did Jan Kuciak's killing for Slovakia's corruption, long the subject of chatter in Europe and now under the world's glare.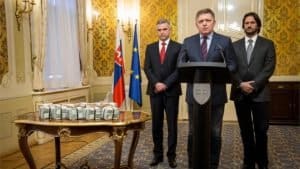 It is fascinating to see how these politicians react to headlights shining in their eyes. The bizarre press conference of the Slovak prime minister announcing a 1 million euro reward in exchange for information on the culprits was uncanny as well as bizarre. Joseph Muscat spared us the vulgar picture of a million in cash on the table next to him when he announced his own 1 million reward. You'd have to wonder if Slovakia believes it has some credit issues or its wire transfers don't work too well.
There were differences too. Slovakia's police chief did not hesitate to express his view – obvious though they should be – that Jan Kuciak was not killed because he lost at Russian roulette but because he worked as a journalist and investigated corrupt businessmen and politicians. That is more than Lawrence Cutajar has acknowledged till now in the case of Daphne Caruana Galizia.
"Not ruling out anyone" which is what Silvio Valletta did in court under the pressure of cross-examination on the witness stand, is not the same as establishing corrupt politicians and businessmen as targeted lines of inquiry.
We know that Lawrence Cutajar was not just being circumspect. The regime has been trying to point at anyone but themselves for the last 5 months. Government spokesmen pointed the press to Darren Debono, a nasty piece of work by any definition, but only a qualified candidate for suspicion in the killing of Daphne Caruana Galizia by the simple fact that he is unconnected with the government.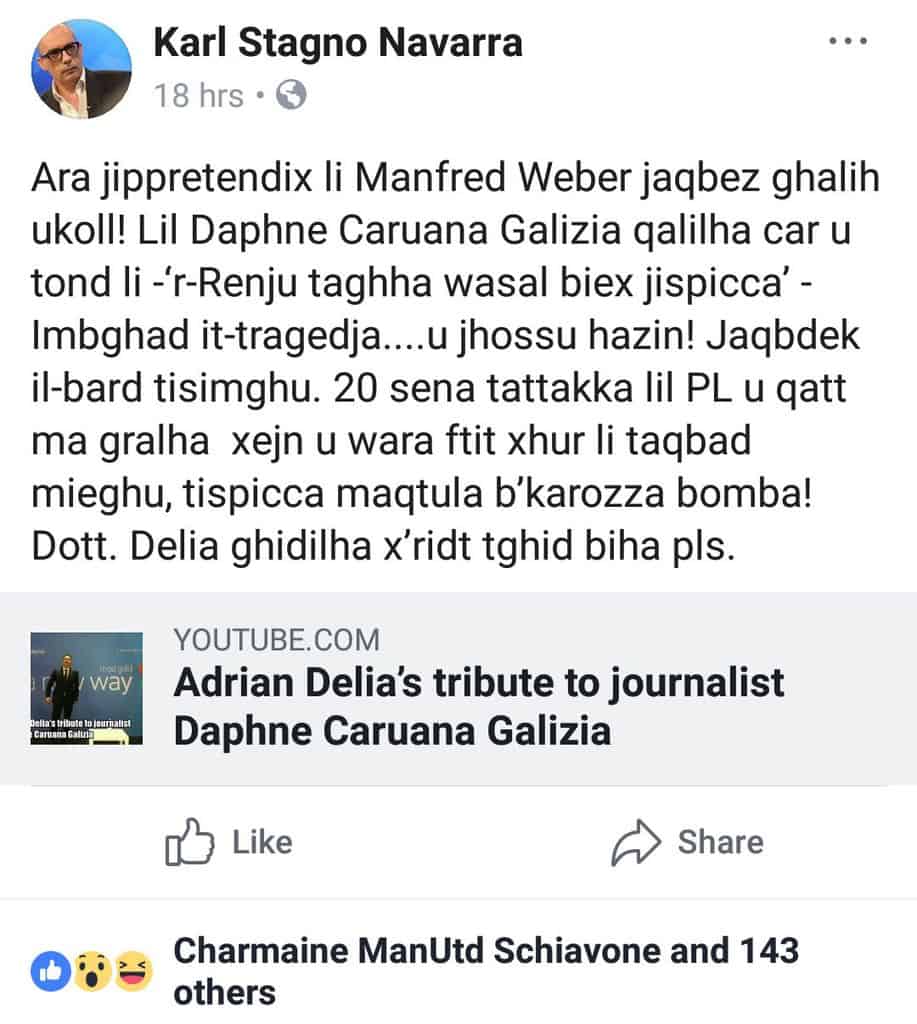 Now, Karl Stagno Navarra, whose only saving grace is that unlike the other spokesmen for the government is not anonymous, is implanting the future dogma that Adrian Delia killed Daphne Caruana Galizia. As with Darren Debono, the only real value to this 'theory' is that Adrian Delia is not connected to the government. If Karl Stagno Navarra knew anything more that might sustain this theory he'd have said it. So merely relying on his statements is enough to work on the assumption there's nothing to it.
I remember times before Facebook trolls and Labour anchormen on TV dressed as Sephardic Sgarbi, when the perverse idea put about was that 'in-Nazzjonalisti' shot Raymond Caruana to make Labour look bad. In more recent times I read Facebook posts asking if Daphne Caruana Galizia arranged for her own death so that Joseph Muscat can be inconvenienced.
Expect this Adrian Delia slander to catch root and for Daphne Caruana Galizia's killing to be smeared in partisan mud plastered by Labour, interested in alternative realities that create enough doubt to acquit itself.
This is the sort of madness we live in. I am not sure if the same will happen in Slovakia. Somehow I suspect these really are indigenous characteristics that only we can pride ourselves in.
Just this week I saw a post from someone who should really know better expressing the wish that when she dies her sons do not exploit her death to further their careers as, her warped logic goes, Daphne Caruana Galizia's sons are doing by seeking to further the cause of freedom of expression and good governance after their mother's death.
It takes a very special form of heartlessness to imagine that anybody's sons would find it in themselves to exploit anything from the killing of their mother. But such are our times.
Jan Kuciak's death is but one more violent end that shows that Europe, or at least its darker corners, are plagued by a dictatorship of crime that uses politicians as its front, financing them and controlling them. There is nothing stopping them from killing them if they go out of line.
That is the way of the Mafia and no one knows it better than the politicians in the grip of these dark forces in Malta, in Slovakia and elsewhere.
A minister in the Slovak government resigned today over the killing of Jan Kuciak. He was responsible for culture and said he felt he had to shoulder political responsibility for the fact that freedom of expression had been so horribly injured under his watch.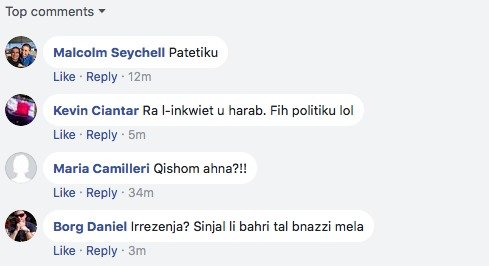 Enter Maltese Facebook commentators concerned this resignation might make one of their favourite ministers look bad for staying on. 'Whimp', 'baħri tal-bnazzi', 'chicken'. The machismo they glorify is Konrad Mizzi laughing like an idiot in Parliament four days after Daphne Caruana Galizia was killed; Joseph Muscat flying to Dubai to sell passports at around the same time; Jason Micallef saying that flowers for Daphne Caruana Galizia offend him; and Rosianne Cutajar telling us to shut up.
I think that Slovak minister showed some rare courage. And yes he highlighted a stark contrast in the midst of all the similarities between the cases of Jan Kuciak and Daphne Caruana Galizia.