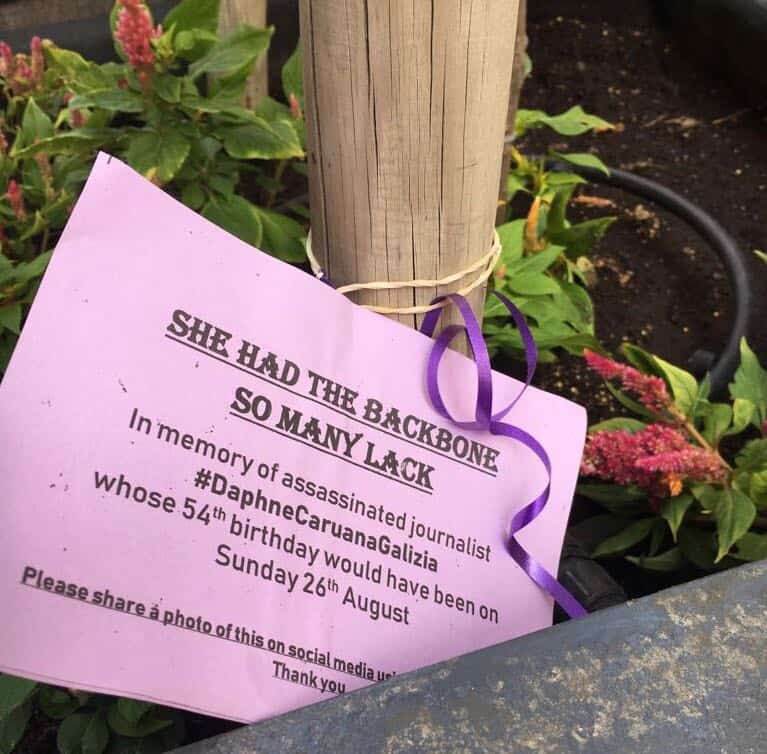 Fifty-four lilac posters with purple ribbon (the colours and symbols of a woman's birthday) were placed around Sliema, the town where Daphne Caruana Galizia, to mark the 54th anniversary of her birth this coming Sunday.
Each small poster has a different caption about Daphne Caruana Galizia, most of them describing her as a person. The posters remind people who read them that there was a real person behind the name. A person who still be here today.
All posters read "In memory of assassinated journalist #DaphneCaruanaGalizia whose 54th birthday would have been on Sunday 26th August. Please share a photo of this on social media using the above hashtag. Thank you".
Here is a list of the 54 descriptions that went on the posters.
She continues to inspire may
She loved nature
She won several posthumous awards for her journalism
She was wonderfully creative
She was witty
She was selfless
She loved to laugh
She did not live to fight; she fought to live
She raised the bar in journalism in Malta and beyond
She never gave in to threats
She gives us strength
A car bomb was the only way to silence her
She loved gardens and gardening
She was loving and giving
She was unique
Corrupt politicians feared what she may have known
She was a good listener
She was so right
She had a keen eye for detail
She had a great sense of humour
She was a woman of many talents
She was loved by those who really knew her
She was principled
She was sincere
She is greatly missed
She was a woman too
Her bravery has inspired many
She lives on in so many of us
She tried to right injustices
She was an avid reader
She had integrity
She had so much to live for
She remains inimitable
She was artistic
She was funny and brave
She had the backbone so many lack
She was courageous
She was fun
She had zest
She was honest
She held truth to power
She remains invincible
She was morally upright
She was loved
She remains irreplaceable
She stood up for your rights too 
She risked her life to expose corruption
She took an interest in others and in the world around her 
She was a brilliant journalist
She stood up for the underdog
She was a good friend
She was a force of nature
She was not just a name; she was a human being like you
She should still be here today