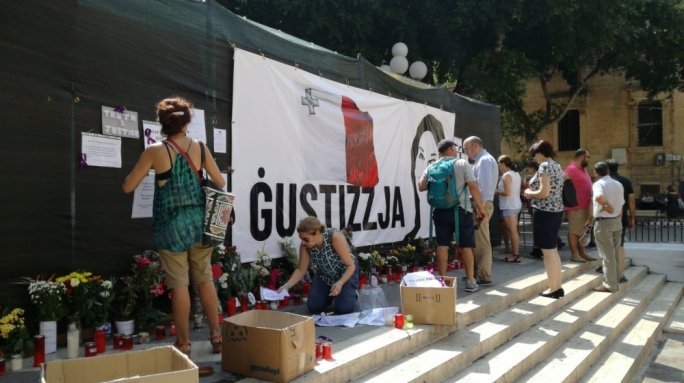 So Owen Bonnici gave an account in Parliament of The Great Restoration of The Great Siege Memorial in Valletta.
He said he spent €1,600 in three weeks worth of "cleaning the base, removing wax and oil stains, grouting and repairing of worn areas". Assuming the materials came for free, and by the sound of the job description, there were no materials to speak of, over three weeks a single guy would have worked at the rate of €13 an hour. That's inclusive of 18% VAT, insurance and whatever administrative cost that goes in the guy's operation. And assuming zero margin.
Three weeks of scraping a 15 square metre travertine plinth of wax stains. Sounds like Owen Bonnici got shafted off our money. Especially since the rain of the past weeks gave the place a right royal scrub and did not send a bill.
The memorial was kept hidden away from view since the very afternoon of the 8th September, a Saturday and a Public Holiday.
Given the pressing need to put the hoarding up on a weekend day one would assume these works would have been conducted every day, meaning they should have been ready on the 29th September. Today the 23rd October the much beloved Great Siege Memorial is still hidden from view. Why?
Of course, we know why.
There's a "phase 2" of The Great Restoration of The Great Siege Memorial. This will "involve improvements to the lighting and to the paving around the monument". Which means Joe Brincat will have to live without the monument he loved so much for another decade or so. I can only imagine his anguish given his desperate need to experience the memorial without any hindrance to his line of sight. He was indeed in such anguish he wanted to tell the Constitutional Court about it to prevent anyone from placing flowers there.
Owen Bonnici, you're cutting your nose to spite your face. Unless you wall up the Court building the protest for Truth and Justice in front of the Court will go on no matter how high your barricades rise. If you finish the Valletta ditch, fill it with water and bar entry to the City over the drawbridge, we'll still put flowers and candles at the gate.
And you know what? When you're done ripping out the paving in Great Siege Square, replacing the street lights with spontaneous fireworks, and building a fountain in the square that puts the Trianon to shame, you'll have to take down the barricades one day. And before you have time to say "Where's Janice?" there will be flowers, candles and messages of protest on the memorial again.
You know what the difference between you and the rest of us is? We have time.