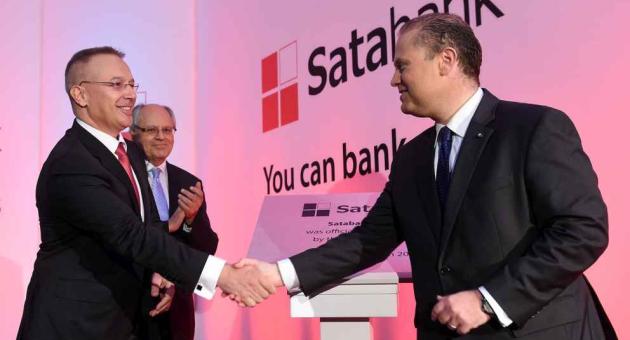 A reader wrote in to ask me if I felt vindicated after the Maltese regulator froze the operations of Satabank and after the police raided the bank last night. He asked me that because he remembered my piece of March 3rd last when I outed Satabank as a money-laundering operation, a criminal conspiracy that unlike Pilatus Bank was also putting at risk ordinary local customers.
If I'm not mistaken I believe I was the first one to point their finger at Satabank. The last time they had been in the news before that was when they had been inaugurated with fanfare and glory by Prime Minister Joseph Muscat.
I documented the personal record of Satabank's owner Christo Georgiev and the investigations he was facing by various police forces around the world while being sheltered here in Malta by Joseph Muscat's government. I also documented the months-long investigations into his conduct by the FIAU which had not until then led to any action. 
Satabank forcefully denied any wrongdoing. I carried their denials but they were not satisfied.
They used local lawyers to threaten me with legal action which I would have happily faced.
A component of my story concerned another company Christo Georgiev was involved in, a UK company that manufactures point of sale terminals. The terminals were used in a swindle to help Greek and Venezuelan clients illegally syphon out capital in spite of currency restrictions in their countries. Christo Georgiev's Malta lawyers warned me this UK company was getting ready to proceed with legal action against me in the UK because I had harmed their reputation by mistaking Satabank with Pilatus Bank. They dangled in front of me ongoing legal action against colleagues in Luxembourg who had investigated the story before.
I had not mistaken Satabank. It was a rotten bank.
Christo Georgiev's lawyer, in what may have been intended as a friendly warning, advised me to take seriously his client's intention to proceed against me in the UK. His words to me were: "Don't be stupid. These people won't inconvenience you or cost you a big fine. You will have no choice but to jump off Dingli Cliffs".
To my shame, I agreed to retract the story.
As news came out over time on Satabank I no longer covered that story. In retracting my first report I failed in my duty as a journalist: a responsibility I had to Satabank's then clients and clients it recruited since then, that armed by the information that I published may have not ended up as collateral damage in Satabank's nefarious activities.
I chose the easy way out. Satabank was not the most important issue I was working on and having to defend the issue alone in the UK, without a realistic prospect of continuing working on the website even if I did find anyone willing to pay for the legal costs for my defence, I decided to bow to the SLAPP threat I was faced with.
So no I do not feel vindicated that seven months later the Maltese police are acting on information I published in March. I only feel embarrassment for having agreed with Satabank to retract my story on them. I buckled under their pressure and in doing so I effectively helped them to continue with what they were up to until reality and better journalists at the Times of Malta caught up with them.
I can only hope I've learnt my lesson and this experience will help me trust that little bit more the courage of my own convictions.