Civil society is rising. Tuesday's turnout was a response to the indifference and mockery from the political class of people acting in defence of what is right and out of love of country.
The people marching on Tuesday were not responding a call to support this political party or that one. They were not cheering on this candidate and hoping she overtakes others. They were protesting in support of an idea: that truth should prevail and justice should be served.
They responded, as civil society, to a year-long campaign which politicians expected would be over a long, long time ago.
Malta's Catholic Church needs no lessons on its role in the community. It is by definition a central component of civil society. It is active in the community and has much to say about life in this country. And a Church who leaves Malta's current state of affairs uncommented abdicates its responsibilities.
Fr David Cilia said mass on Tuesday, handpicked for the job by the Archbishop Charles Scicluna who couldn't do the job himself due to a month-long overseas commitment. Do read Fr Cilia's homily. And I don't say that because at one point he quotes me which must be a big moment in the history of world religion.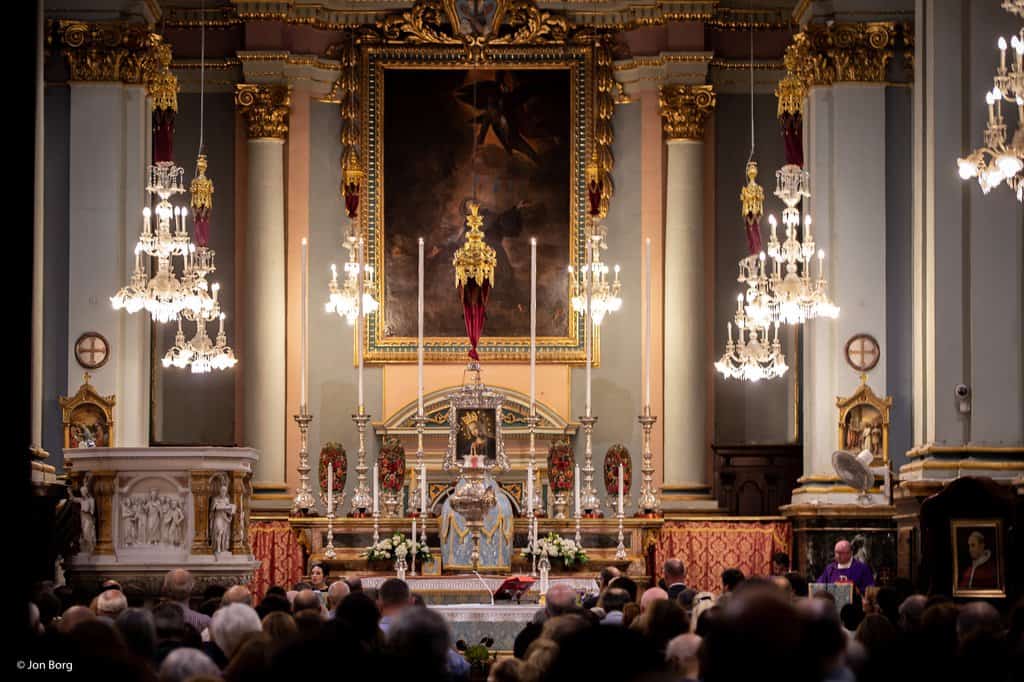 "For everything there is a season, and a time for every matter under heaven!" (Eccl. 3, 1)
On the first anniversary of Daphne's assassination, and nearly a year from her funeral, we are proclaiming again the Readings used on that occasion. We now know that these readings from Scripture had a special place in Daphne's heart. In fact, the Mass booklet contains a quotation taken from her Running Commentary: "Ecclesiastes 3:1-8 is engraved in my heart" (15 July 2016 at 2:51 p.m.). The Word of God is alive and powerful and we turn to it in order to allow it to talk to us in today's circumstances, a full year overflowing with many emotions and struggles, and above all, with many questions.
I am particularly struck today by three verses from the First Reading:
"a time to embrace, and a time to refrain from embracing" (Ecc 3, 5)
"a time to keep silence, and a time to speak" (v. 7)
"a time for war, and a time for peace" (v. 8).
My thoughts go first and foremost to Daphne's parents, Michael and Rose, to her husband Peter, to her beloved sons, Matthew, Andrew, and Paul, to her sisters Corinne, Mandy, Helene, Daphne's brothers-in-law, to her nieces Megan and Amy. Your dignity in the face of such brutality and ongoing callousness and cruelty is very humbling and a lesson to us all.  You have been denied the presence and affection of your loved one. You have been denied by a cruel hand from the embrace of your beloved daughter, mother, sister, niece. This is a great injustice!
Daphne was and still is, a person who meant, and still means, a great deal to those who knew her. I was particularly moved by the testimonials given by several people in the last issue of Pink magazine of The Sunday Times of Malta  (Issue 168 October 2018). I imagine that these people are here today, saluting her memory while also praying for the repose of her soul. Allow me to comment on the Biblical verses quoted above by referring to your own experiences contained in this magazine:
Samira Jamil: "In Daphne, I found a friend who was sensitive, accessible and intuitive.  She empathised with me for not having family in Malta and was always there for me.  I believe that, at times, she too felt like a foreigner in her own land".
Loredana Gatt: "Now I think the only way to honour Daphne is to keep her message going, her fight against corruption and her fight for democracy and justice.  Since Daphne was killed, I have become aware of this on a wider level and more appreciative even of Italian journalists who are fighting battles similar to Daphne's here in Italy".
Simone Camilleri: "It is amazing to me that someone who was always so busy – with her writing, her magazine, her family, visiting her sons as they studied and worked overseas – could still find time to prioritise her friends when they needed her support.  She has made me realize that a true friend is one who will always be there for you, no questions asked"
"I think Daphne definitely valued her sons most in life.  She was always very humble about her own achievements but she lit up when she spoke about her sons'.  She was excited for all the opportunities they had in life and was proud of all they had achieved in their young lives".
"Her sons were grown-up and living overseas.  Why not retire her blog and focus on her family, her magazine?  Why not leave the country? In typical Daphne fashion, she shrugged off my concerns with a smile and told me that she felt compelled to write because she felt so strongly that Malta deserved better.  It was the first time I truly understood how selfless her sacrifices were".
"However, since Daphne's assassination, I vowed to become more vocal and to always speak up for the underdog, I think that is the best way to honour Daphne's memory".
Megan Mallia: "Daphne saw beauty where there was none, as she lived with a desire to pull out the weeds in the world and plant flowers in their place.  She certainly did that in a literal sense too – her garden was unlike any I've ever seen".  … "In a world that worships money and power, my aunt Daphne valued life, love and honesty – and a few good laughs over tea and cake in her living room would have made our day".
Claire Borg: "I looked up to her, with total admiration.  And the fact that she believed in me and took me on board as a food stylist and photographer when I practically knew nothing says a lot about her". … "Daphne lives in my heart.  That's how I honour her memory.  I think of her a great deal.  I honour her in my work.  My food photography is a tribute to her". … "I think Daphne value most the truth, her family and her work, and one lesson I learned from her is never to be afraid.
2.  After one year waiting for justice to be done and for the truth to emerge about who really is ultimately responsible for Daphne's assassination, we feel like Ecclesiastes, who says in the First Reading: " I saw under the sun that in the place of justice, wickedness was there, and in the place of righteousness, wickedness was there as well" (v. 16). That is why, then, on the 16th day of each month, while holding our candles and flowers, we repeatedly ask this question: "Who killed Daphne?" These innocuous candles and flowers have become a sign of irritation to those who do not want this question to be answered! Let us exclaim with the sacred author: "God will judge the righteous and the wicked, for he has appointed a time for every matter, and for every work" (v. 17). This is also echoed in today's Responsorial Psalm "How long will you assault me? Would all of you throw me down— this leaning wall, this tottering fence? Surely they intend to topple me from my lofty place; they take delight in lies. With their mouths they bless, but in their hearts, they curse" (Ps 62, 3-4). To this persecution, the Psalmist affirms "Truly my soul finds rest in God" (v. 1). I renew the Archbishop's heartfelt appeal that he had directly addressed to those responsible for Daphne's murder: "However hard you try to evade from the justice of men, you will never escape from the justice of God. Repent before it is too late" (Homily, Funeral Mass, 3 November 2017). Repentance is the attentuating factor in front of God. God wants to save you too. This is the blood of the Lamb that saves us from the evil one who ensnares us. This is was proclaimed in the Second Reading taken from the Book of Revelation. Even though we know that the victory belongs to the Lamb, the struggle does not end until the truth is victorious. 
Finally, the Gospel proclaimed a few moments ago reminds us that "Light has come into the world, but people loved darkness instead of light because their deeds were evil. Everyone who does evil hates the light, and will not come into the light for fear that their deeds will be exposed" (Jn 3, 19-20). This is also true in the life of society, politics and the State. We perceive shadows, darkness, but also light. That is why it is in the interest of a strong society, that respects democracy and the separation of powers, that transparency reigns in political issues, that information is allowed to circulate freely, that journalists are truly unshackled, are truly free, not only because they have not been silenced like Daphne Caruana Galizia, but because they are not persecuted or living in fear of retaliation. Our society deserves better, but ultimately, society will have what it permits. This is the reason why it is imperative that the cry for justice and truth must not be muzzled before answers are found.
The Archbishop, when addressing Daphne's sons during her funeral, had said: "Your beloved mother died a cruel death by the hidden hand of someone that valued darkness over the light for his actions are evil. See that you will always be the children of the light." Permit me to tell you that the dignity you have shown and your tireless work so that the light pierces the darkness, in spite of this great injustice, perfectly illustrates that you have taken the Archbishop's appeal to the heart. I enjoyed listening to the interview that Paul Caruana Galizia gave to the site Index on Censorship, where he said:
"It's a very personal thing what motivates a journalist to carry on writing in the face of all those threats and violence…for my mother, it was that you can't just leave things alone, you can't let injustice carry on, you can't, in her words, just let people get away with it."  (Interview with Lewis Jennings, 10 October 2018).
Another journalist reminds us that "In [Daphne's] death as in her life, she holds up a mirror to the face of this country and forces us to see the ugliness we deny" (Manuel Delia, manueldelia.com, 13 October 2018).
Conclusion:
Tragically, three journalists have been killed in the free and democratic European Union. I take this occasion to remember and salute the memory of Jan Kuciak, 27, killed alongside his girlfriend, on the 25 February 2018, and Viktoria Marinova, 30, killed only this month. Like the Archbishop said in his Message for us today, "Journalists need the protection of the State and of society in order to safeguard the liberty of all citizens". Daphne was the first journalist in the European Union to be killed. I hope that we are not the last to see that justice is served for justice and truth re-establish balance in society. 
Thank you to all of you present here today, because your presence makes a difference. It is the candle that lights up the darkness; it is the love that softens the blow of injustice with Daphne's family.
Eternal rest grant unto her, O Lord, and may perpetual light shine upon her. May she rest in peace. Amen.