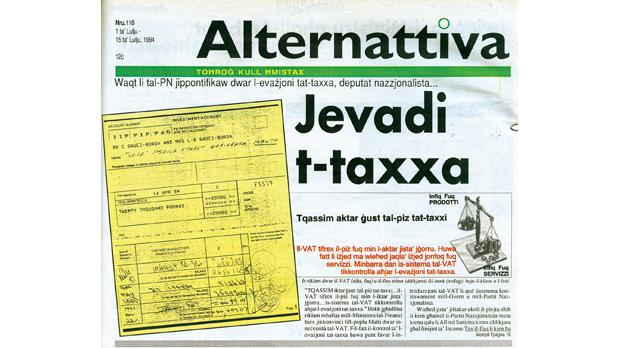 Twenty-five years ago, Alternattiva Demokratika used to publish a bi-weekly newspaper that ran a story about a Member of Parliament who dodged taxes on money he stashed in the UK. 
The guy was called Lino Gauci Borda and the gossip at the time — this never made it anywhere near print of course — was that he was going through a bad personal patch and his wife wanted to embarrass him. She allegedly went to Alternattiva — that was the name of the newspaper — with the documents of the undeclared investment and when they published he resigned his seat in Parliament.
He was a back-bencher at the time and in theory, no one could fire him from the job he had. But he was embarrassed by the irrefutable evidence and left.
Twenty years after that, the story resurfaced again in people's memory when Times of Malta pointed out the irony that at the time Lino Gauci Borda resigned, his parliamentary colleagues Ninu Zammit and Michael Falzon watched him go not owning up to the fact that they too had undeclared funds stashed out of the country and they too were tax dodgers. For as long as their wives did not go share that information with a newspaper their political careers (and their stash) was safe.
This could be the beginning of an interesting discussion about corrupt politicians who got away with it, one of whom now spends the time criticising others like yours truly for being holier than thou, as the saying goes.
Or it could be the beginning of another interesting discussion about spouses of politicians who reveal secrets of wrongdoing to embarrass their estranged husbands or wives. I wonder why that would be coming up now.
But the reason I thought of Lino Gauci Borda is that it is so rare in living memory here in Malta for a story published by a newspaper or a journalist to have led to a resignation in short order or to any real impact on political life.
One of the journalists I met over the past year was Andrea Purgatori, an Italian veteran most famous for his Ustica investigations. He told me that he learnt from experience that an indifferent audience often bursts the enthusiasm and trepidation of a journalist who thinks they have in their hands, revelations that should cause upheaval.
Well, today something big happened. It is the last thud in a crash that has been rolling since last February when one Ali Sadr Hasheminejad become a guest of the FBI and eventually indicted for bank fraud in the United States New York Southern District Court.
Today the European Central Bank closed down Pilatus Bank. It is no more.
And you know why that has happened? Because in 2016, two years ago, Daphne Caruana Galizia published a series of stories about corruption, money laundering and other crimes going on within the walls of the second floor of Whitehall Mansions. That series of stories is still branded by our prime minister as the biggest lie in Maltese political history.
And you know how it was possible for Daphne Caruana Galizia to publish those stories, apart from her intuition, her gumption, her indomitable courage, her enviable grasp of the complexities of the financial world and her indefatigable energy? Her source: Maria Efimova. That source is still branded a possible Russian spy by our prime minister and his government tried twice and failed to have her extradited on the back of trumped-up charges.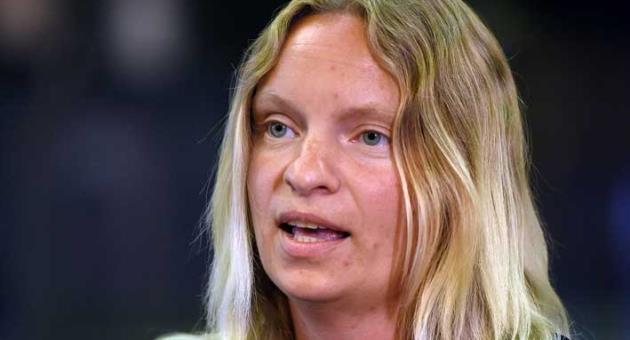 All the Egrant inquiries, all the allegations of forgery, all the Florence wedding invitations, all the sponsorships to private jet companies who fly no one here, all the slandering campaigns, the witch-hunts, the wasted police time to fabricate evidence, all the political apologies and cover-ups, all the fired investigators and dismissed officials, all the compromised police officers and the relatives and cronies placed to cover up crimes: none of that saved Pilatus Bank. None of that saved Keith Schembri's or John Dalli's bank accounts there.
And none of that saved Ali Sadr Hasheminejad who sits in the New York tri-state area reading this post as he thinks he now has one less thing to go back to if he somehow manages to dodge the century of prison that awaits him.
Today we do not only mark the day Pilatus Bank closed down. Today we mark one great exception in the history of impunity in this country. Like those reporters at Alternattiva in 1994 who found themselves celebrating in the space of four days one less tax dodger in Parliament thanks to their work, we now have one less corrupt money laundrette thanks to Daphne Caruana Galizia's work.
Yeah right, shoot the messenger if you will. She's still saving your butt a year after they killed her.
This, you see, is what journalism is for. It doesn't always turn out this way. But today is a happy day.