Herman Schiavone in a Facebook post denies a Malta Today story that he, Schiavone, was "mulling dignified exit" for Adrian Delia. He branded Malta Today's report as "deceiving" and that "Adrian Delia is not resigning and is becoming stronger day by day".
Herman Schiavone will have to deny this post as well then.
In a text exchange from March 2018 with Adrian Delia's wife, PN MP and Adrian Delia stalwart, Herman Schiavone expressed his concern about the viability of the continuation of Adrian Delia's leadership.
"He had a few drinks as well today. I tried to stop him. I think that he is drinking to forget the problem".
"Adrian is like a piece of shit today. This cannot go on. If need be he will quit but I want to make sure he will do it in a dignified way," Herman Schiavone says in a text message exchange seen by this website.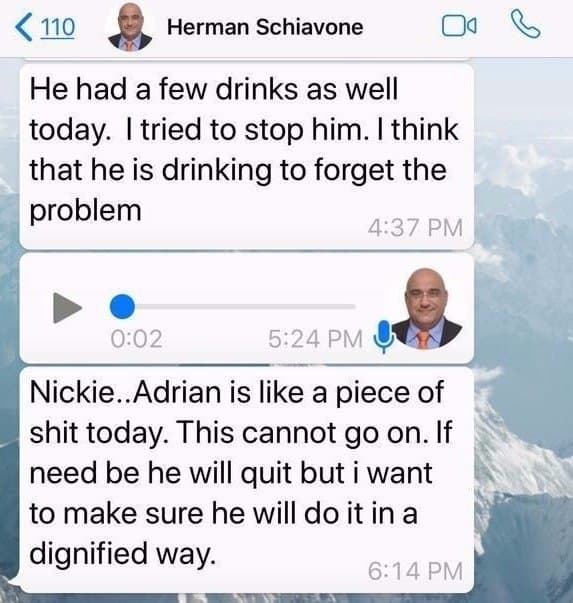 This exchange shows that for several months now, and from soon after his election as party leader, senior allies of Adrian Delia in his parliamentary group were considering him unsuitable for his position.
The concern about Adrian Delia's heavy drinking is confirmed by sources at the PN headquarters who have seen the party leader consume alcohol during day-time working hours.
On a number of occasions, Adrian Delia missed morning appointments including speeches at political events or appeared tired at events he did attend. Party employees and activists have privately expressed concern that Adrian Delia's drinking habits were impinging his ability to fulfil his duties.