19:01 Adds Frank Psaila's comments.
A meeting with Yorgen Fenech of the Tumas Group cost Herman Schiavone his seat in the PN Parliamentary Group. It did not cost Kristy Debono anything more than the effort to write a not entirely heartfelt apology.
Here's a screen-shot taken for Net TV's Iswed fuq l-Abjad presented by PN MEP candidate Frank Psaila. You can watch the program in your own time on this link.
The screen shot includes a crawl of the program's sponsors and the sponsors include the Tumas Group which Yorgen Fenech runs.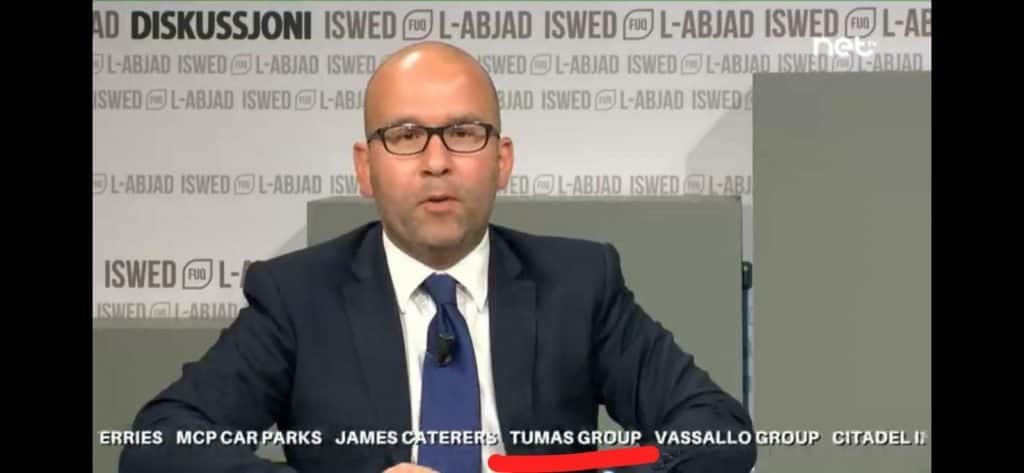 Few images can better represent the manifest dependence political parties have on big business here. Embarrassment and association with corruption is a small price to pay just to keep the show going on.
How can the Nationalist Party combat corruption if it depends on the corrupt to function?
19:01
Frank Psaila sent in this statement:
In 2015, I started buying airtime for my weekly TV program Iswed fuq l-Abjad. As happens with each and every producer of TV programs, I sought advertising to air during the program. Tumas Group and a good number of other companies agreed to advertise. I used to invoice Tumas Group on the agreed rates and payments were done by cheque payable to myself.
The last advertising schedule with Tumas Group ran till October 2018.
In November 2018,the 17 Black story was revealed. As from that month, the advertising schedule with Tumas Group ran out, the month before, and was not renewed.
The 17 Black story was discussed in many programs of Iswed fuq l-Abjad up till recently. The screen shot you uploaded was taken from a recent program of Iswed fuq l-Abjad. The graphics remained as shown since October 2018. Since then, most of the advertisers whose company name appeared in the graphics part of the program, had also stopped their advertising campaign. Their name still appeared.  As did the Tumas Group name. As did the name of Michael Fenech Adami, whose name showed to be 'Logistics of Program' but he hasn't been for over a year now.