The anti-mafia trial starts on Tuesday of local veteran football managers Robert and Adrian Farrugia who along with several others are charged with match-fixing and corruption in the Calabrian town of Lamezia.
Adrian Farrugia resigned from the role of Mosta FC team manager after the "Dirty Soccer" investigation named him in 2015. This Kurt Sansone report on Times of Malta is from the time arrests were made as part of the Dirty Soccer investigation.
According to sources, Adrian Farrugia remains till now highly influential and active in Mosta FC and with his brother remains very active in the local football scene.
Robert Farrugia sat on the board of Msida Saint Joseph.
The list of persons facing trial from Tuesday also includes Felice Bellini former marketing manager of Vigor Lamezia, the club at the centre of the Dirty Soccer investigation. Felice Bellini is closely connected to Malta having served as Director General of Vittoria Stars and involved with Gudja United and Qormi FC.
Rodolfo Ruperti, the investigative officer from the anti-mafia unit of Catanzaro that issued charges against the Farrugia brothers said in these remarks to local newspaper il lamentino, "we are sickened by what we have found was happening in football".
The trial was due to start on 29 January but the hearing was postponed today after technical issues in notifying the parties concerned.
On that day of the first hearings, Vigor Lamezia fans gathered in front of the court building demanding "Truth and Justice for Vigor".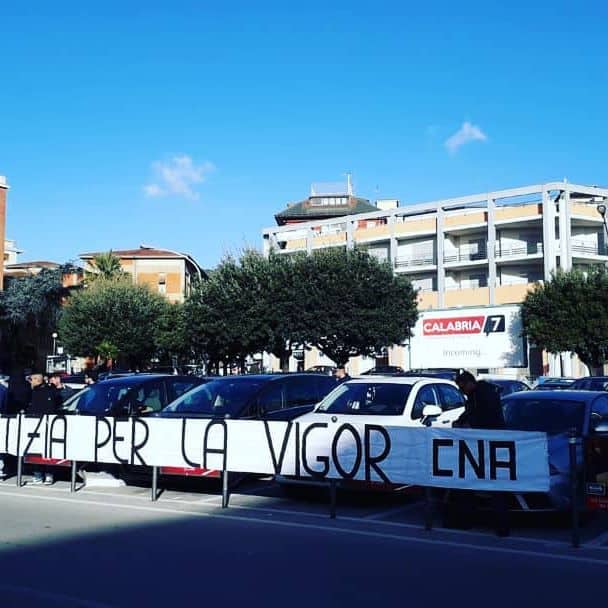 Twelve people will be tried next week for fixing match results to secure gambling gains. The Catanzaro anti-mafia unit believes that games in the 2014-2015 season of the Lega Pro and the Lega D were fixed. The scam involved players, coaches and football managers.
Adrian Farrugia's involvement on Mosta FC continues to cast a dark shadow on the club that has been blacklisted by the Professional Footballers Union for its treatment of imported players. 
A recent investigation by specialist website calciomercato.com into alleged misconduct at Mosta FC was reported here on this website.
Mosta FC President George Galea denied any wrongdoing.
Asked about the club's association with Adrian Farrugia, George Galea replied that "up to now Adrian Farrugia has been accused by not found guilty". That may change after the trial starting next week.
Adrian Farrugia is no longer football manager at Mosta FC but his two sons — 9 and 12 — play at the club's nursery.