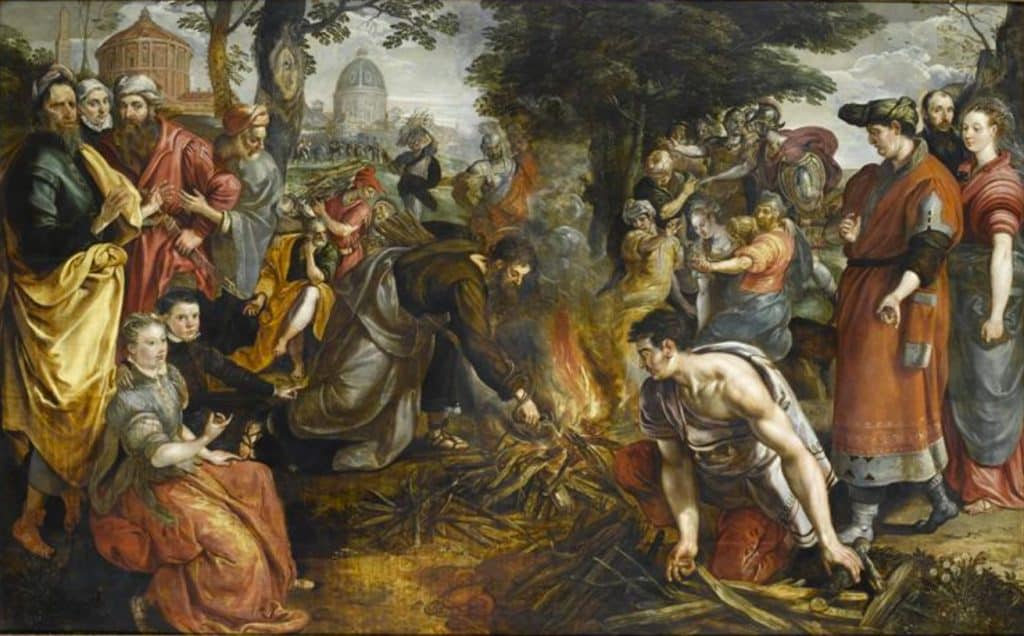 St Paul, or so the story goes, arrived in Malta in 60 AD. Blown by the shipwrecks of fate, it's widely believed he brought Christianity to these shores. 
Good job he arrived before he'd have been jeered off the island with taunts of 'Go back home to your own country!'
We should be grateful, too, that he didn't get washed up on a beach with a white flag, speared into the sand by some fraudulent outfit – endorsed by the government, paid for by taxpayers – who charged 25,000 euro for the honour of being a 'plastic-free beach' as plastic was being tossed at the eco-banner by the sea. 
Or God forbid he arrived in the middle of that gale-force storm in February when, braving death, people rushed to scoop up the glut of free fish hurled at them from the bursting pens of fish farms where tuna is being fattened fresh for laundering.  St Paul would imagine that the feeding of the five thousand had, quite simply, never happened.
Or what if he returned to his namesake place of origin in Malta to be faced by the demolition of environmentally significant buildings in favour of multi-storey apartment blocks with an abundance of garages for all those cars lining up to use the vast array of fuel stations within walking distance of each other dotted right across this sparkling jewel of a Mediterranean tax haven? That's assuming, of course, he could navigate his way through the rubbish.
Horrified, he might change direction and veer towards Balluta Bay where, only 7 months after the beach was replenished against the advice of marine experts, all the sand had been swept away along with the 110,000 euro of taxpayers' money which was pumped into the project. But that's not true, is it, you see, because, as a spokeswoman for the Malta Tourism Authority put it, 'The fact that the sand is not visible all the time does not mean that most of the sand has been washed away.' 
This parrot, ladies and gentlemen, is not dead.
In the same vein, this university is not a university but it is a university although it's not a university because it's an 'American' university built on land purchased by a Jordanian investor which was public land – great swathes of public land no less – which would, in a normal functioning democracy, be commonly known as theft. 
Shortly before their 6 months probationary period was up, the first cohort of university lecturers was fired en masse, although you do have to wonder why they fell for this hoax to begin with. To be fair, this wasn't such a great loss to the 'university' as there was only one faculty and barely a student in sight. Indeed, some of those eager-beaver scholars who were expected to enrol did a hit and run, absconding from their studies by scarpering off into the European sunset with their brand new visas. 
But none of this means it's not a proper university, does it? I mean, we had a delightful glimpse into what goes on in its ivory towers courtesy of Lovin Malta. Their insight into the leafy environs of Cospicua was written, or so I'm reliably told by its author, as a genuine report on an 'academic' venture that 'has well and truly turned the corner', demonstrating 'significant progress has undoubtedly been made.'
As a Monty Python sketch about a 'start-up' university, this rigorous example of journalism most definitely holds water akin to that contaminated by diesel following the massive fire this week on a yacht moored inconspicuously in Kalkara.  The billowing smoke would no doubt have been visible to the unsuspecting AUM students walking past on cue with 'satchels strapped lazily over their shoulders', perhaps startling the 'female student wearing a hijab…a book clutched to her chest.' 
As a film set from The Matrix, this works perfectly but we are in the reality of Malta where smoke and mirrors are the order of the day. This pipe is not a pipe is not a pipe from Azerbaijan. Conjuring tricks include white rabbits being pulled from the Police Commissioner's mouth as Ali Sadr, owner of the now-defunct Pilatus Bank and currently facing 125 years in a US jail, disappears on a private plane in a magical puff of yet more polluted smoke. 
But we are no longer seeing through a glass darkly. There is nothing opaque about the Venice Commission's conclusion that 'Malta is not a functioning democracy'. There's no disguising the European Parliament's definition of us as a tax haven. The demand that our cash-for-passports scheme be 'terminated' leaves no room for manoeuvre. There's no ambiguity about MEP Sven Giegold's demands that Article 7 should be triggered. There's nothing hidden in Greco's detailed exposition of our perverted criminal justice system. The institutionalised corruption rampant in Malta has been laid completely bare. 
This government, with the forces of media-owned propaganda at its disposal, can scream and shout all it likes but, as our hallowed Saint informed us, there inevitably comes a time when the veil is lifted and we must come face to face with what we truly are.
This confrontation occurred in all its brutality on the 16th of October 2017. What's been exposed since is what Daphne Caruana Galizia had already made public or what she would have done had she not been murdered.
It is three years since the Panama papers revealed worldwide financial corruption at the highest levels. It's nearly 18 months since the car bomb in Bidnija. The more this government has tried to brush its guilt and complicity beneath the carpet, the more mud and blood-stained evidence has seeped on through. 
The European Parliament's call for a public inquiry into the assassination is no diplomatic chummy suggestion. Malta's refusal can be overruled. 
Just as the layers used to conceal money laundering were uncovered by the Panama Papers, so, too, the flimsy masks donned by this corrupt government have been stripped away. The public inquiry will reveal its essence and we'll recognise the faces staring back through prison bars.