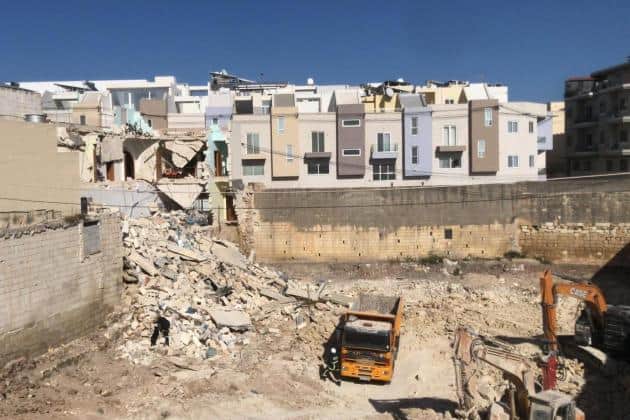 When on Monday afternoon, on returning from lecturing at the university, my wife told me that another building next to a construction site had collapsed and that a woman was still under the rubble, I felt the same anguish that I imagine my late mother must have felt every time she recounted how she had been buried alive. Not under the rubble of her parents' home in Cottonera – their house was one of the first to be hit after Italian air-raids began – but in a shelter in Mosta where she, her parents and her younger brother had taken refuge. I remember her expression "konna rifuġjati l-Mosta" ('we were refugees in Mosta'). She never used the word 'evacuees'. Yes, that was a time when many Maltese were refugees in their own country. We have forgotten the difficulties associated with being a war refugee, with trying to flee from the danger of falling bombs.
It was March 21, 1942. A string of bombs hit both entrances to a communal shelter in Gafà Street. The force of the blast, according to my mother, was such that part of the roof of the rock hewn shelter collapsed. She would recall moving in complete darkness after the explosion and stepping over people lying motionless on the floor – probably one of her parents or her brother. Many people died on that day in that shelter; my mother, along with the family's fourteen-year-old house help, Pawlina Chetcuti, were among the few extracted alive from that shelter.
I am angry that in this day and age, with all the technology, machinery and accumulated scientific and historical knowledge around to enable proper and safe demolition and construction of buildings, Miriam Pace should have died like my maternal grandparents and my mother's brother, under a pile of stones. That was wartime and bombs, whether or not intended to target specifically shelters, or even if released as the German plane was perhaps taking evasive action, those bombs were meant to damage and kill. They were deliberately thrown and were intended to kill.
What happened in Santa Venera on Monday afternoon was of course not deliberate, but nor was it an act of God. Houses that have withstood heavy wind, pouring rain, even the odd earth tremor are not meant to fall down like a pack of cards unless something – a plane, a crane, a meteorite – comes crashing down on them. Short of these, it is inevitable that someone, somewhere was negligent.
As one newspaper headline has put it, "the blame game has already started". I am not interested in knowing who was at fault for the collapse of a particular building or for the consequent involuntary homicide – there are courts to determine that, even though it may take years for proceedings to be concluded, with evidence heard in dribs and drabs before the magistrates court ("bl-istilliċidju" as the late Guido Demarco used to put it), and with the possibility that at appellate level the court, detecting some procedural irregularity which not even the parties would have flagged, annuls everything and sends the case to be tried afresh before the first instance court (the expression 'adding insult to injury' to the victims or their relatives invariably springs to mind).
What is clear, however, at this stage and after the number of similar incidents we have had, is that something is wrong with the system in similar construction undertakings – whether that something is the law or the regulations themselves or their effective enforcement.
I am angry. My wife and I lived in Strasbourg for nine years. There we have seen, both in the city and in its banlieue, countless instances of large and small buildings being demolished and new ones coming up. Apart from the minimal or even non-existent inconvenience to neighbours and the general public arising from the chantiers, one could not help notice the precautions taken with regard to adjacent buildings, especially old ones in the city – in some instances steel-girding the sides of adjacent houses to prevent even the slightest movement of bricks or stone.
Someone suggested to me that perhaps in some of these cases the fault lies with the collapsed buildings – they may not have been built according to the requisite skill of one's (the architect's or the contractor's or the mason's) "art or profession", to use the words of the law. But even if they were not, and saving always the descent of a plane, crane or meteorite upon them, these buildings stood upright until excavations commenced next door.
Surely one should, when commencing extensive excavations works, make allowance even for the possibility that adjacent buildings, either because they are old or because there may have been some flaw in their construction, would not withstand the strain of those excavation works. This is, after all, the diligence, prudence and common-sense foresight that one expects should be exercised before such adjacent demolitions or excavations are commenced.
I am angry at the state. Whoever may be immediately responsible for the Santa Venera incident last Monday and in other places these last years, the remote responsibility for what is clearly a systemic failure lies with the state. It is the state that, under the system of human rights law obtaining in Malta, is ultimately responsible for ensuring in a practical and effective, and not merely in a theoretical or illusory, manner the right to life and limb. When the former editor of the Times of Malta, Ray Bugeja, in an interview published last December quizzed me on the subject of 'positive obligations', I said that "Every death by suicide or overdose that occurs while a person is in lawful custody, every building that collapses in the course of adjoining works, every traffic fatality in known dangerous spots raises the spectre of the state not fulfilling its positive obligation to protect life and limb."
It is, unfortunately, no longer a spectre. How many more deaths similar to last Monday's must occur before the state fulfils its positive obligation? It took more than four decades and who knows how many deaths from exposure to asbestos at the dockyard before a case wound its way up to Strasbourg and the Maltese state was finally found responsible for multiple violations of fundamental human rights.
Governments have a habit of promising much and then delivering less or delivering something different. Think about it – on 1 April 2016 (yes minister, on April Fools' Day) Protocol number 12 to the European Convention on Human Rights, prohibiting discrimination not only in the enjoyment of fundamental human rights (that is already provided for in the Convention itself) but in the enjoyment of any right provided in domestic law, came into force with regard to Malta.
It had been signed and ratified, with much fanfare and the hoisting of naval bunting, three months before. To date it has not been transposed into the European Convention Act, like all the other Protocols to which Malta is a signatory, thereby preventing the constitutional jurisdictions from directly enforcing that Protocol. Why? Am I missing something? Perhaps some Baldrick type "cunning plan"?
I am angry at the helplessness of the ordinary citizen when confronted by the arrogance of developers. I am angry at the inaction of the executive branch of government which refuses to take the bull by the horns and to be proactive, preferring to be reactive – the usual knee jerk reaction with half-baked proposals, accompanied by so much PR posturing – and preferring to temporise.
I am angry.
The author is a former judge of the European Court of Human Rights.