Thirteen migrants presently stuck in Libya, represented by Paul Borg Olivier and Eve Borg Costanzi, yesterday filed in court a judicial protest against the government anticipating a possible action under the European Convention of Human Rights.
The 13 include 4 women, one of whom is the mother of a two-and-a-half-year-old child.
Along with another 38 migrants, the 13 survived several days adrift on a dinghy within Malta's search and rescue area at sea over the Easter weekend and for four days after Easter. The Maltese authorities had spotted them and taken charge of their rescue but they did not send out idle army patrol boats to pick them up. Nor did they ask Italian rescuers to go to them even though the boat was fairly close to Lampedusa.
Eventually, by when 9 people had already died because of dehydration or drowning, they were picked up by a fishing vessel sent there by the Maltese army. The fishing vessel was inside Grand Harbour when its journey started. But a trip that would have taken an equipped military boat a few hours, lasted a night and a day.
And once the fishing boat picked up the survivors, it didn't take them to the nearest safe port, as it was obliged to do at law, but dragged them back to Tripoli on the instructions of the Maltese government. Three more people died on the way there, two of them crushed against fuel tanks. The bodies of the dead were dumped with the survivors on the shore of a harbour under heavy shelling from enemy fire.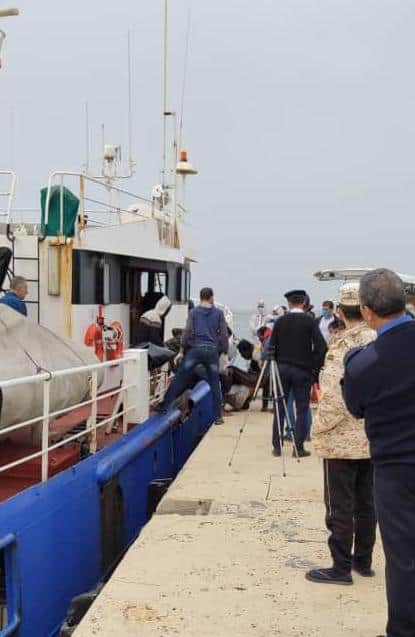 And they were dragged to a concentration camp that UN agents fear to visit for the danger and the horror inside. Even the emergency packs given to them by the UNHCR when they landed from the boat were stolen from them.
Most of the migrants were from Eritrea. They had pending applications for asylum and the paperwork to prove that. But no one listened long enough to understand why they were making such a desperate attempt to escape.
When Malta's government handed them over to the torturers and slavers in the Libyan camps, they collaborated in serving the migrants with inhuman and degrading treatment: men, women, children, all. By not giving the migrants any opportunity to demonstrate their eligibility for asylum, the government inflicted on them collective expulsion and neglected its international and European legal obligation to provide asylum to anyone who deserves it.
Unlike Libya, we have laws and we aspire to the rule of law and to the protection of human rights, particularly, if this is going to be of any use, the rights of the weakest among us. The European Convention on Human Rights and the Charter on Fundamental Rights of the European Union are applied universally, to all human beings. These are not rights for Europeans. They are rights for human beings in whom we recognise universal dignity.
I say 'we' liberally. Most of us address all sorts of hatred and discrimination to anyone who 'does not look Maltese'. I won't go into the most recent embarrassment of fat, bald, hairy, white men telling a dark-skinned 16-year-old model she's not eligible to carry the title Miss Malta. I won't do that because I feel creepy openly speaking about how beautiful a 16-year-old Miss is, and though I'd jump in front of every bullet that would try to stop her doing anything anyone else can do merely on the basis of the colour of her skin, I don't approve of beauty contests.
But the same prejudice that would seek to strip a model of her right to be Miss Malta if that's what she wants to be, is the prejudice that will be reacting to a court case brought by 13 migrants whose only sight of Malta was a tattered flag on a fishing vessel that had its name painted over.
They saw Malta (and Europe) in their dreams: white shores under a swift sunrise where unlike the hell they were escaping they would have a chance to live, decently, without fear of torture and death handed down by tyrants. Classic racists will misrepresent the migrants' action in court as some form of unjustified entitlement. The survivors' complaint in our court is not some angry reaction to having the door slammed in their face.
When 13 migrants with a story of slavery, exile, torture, despair and survival go to a court to ask for their inherent rights to be protected, they show they still have belief long after any one of us would have given up. Often the term 'economic migrants' is used disparagingly, the way a Tory would say 'dole scum' or 'scroungers'. But here we have people whose first dream is to live in a country where they can challenge a government in a court, even if they were born elsewhere or they don't speak the local language, and can fully expect the court to hear their case impartially without fear or favour.
That they can still believe that, after Magistrate Joe Mifsud's sham inquiry that found the Maltese government had treated them "successfully" when clearly they experienced no success, is a miracle of hope in the face of adversity in and of itself.
But if these people continue to hope after escaping Eritrea, crossing the Sahara, being stuck in Libya, and failing the Mediterranean crossing after seeing 12 people die of thirst or drowning, they will continue to hope they can get justice from the Maltese and European justice system. They're a lesson to us all.