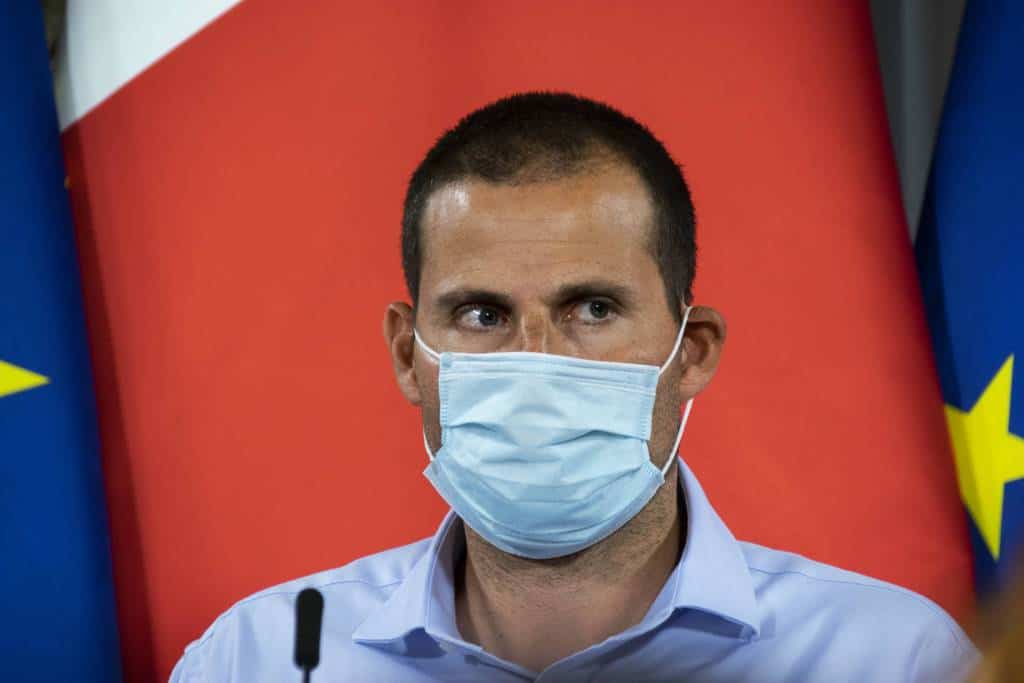 Robert Abela refused to answer questions on whether he recused himself when cabinet discussed and decided to refuse a pardon to Vince Muscat il-Koħħu in exchange for testifying for the prosecution in the case against Daphne Caruana Galizia's killers and several other cases, including murders.
The issue of recusal came up because Vincent Muscat told the police some of the murder conspirators were Robert Abela's clients when he worked for them as their attorney.
When this came up several weeks ago, Robert Abela said he would seek advice on whether he should stay out of the discussion.
Robert Abela is today saying he will not say publicly whether he actually stayed out of the cabinet discussion when it was decided not to give Vincent Muscat a pardon to turn state's evidence. He is justifying this secrecy because, he says, cabinet deliberations are secret.
Bullshit.
First. If Robert Abela stayed outside the discussion, there would be no cabinet secrets he would be aware of and he could therefore answer the question by saying he did stay out of it. The fact that he's saying that he cannot say what he did, means, to me at least, that he did not stay out of it and he participated in a discussion and a decision which he is now hiding behind the convention of cabinet secrecy.
Second. Cabinet secrecy is intended to protect collegiality in decisions. So whether they agreed or not with the decision, ministers are expected not to divulge who was in favour or against a decision (including themselves) but merely to all stand behind the decided outcome. No one is asking the prime minister what his position in the discussion was, merely whether he was there or he stayed out of it.
Third. The issue here is that Robert Abela has a clear conflict of interest in this case. As a result of today's decision, his former clients have probably just dodged a murder charge. Ministers are expected to stay mum about cabinet's deliberations, granted. But they're also expected to declare conflicts of interest and to stay out of decisions that are conflicted by those interests. Using one rule to help him dodge compliance with the other is doubly unethical.
Fourth. In deciding whether Vincent Muscat should get a pardon in a criminal trial, cabinet was not debating and deciding on policy. This is one power the constitution gives to the executive branch which should rightly belong to the judicial branch. If we had proper separation of powers cabinet would be nowhere near a decision the direct consequences of which is the possible conviction in a criminal trial of the applicant and or of the people the applicant proposes to denounce. That should be a decision taken by the prosecutor, not by the prime minister.
But these are the rules. So what we have here is a situation where cabinet takes on a quasi-judicial role. They are making a judicial decision in a judicial matter. In this specific context relying on conventions designed to regulate policy decision-making is another deceitful dodge.
Allow me to explain. Cabinet secrecy is intended to ensure that ministers feel free to disagree with any policy proposal put to them without fear that if they lose the argument they have to pay a political price. But deciding policy is very different from deciding the fate of a criminal defendant or potential defendants the applicant is accusing. This is not like ministers deciding policy at all. This is effectively a jury deliberation.
We do not expect jurors to be transparent about how they voted on the guilt or innocence of a defendant. But we certainly expect that if they worked for the defendant as their lawyers, they are excluded and ruled out of the process. That's why judges preside on trials, even if jurors issue the verdict.
But Robert Abela reports to no one. No one. And if you ask him 100 times, he told reporters today, he will still not answer.
Robert Abela's autocratic attitude has stopped being funny a long time ago. Yesterday he told reporters he would not be publishing recommendations by experts to make changes to the construction industry that could prevent a repeat of the death of Miriam Pace and others, buried under the rubble which building works next door turned their homes to.
Robert Abela said the government is implementing the recommendations anyway. So why can't we read them? Why are we expected to believe the government is doing what they have been advised by experts merely on the basis of trust? What trust?
It took him less than a year to become a full-blown pocket-sized clay tyrant. Don't ask the muscle man questions.