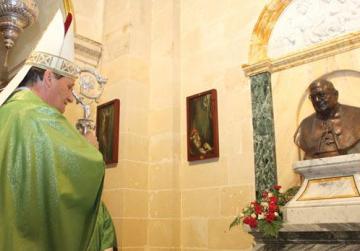 An Australian activist website that documents the covering up of child abuse cases by the Australian catholic church quotes the former Bishop of Cairns James Foley say in 2010 that he was informed Joseph Sultana abused altar boys in 1998.
Joseph Sultana was charged today in the Gozo court as the magistrate heard another of Joseph Sultana's victims say the priest molested him when he was around 8 or 9 years old, which would have been in 2003.
In 1998, when Bishop Foley (now retired) says he first heard from another of Joseph Sultana's victims, the Gozitan priest had already been fired from the Cairns diocese and had moved back to his native Gozo. The Australian website says that after telling the bishop that Joseph Sultana had molested him, the Australian victim who spoke up in 1998 committed suicide that same year.
Another Australian victim of Joseph Sultana has since opened a civil suit against the Cairns catholic diocese seeking compensation. The case was filed in Australia in 2010.
So, the question here is: did Bishop James Foley of Cairns share with the Bishop of Gozo the information he was given in 1998?
The sequence of events was: Joseph Sultana came back to Gozo from Australia in 1998; that year his former bishop was informed by a victim that Joseph Sultana had abused him; and in 2003, Joseph Sultana abused of another victim in Gozo. During this time, the Gozo diocese was run by Bishop Nikol Cauchi. Nikol Cauchi is dead. It's impossible to ask him when he knew what he knew.
Mario Grech replaced Nikol Cauchi as bishop in 2005. In 2010, 5 years into the new bishop's term, another victim of Joseph Sultana sued the church in Cairns because of what Joseph Sultana had done to him. Mario Grech, bless him, is very much alive. Was he aware of the law suit in Cairns? Was he aware of what Joseph Sultana was accused of doing when he was in Cairns?
Even when he worked under Bishop Nikol Cauchi, Mario Grech was well placed to be made aware of any information coming from Australia. In a 2015 interview with The Malta Independent, Mario Grech explained that he was on the anti-child-abuse front of the Maltese church since at the latest 1999, which would have been months after Joseph Sultana returned to Gozo: "Turning to the issue of child abuse, the Bishop explained that the Church in Malta and Gozo, in 1999, set up what was called the 'response team'. 'Later it changed name, but not substance. Today, it is known as the Safeguarding Commission. I was on the Commission that created the policy, as well as on the team. I am aware of our responsibilities'."
In that interview, Mario Grech said he used to abstain from deciding on Gozitan priests because he was too close to them but when he became bishop in 2005 he was no longer their colleague. He became their boss.
It is hard to accept that by 2010 at the latest, Mario Grech had not found out what Joseph Sultana had been up to while still in Australia. In any case he hasn't yet said he hadn't. Leaving Joseph Sultana to work as a priest was at best inconsistent with the talk of 'zero tolerance' in child abuse in the church.
In a 2018 speech, Mario Grech said "assured everyone that he never backtracks from his responsibility in cases (of child abuse) and he always takes immediate action against the perpetrators of such abuses in line with the laws of the Church and the state."  Now that Joseph Sultana has been charged by the police, it is fair to expect the Gozo church to explain when it first heard of his record and how long after, did it act on it.
The cardinal needs to explain.