We all know that Owen Bonnici likes to document his puny, little life on Instagram like a pubescent boy trying so hard to get down with the kool kids. Arani, Ma! Here I am riding a Harley; here I am posing with a cup of coffee while gazing philosophically at the camera. Arani, Ma, here I am playing guitar on stage fantasising that I am headlining Glastonbury in my stonewashed jeans and distressed T-shirt. Look, Ma, here I am posing with Keith Schembri, sorry, Darth Vader at Planet Hollywood. Look, plebs, here I am flouting covid-19 measures having coffee with some of my equally brainless cabinet colleagues. Look, Gordon Ramsay, look at me performing a culinary miracle cooking without gas. And on and on it goes. Jaħasra, it's like looking through the Insta of a teenager not a member of Cabinet. But then, our prime minister frequently throws his toys out of his pram.
But hey, Owen, you're missing a post for Thursday, 30 January 2020. You hit all the headlines here in Malta and abroad. Everyone knew your name at last. But where is your Instagram post saying: Here I am getting a xebgħa papali from Malta's Constitutional Court for repeatedly breaching the human rights and freedom of expression of every person who has ever placed a candle or a flower at the makeshift memorial to protest Daphne Caruana Galizia's state-sponsored assassination? Insta is not Twitter with its 280 character limit. You could have fitted this long sentence celebrating your much-coveted and longed-for popularity in a fetching Insta post gurning for the camera while brandishing a broom. Hashtag #HumanRightsViolator #KemmInhobbNiknes
Let me refresh your memory, Bonnici. On this day in 2020, the Constitutional Court ruled that protestors' rights had been breached repeatedly due to your orders to clear the memorial. You were found to have breached the fundamental human right to free expression of Daphne's family, protesters in groups or as individuals, every time we came to Valletta and left a flower or a candle or a message and you ordered your minions to clear the memorial at night like cowards. You breached the fundamental human rights of all these people every day for over 500 days. It was a huge judgment that made you famous all over the world. So where is your Instagram post? Hashtag #BastInEurope #KemmJienBravu.
Do you remember the strongly-worded judgment by Judge Joseph Zammit McKeon who ruled that the repeated clearing of the items was nothing but a "pique" and a "systematic method" of interference on your part with our rights to freedom of expression? That your actions turned the monument into "an instrument of division"? You bleated that it was a cabinet decision. Hiding behind your colleagues is the equivalent of removing our tributes in the dark. Some people might call that spineless. At least you should have had the courage of your conviction.
It was a landmark case brought by Manuel Delia on behalf of all civil society activists who endured months of abuse, both verbal and physical, because you repeatedly gave orders for the memorial to be cleared. The judgment on this day last year was also a landmark win for human rights in this country that pretends to be a member of the European Union while embracing the totalitarian credo of the likes of Saudi Arabia, North Korea, and Putin's Russia. Putin wants his record back, Bonnici, because you went beyond limits established by Putin who gave up on clearing the Boris Nemtsov memorial in Moscow after some 130 times.  How's that for an Instagram Post? #EatMyDustPutin
Yes, a landmark case. A landmark win. Or as TVM or is it One TV, I am confused, likes to parrot repeatedly on their propaganda bulletins "bla preċedent" when trumpeting the brains and brawn of Robert Abela's government. You bet it was "bla preċedent", Bonnici. Where in the European Union does a sitting minister for education gets his posterior handed to him by the highest court in the land for repeated human rights violations when serving as justice minister? By the way, you have also missed an Instagram post for the 3 February 2020, when we had come to your ministry in Floriana with our very own mock monument dedicated to your achievement. Hashtag #PosterBoyForPique. We feel robbed.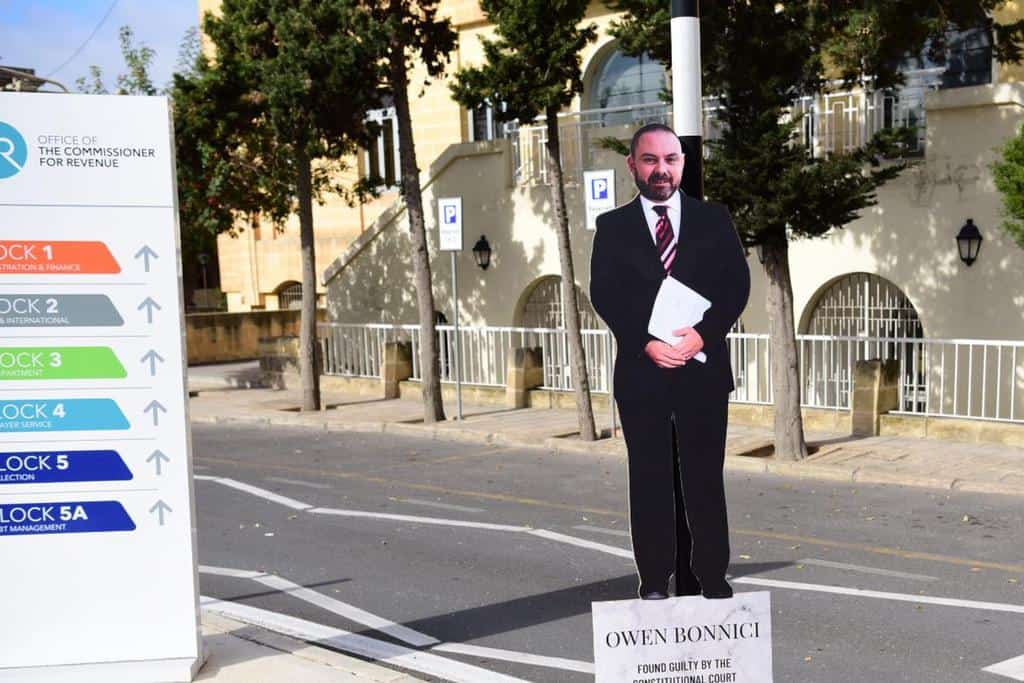 Of course, soon after this monumental judgement you told the press that you will offer "no apology".  You sounded very pleased with yourself too. So why no Insta post bragging about it? Wouldn't that have gone down well with the hordes of Laburisti who keep liking every photo of you drinking coffee, looking at things thoughtfully, cooking without gas, and elbow bumping?
I jest because it's always fun to mock self-important men like you who think that being in government means serving the narrow interests of the party over the common good of the country.
And yes, we will continue to place posters, candles and messages at the Great Siege monument until justice is served.
Hashtag #JusticeForDaphne