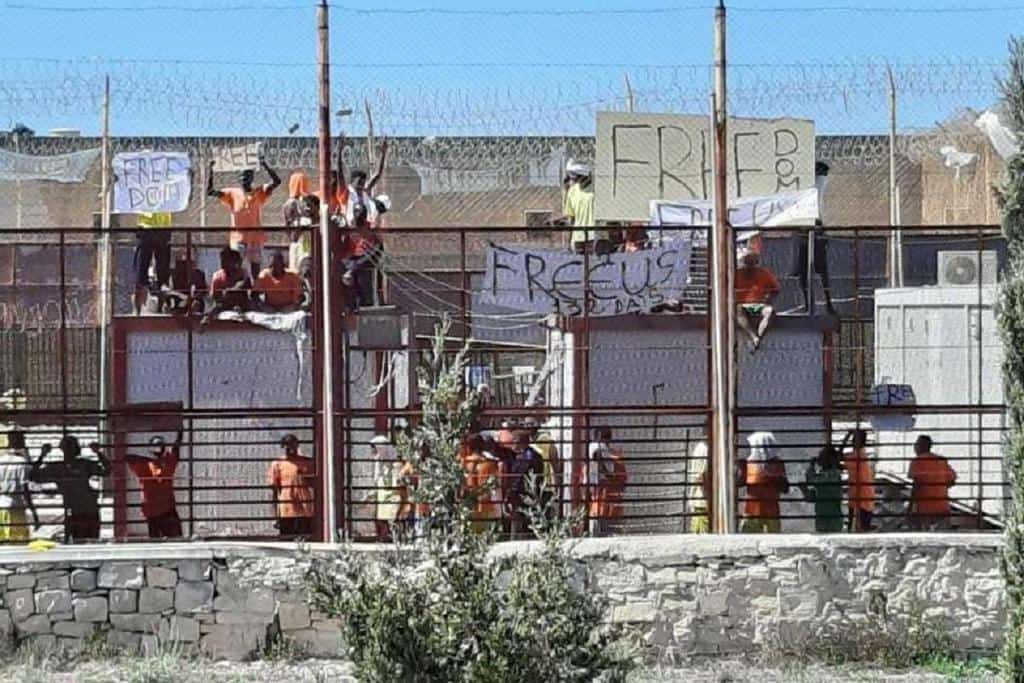 The Council of Europe's Committee to Prevent Torture received allegations of deliberate physical ill-treatment by police officers and or detention facility staff of apprehended or detained migrants.
The Committee also received allegations concerning excessive use of force by Detention Service staff and private security staff at Lyster Barracks. At least three migrants alleged that the staff purposefully shook the perimeter fence that they were climbing in an attempt to escape causing them to fall to the ground whereupon they were subjected to multiple baton blows. One of them suffered a fracture and a laceration on his head which needed treatment in the hospital. Some of the victims were juveniles.
The CPT also received four separate allegations of unwarranted use of pepper spray by custodial staff at Lyster Barracks as a form of punishment. One migrant was allegedly pepper-sprayed for looking out through the corridor's window bars and refusing to go back into his dormitory.
The Committee to Prevent Torture said that "there can be no justification for applying baton blows to migrants who have already been brought under control. Equally, it considers that pepper spray is a potentially dangerous substance and should not be used in confined spaces and should never be deployed against any person who has already been brought under control."
The Committee published today findings of an unscheduled inspection to Lyster and Safi barracks last September.
The preliminary findings of the Committee have been with Malta's authorities for several weeks but their permission was necessary for the Council of Europe to be able to publish today's report.
In response to questions put by this website last January, Rebecca Buttigieg who speaks for Home Minister Byron Camilleri had told me that migrants "did not report cases of ill-treatment by the Detention Service officials" to the CPT. This now turns out to have been a lie.
I reported on allegations of torture and physical ill-treatment of migrants in The Sunday Times article I wrote on 31 January. The information contained in that report, denied by the government, has now been confirmed by the Council of Europe.
In its report published today, the CPT urged the Maltese authorities "to change their approach towards immigration detention and to ensure that migrants deprived of their liberty are treated with both dignity and humanity."
The CPT branded conditions in detention centres as "institutional neglect by the authorities". Living conditions in Malta's detention centres for migrants "may well amount to inhuman and degrading treatment" in breach of Malta's obligations under the European Convention on Human Rights.
The CPT inspectors found "large rooms crammed with beds, no privacy, and communication with staff via locked doors. Migrants were generally locked in their accommodation units with little to no access to daily outdoor exercise and no purposeful activities."
The Council of Europe also noted that young children and unaccompanied minors were being detained in very poor conditions together with unrelated adult men.
The CPT called for "an urgent need for Malta to revisit its detention policy."