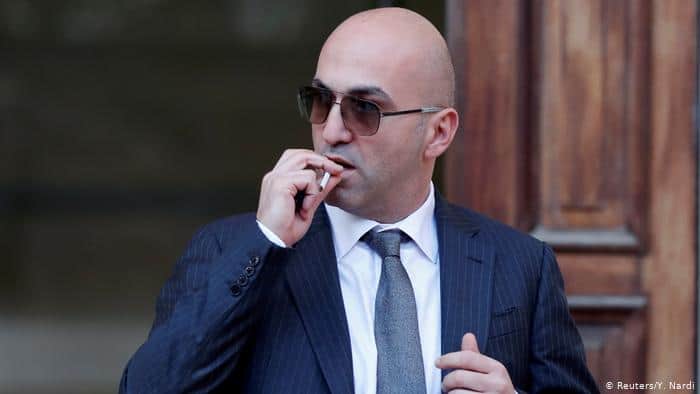 If this is what they mean by chilling effect, this morning I'm feeling the shudder.
In 2019, Yorgen Fenech was known as the owner of 17 Black and therefore the man behind one of the Dubai companies that Brian Tonna's Nexia BT told Panama's Mossack Fonseca would be paying $5,000 a day to Hearnville and Tillgate. We knew since February 2016 that Hearnville and Tillgate belonged to Keith Schembri and Konrad Mizzi. We had put all this together in October 2018 when Reuters uncovered Yorgen Fenech.
We knew before then that Yorgen Fenech was the head honcho at Electrogas and that he had acquired the Electrogas contract with the direct meddling of Keith Schembri and Konrad Mizzi. We knew the Electrogas contract was rotten and at a gross and illogical disadvantage to end consumers, that's you. We knew Daphne Caruana Galizia had received a huge leak of emails from Electrogas just before she was killed.
So Yorgen Fenech was a murder suspect if not to the police, certainly to anyone following what was going on.
While Pierre Portelli was taking Yorgen Fenech's money and exchanging information with him to use the Labour Party's media to undermine his own party and civil society; while Silvio Valletta went on trips abroad with him while his Minister wife looked on; while Johann Buttigieg debated going into business with him; while Rosianne Cutajar collected tens of thousands from him, kitted out her wardrobe at his expense and begged him to come back when he stayed away for drug rehab; while Edward Zammit Lewis exchanged messages with him like a sweetheart on the side; journalists were looking into Yorgen Fenech for more clues as to whether he killed Daphne Caruana Galizia.
When Carlo Bonini, John Sweeney and myself were finishing our book Murder on the Malta Express: Who Killed Daphne Caruana Galizia we knew a bit more than the public knew then. We knew Vince Muscat il-Koħħu had named Melvyn Theuma as the guy who hired them. We knew Melvyn Theuma was a taxi driver based at Portomaso. We understood this connected the alleged assassins with Yorgen Fenech. Like other responsible journalists who also knew this information we decided not to publish it in order not to disrupt the work of the few honest cops working in spite of Silvio Valletta, Lawrence Cutajar and Joseph Muscat.
But our eyes were on Yorgen Fenech.
There was another clue which was in the public domain. Alfred Degiorgio, in jail since December 2017, had been charged together with his live-in partner for money laundering. As part of the evidence officials working at casinos testified that Alfred Degiorgio gambled in their outlets in the years around 2012-2015.
At Portomaso Casino, Alfred Degiorgio gambled some 450,000 euro. He played cash and though he suffered some 16,000 in losses he walked back out with most of the cash he had (supposedly) walked in with. Portomaso had at best been complicit in a money laundering operation, cleaning Alfred Degiorgio's illicit money which he could now deposit in a bank alongside a receipt from the casino. At worst this was a way of paying Alfred Degiorgio for some service.
We did what journalists do. I wrote to Yorgen Fenech and asked him to explain this. I got a series of rude non-answers from his lawyer Gege Vella and the whole thing made it into the book which we published on 14 October 2019.
Days later Yorgen Fenech tried to make a run for it.
The Sunday Times today reported a text conversation Yorgen Fenech had with the then regulator of the gaming authority Heathcliff Farrugia. Yorgen Fenech was displeased that he got my questions. He was worried that it could force the MGA to clamp down on his casinos.
Yorgen Fenech was used to conduct his casino business undisturbed. Heathcliff Farrugia succeeded Yorgen Fenech's Las Vegas travel buddy Joe Cuschieri. Heathcliff Farrugia had been handpicked for the job by Joe Cuschieri, one must now assume precisely for his willingness to accommodate mafia casinos.
For  that's really what the MGA and Yorgen Fenech wanted to hide. Sure, there's the fact that Portomaso employed an anti-money-laundering officer who did not know the first thing about anti-money-laundering law.
But what's underneath all this is that Portomaso was in business with the Catania mafia. That Yorgen Fenech himself was wanted in Sicily for match fixing but the Italian authorities could not get to him in Malta because the Maltese police told them they didn't know where Portomaso Tower was.
Heathcliff Farrugia, in a year paid by you and other tax-payers what I make in about 8 years, comforted Yorgen Fenech. He told him he'd hold back on sanctions so "the Daphne crowd" do not find out about legal breaches at Portomaso. He offered to provide advice to his staff on how to reply to the financial intelligence agency to get them off Yorgen Fenech's back.
And he told him to discount my questions because "dak Manuel Delia aħdar". The Sunday Times translates "aħdar" as 'bitter' which is only partly correct. It is not possible that Heathcliff Farrugia did not suspect at the time that he said that that Yorgen Fenech had already ordered the murder of another ġurnalista ħadra. I know I did and I was nowhere near as close to Yorgen Fenech as Heathcliff Farrugia was.
Understand this then. Yorgen Fenech complained to Heathcliff Farrugia that I had asked him how come one of Daphne's killers gambled so much money at his casino. Heathcliff Farrugia didn't go cold and realise 'oh my God, is this journalist saying I'm talking to someone involved in the killing of Daphne here?' Nah. Alfred Degiorgio wasn't the aħdar. Yorgen Fenech wasn't the aħdar. Manuel Delia was the aħdar.
People who have not so far understood, won't understand from this little episode that when we speak of a 'Mafia State' we mean it literally, not as a hyperbolic figure of speech or as partisan propaganda because we're Nazzjonalisti indannati, l-establixment, or il-fazzjoni ta' Simon Busuttil.
Yorgen Fenech controlled what Net and l-orizzont published, controlled what permits were issued by the Planning Authority, controlled what MPs said and how they voted about his Electrogas contract, controlled how murders are investigated by the police, controlled who the government purchased power stations from, controlled how money-laundering laws are enforced on casinos.
And officials of the state working at political parties, in parliament, in the police and at regulatory bodies worked for him and did his bidding.
In the meantime, these State officials who neglected their duty to uphold the law also undermined journalists serving the State better than they ever tried to, by poking crooks with annoying questions. They undermined journalists. They endangered journalists.
In my The Sunday Times piece today I wrote unconnected musings after I heard il-Koħħu's chilling testimony about how they watched Daphne working on her laptop at her home, as I am doing in mine now, as they imagined ways to kill her. I took her point of view and shuddered at the thought of someone doing that to me now.
And then I find myself spoken of in conversations between the man who ordered her murder and a State official I was implicitly exposing for not doing his job properly.
Jien aħdar Heathcliff Farrugia? Li ma kontx l-agħar żibel.
One final note. I wrote in the past tense about what Yorgen Fenech controlled. He's since lived in prison. But reading Ray Fenech's replies to The Sunday Times defending even the existence of Yorgen Fenech's casinos is the ultimate gut punch. Because you see Yorgen Fenech and his family are still making money from those casinos that acted illegally and that regulators illegally covered up for them in the past. These crimes continue to go on unenforced.
If there had been any justice, Portomaso's casinos would be shut down, the profits made from it over the time they existed worked out and taken away from the owners. Never mind the cash. If that money is equivalent to the value of that phallic monstrosity, take Portomaso away from them and convert it into a reception centre for migrants instead of that hellhole at Safi barracks.
An immigrant escaping slavery over a blood-sucking mafioso any day I say. Is that aħdar enough for you Heathcliff Farrugia? You sick bastard.