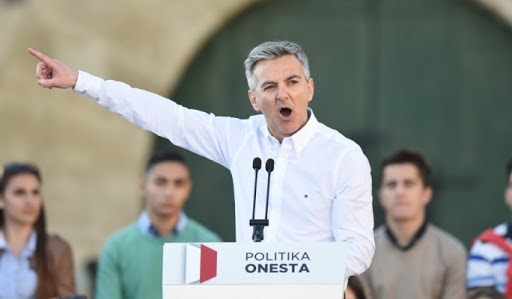 Manuel asked me for my personal account of how I witnessed the tumultous events leading to the arraignment of Joseph Muscat's right-hand man and a group of his associates-in-crime on March 20.
I did tell him that I could never write it as well as he could. But he insisted and I could not decline, if only because we need to make sure that history is recorded truthfully. Otherwise, the Labour Party will rewrite it and distort it, as it so often does.
It was in May 2017, almost four years ago and right in the middle of the 2017 election campaign. I was then the PN Leader and Leader of the Opposition.
The political climate was heavy: a snap election had been called almost one year ahead of its time. Tension was palpable in the wake of a stream of scandals involving the very Office of the Prime Minister. People were mobilised and public protests called by the Opposition were drawing huge crowds.
Two reports leaked from Malta's anti-money laundering agency, the FIAU, landed on my desk in quick succession. I also received a hoard of financial statements containing thousands of bank transactions. Both reports implicated Keith Schembri, the Chief of Staff of the Prime Minister, in corruption and money laundering.
Daphne Caruana Galizia had already exposed both scandals in her blog a year earlier. What I received was the proof that she was right.
By then, I had long accused Joseph Muscat of leading the most corrupt government in the country's history. But even I was stunned that it was so bad.
At the PN headquarters, we quickly assembled a team of lawyers to plough through the maze of transactions, knowing full well that time was not on our side. When I asked for a print copy, they told me that I would need a lot of paper … and many box files.
The first FIAU report implicated Schembri in kickbacks from the notorious IIP passport schemes. The second concluded that Schembri had sullied his hands in money laundering with Adrian Hillman, the then Managing Director of Allied Newspapers, publishers of the Times of Malta.
Payments topping €650,000 were transferred from Schembri to Hillman between 2011 and 2015, that is, both before and after Joseph Muscat had appointed Schembri as his top aide in Castille.
The payments were mostly signed off by Brian Tonna of Nexia BT, who described them as fees payable to Hillman in return for 'editorial services'. That was bizarre given Hillman's position at Allied Newspapers. The payments were made from Schembri's companies and bank accounts in Switzerland, Gibraltar and of course, from that money laundering machine he helped open, Pilatus Bank.
I recall reading the FIAU reports again and again in utter disbelief. Here was a Prime Minister announcing a snap election despite knowing that his very own Chief of Staff was caught red-handed in corruption and money laundering. Here was a Prime Minister elected in a landslide on a ticket of integrity, transparency and accountability just four years earlier. And his electoral platform was one big fraud.
I immediately realised that this could be a watershed moment. The future of our country was at stake. But the election was just a fortnight away and we had little time to bring all this to the public's attention.
Turning to the institutions was useless. The Police had already received a copy of the report from the FIAU, but they were sleeping on it. Both the then Commissioner, Lawrence Cutajar, as well as his conniving Assistant, Ian Abdilla, are guilty of grave dereliction of duty.
The Attorney General, Peter Grech – who also chaired the FIAU, if you please – had also done nothing. His spineless indifference to the stink of corruption is also a grave betrayal of his state office.
It was frustrating to the extreme.
It was not too much to expect the institutions to do their job. If they did, Joseph Muscat's House of Cards would have collapsed right in the middle of an election campaign. But they didn't. Instead, they froze in total paralysis. Whether out of fear or favour, they evidently did not want to touch the Prime Minister and his office. With their inaction they became accomplices.
This left me with no choice but to do myself what our authorities were refusing to do.
I took the case to court using a relatively unused legal mechanism that gives each and every one of us, as citizens, the right to ask a magistrate to investigate an alleged crime. In our case, it was more than a simple allegation. After all, the leaked reports came from a government agency, the FIAU. And we also had a ton of bank transactions to back them up. Our assessment was that with that mountain of evidence, the inquiring magistrate would have no option but to order the Police to prosecute.
As I walked down Republic Street to the Courts of Justice, with Jason Azzopardi, Karol Aquilina and the rest of our team carrying all of eight box files, photographers jostled to snap pictures. I knew then that this picture would make history.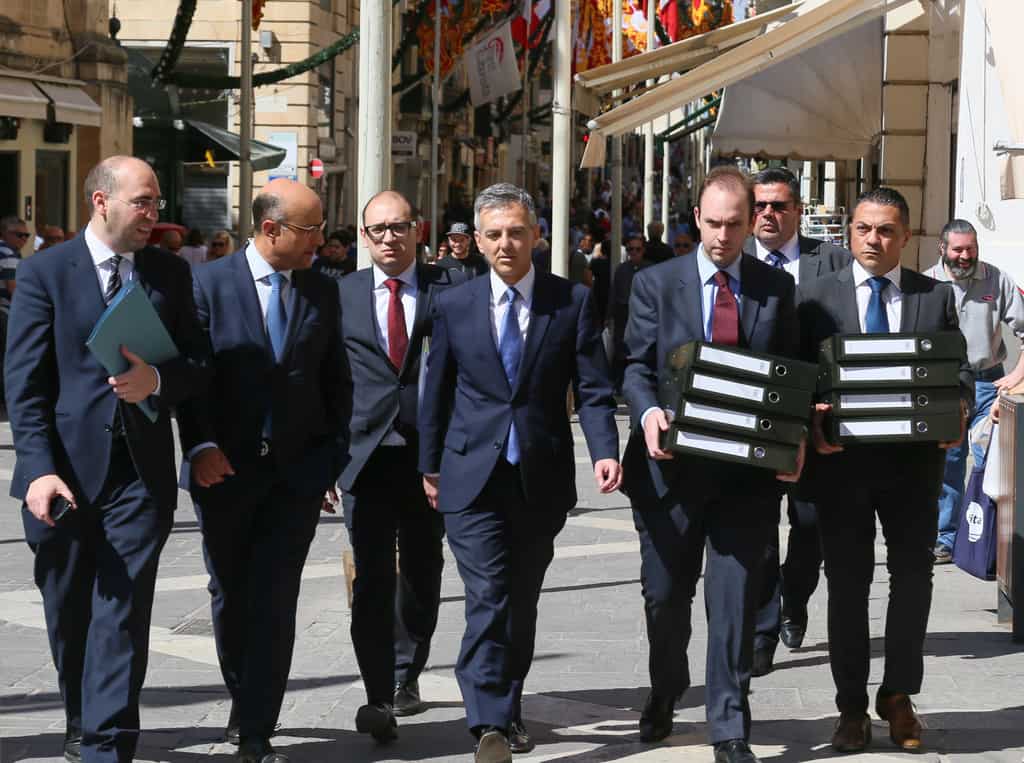 The box files were not empty: they contained the truth that Joseph Muscat was trying to hide. Everyone knows that now. But I already knew it then; and so did Muscat.
In any other European country, this sort of evidence would have led to the instant resignation of the Prime Minister and the arrest of all those involved. If Joseph Muscat had done his duty and resigned, the outcome of the election would have been different and Malta's reputation would not have gone down the drain. And more importantly, the gang that was already plotting to kill Daphne would have been stopped in its tracks. And she would still be alive.
But. Instead of resigning, Muscat stood by his Chief of Staff, outrageously spinning the lie that the box files were empty and defiantly refusing to take responsibility. And he went on to hoodwink the electorate and win the election.
Four months later, Daphne was killed.
What followed were almost four years of constant struggle for truth and justice. Of surmounting obstacles put in our way by Muscat and his henchmen. Of delaying tactics in court. Of ridicule about empty box files. Of insults in public and in private messages. Of intimidation in and out of Parliament. And of constant vilification driven by the Labour Party and its propaganda hate machine.
Throughout, Joseph Muscat and his gang of crooks did their level best to obstruct justice at every twist and turn. They fought tooth and nail to stop our magisterial inquiries from ever coming to a head.
And in the process, they turned Daphne, they turned me and anyone else who dared stand up to them, as public enemies to be hated with a passion. Manuel and his family too have a good idea of what this means.
How did you not give up, people often ask me. What made you fight on?
The answer is plain and simple. It was because it was my duty to fight on. What else should an Opposition Leader be there for?
But there was another reason too. We knew that truth was on our side. And yes, we grew up in awe of Eddie's romantic ideal that truth will always prevail – is-sewwa jirbaħ żgur. What Eddie did not tell us – not that he really needed to – was that truth does not prevail on its own. You need to fight for it.
And fight we did. Until the whole edifice of Joseph Muscat's tower of lies came crashing down.
It took almost four long years, but the magistrate finally delivered the expected and inevitable conclusion.
I was not surprised because the evidence was solid and it could only lead to prosecution. So on March 20, in a day of national drama that will go down in Malta's history books, the most powerful man in the country was finally wheeled to court and charged with corruption, money laundering, fraud and forgery, along with ten accomplices. Five years too late. But breathtaking nonetheless.
The arraignments were a historic turning point in our fight for justice. But they were also just the beginning. The tip of the iceberg; if only because I had asked for three, not two, magisterial inquiries in 2017. The third and most important inquiry – on Daphne's revelations on Panama Papers – is still pending. And its outcome is eagerly awaited by all of us. I am proud that the NGO Repubblika later joined me in pressing on with this inquiry soon after it was established.
Yes, it's the tip of the iceberg. And we've only just started unravelling the political project, led by Joseph Muscat, that transformed itself into a criminal organisation.
But the arraignments of March 20, restored hope in all of us. Hope that the best days for justice in our country are ahead of us.