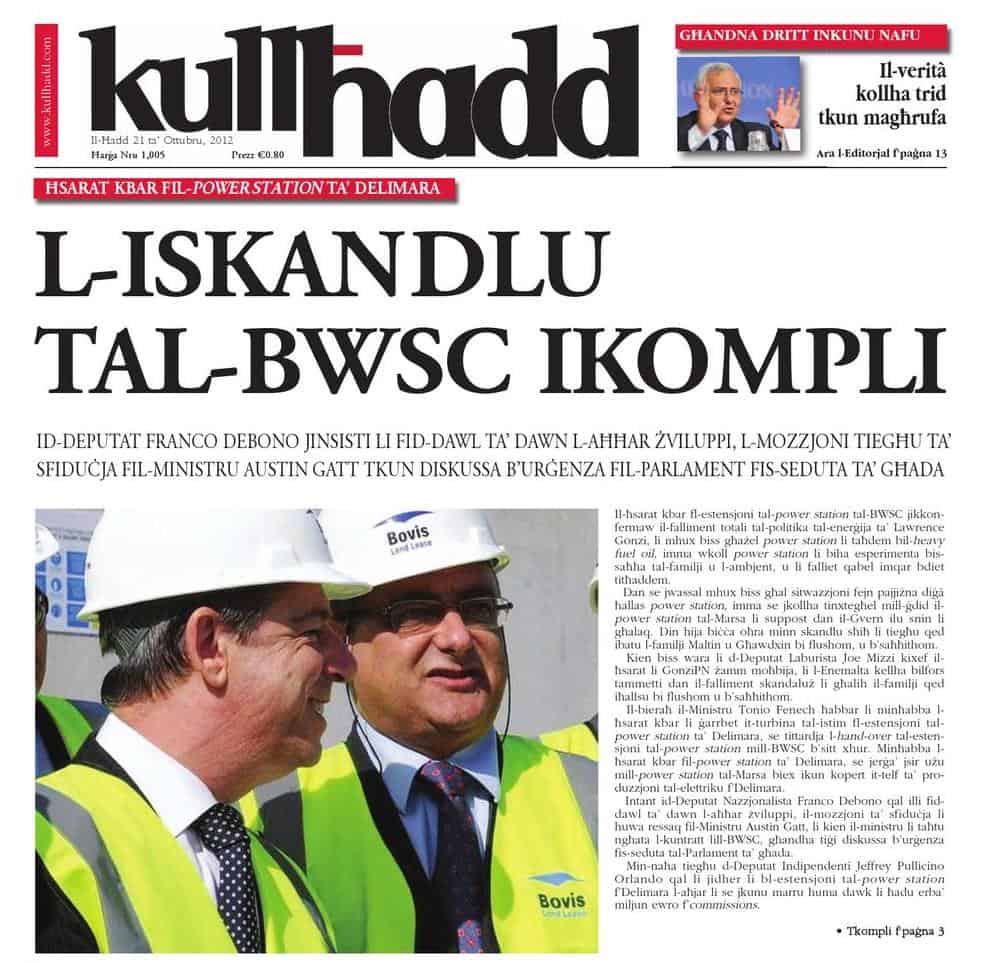 Do you remember the BWSC "scandal"? Do you remember accusations of corruption? I worked at the Ministry responsible for Enemalta at the time. I headed Austin Gatt's personal staff. I was at meetings with Enemalta officials when the decision to purchase a new plant was taken. And then, as always happened at the time, the decisions on what the plant needed to look like, who it was going to be purchased from and how much they were going to be paid never got back to the Ministry before they were finally taken by the experts.
The BWSC contract was given to the most cost efficient supplier that made an offer that was in conformity with the requirements published by Enemalta. The requirements were in conformity with local laws. Local laws were in conformity with European directives.
The Enemalta officials and experts chose the provider without any form of intervention or intrusion from anyone.
At the time the prime minister of Israel, Ehud Olmert, got on the phone with the prime minister of Malta, Lawrence Gonzi, to argue in support of another bidder. Lawrence Gonzi sent Ehud Olmert packing. Incidentally Ehud Olmert would eventually be sent to prison by his country for separate corruption convictions.
So if anything corrupt pressure at the time was applied on Maltese politicians on behalf of the losing bidder and pressure was not applied, as the Labour Party charged without basis, by Maltese politicians on behalf of the winning bidder.
The Commission Against Corruption published a report that says it didn't find anything whatsoever to suggest any pressure may have been applied. They interviewed all Enemalta officials concerned and all of them in chorus defended on technical and financial grounds the decisions they had taken unanimously and autonomously in 2010.
Some conclusions:
Corruption wasn't invented in 2013 but any false equivalences with what happened before 2013 only serve the corrupt purpose of mitigating, even excusing Joseph Muscat's regime.
It took 12 years to finish a report that concluded that Joseph Muscat's allegations in 2010 were malicious lies. That's a ridiculous amount of time.