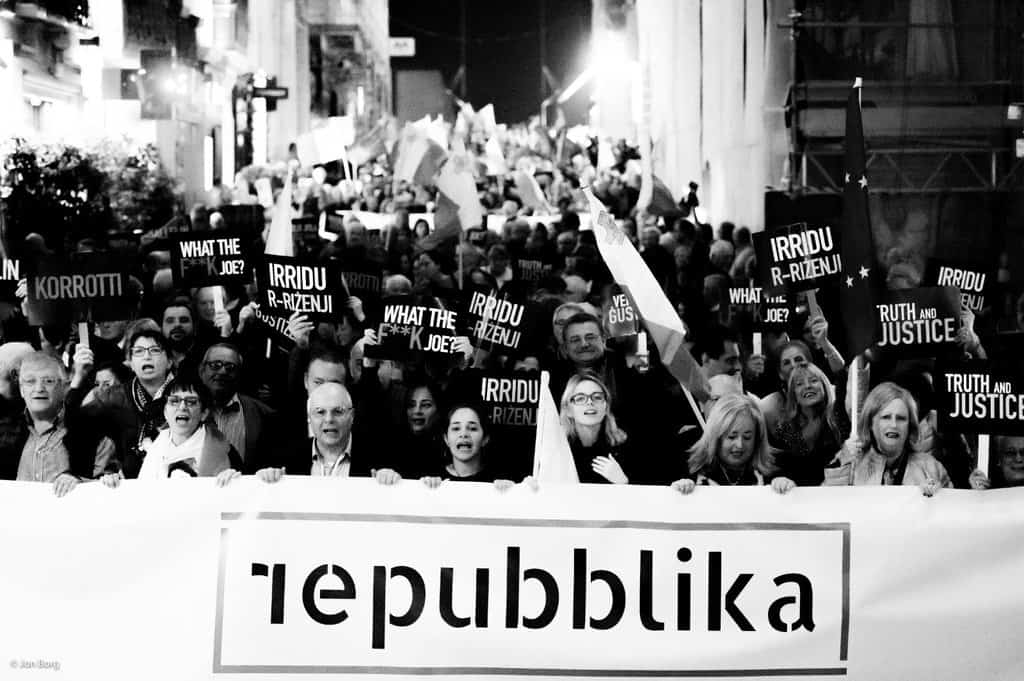 Anthony Abela Medici, commissioner for voluntary organisations, is moving to ban Repubblika.
One of the trumped up charges he came up with is that Repubblika is essentially a front for a political party. One presumes he has the Nationalist Party in mind. Except for inveterate watchers of One TV and exclusive admirers of KullĦadd's cartoonist that notion is incredibly ridiculous.
We're no fans of the Nationalist Party. Consider the gaunt silence coming from those quarters after il-Koħħu testified yesterday testifying to his knowledge of the deep involvement of people in politics in the killing of Daphne Caruana Galizia. The fact that the PN has nothing to say about that is appalling.
But considering that it could not say much after one of its former officials admitted in open court receiving money from Yorgen Fenech after he was exposed as the owner of 17 Black and that with Yorgen Fenech's help he planted stories in the Labour Party's media to undermine civil society, it is becoming ever harder to have high hopes from the parliamentary opposition.
Indeed this is one of the reasons we exist. Because as members of Repubblika we do not wait for one political party to save us from the other. We step out and speak up. Anthony Abela Medici cannot understand that. So he is trying to shut us up.
Gradually people are picking up on the implications of this. Consider this The Shift News article by Ryan Murdock. He sums it up nicely. Anthony Abela Medici's "logic goes something like this. If they're critical of the government, then they're not Red. And if they're not Red, they must be Blue. Therefore, anyone critical of the government is politically affiliated."
This Yannick Pace piece on Lovin Malta draws the logical conclusions from that. Anyone who disagrees with the government would better watch out because they would follow Repubblika into the oblivion prepared for them by Anthony Abela Medici.
Yannick Pace addresses the obscure argument by the commissioner for voluntary organisations that Repubblika should properly be a private foundation, rather than an NGO. What crap. As if you can have a private foundation with 750 members. We are what we are: an association of persons. The only legal formula that fits our public purpose is to be an NGO. The attempt to prevent us from being one is nothing but a thin veil over an attempt to abolish us.
Interestingly Yannick Pace reports he sent questions to Anthony Abela Medici four days ago and he has been chasing answers ever since. His staff told Lovin Malta's reporter that Anthony Abela Medici is "waiting for clearance" before he replies.
I'm sorry, waiting for clearance from whom? God? The law that creates the commissioner for voluntary organisations says that "In the exercise of his functions, the Commissioner shall act impartially and shall not be subject to the direction of any other person or authority."
And now he implicitly admits he is waiting for the direction of any other person. That's Robert Abela who has not even bothered to deny the same charge that Repubblika's President publicly made last Monday.
So here it is. Anthony Abela Medici, a glove on Robert Abela's fist, falsely accuses Repubblika for being an extension of the Nationalist Party and moves to crush it.
Arana sejrin, Ton.