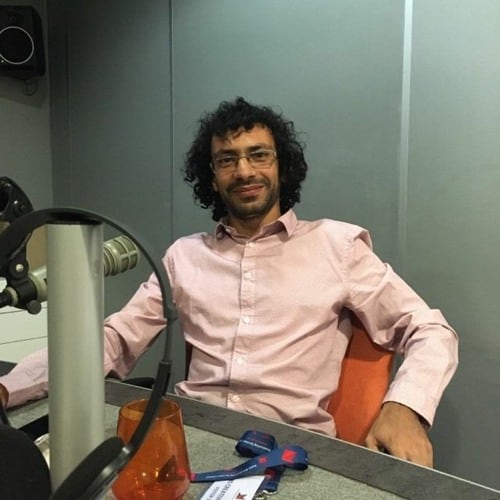 Mark Camilleri, former National Book Council Chairman, is a Labour supporter. He used to be a party delegate at its general conference. However, as the Italians say non ha peli sulla lingua. He speaks his mind. He has been critical of the Labour government because of the corruption we had to put up with for the past eight years. And because Joseph Muscat is a man of honour and said that tista' ma tkunx magħna iżda tista' taħdem magħna, Education Minister Justyn Caruana (she of 'Nazzjonalisti are snakes' fame) removed him from the Book Council.
Mark Camilleri has made some arresting allegations in his new book 'A Rent Seeker's Paradise.' He wrote about the sexual preferences of the former deputy leader of the PL Chris Cardona. The author writes that Cardona liked to lie face down on the floor, stark bollock naked, and ask his servery to pour candle-wax over his body and step on his back in her stilettos.
The former Labour Party delegate also claimed that "Cardona also befriended strip club owners whose clubs he visited, and some of these club owners also happened to be involved in importing African women to work in strip clubs in 2014. Some of these African women had been previously trafficked to Italy by the mafia and were then engaged by semi-legal brokerage agencies providing women to the sex industry all over Europe."
Chris Cardona denied the accusations and said of Mark Camilleri: "the guy is mad. He should wake up early, get a cold shower and run to a therapist. These are surely his sexual desires and surely never been or are mine. Tell him to stop using drugs… it will help him out."
Cardona said he would not pursue a libel case, insisting he "(doesn't) have time to waste with imbeciles." Very strange. The former deputy leader organised four defamation libel suits against Daphne Caruana Galizia after she wrote that he was seen in a brothel in Germany. He had asked the Court to freeze her assets. Why does lawyer Chris Cardona now rule out a libel case against an author who wrote of these BDSM delights? Is he afraid of losing?
Mark Camilleri in his book also wrote about former parliamentary secretary Rosianne Cutajar who, he says, had an intimate relationship with Yorgen Fenech, the man accused of being the mastermind of Daphne Caruana Galizia's assassination.
"While Cutajar was enjoying her time with Fenech, at work she was pouring scorn on Daphne's memory both in parliament and abroad. Cutajar also opposed and challenged those who called for public inquiries into Daphne's murder whilst defending and apologising for the corruption of the Muscat government even after the 17 Black revelations."
Social media trolls chastised Camilleri for 'attacking' Ms Cutajar personally. His response was that the story isn't about Rosianne Cutajar's sex life but about how she took money from Yorgen Fenech as payment for her work defending the corruption allegations against him and criticising Daphne Caruana Galizia's investigative work in Malta and overseas.
Camilleri said there is no shame in working as a prostitute but a minister should be working as a minister and not having sex with corrupt barons and participating in corruption with them behind closed doors.
Rosianne Cutajar ignored several requests from the media to comment on the allegation. Warlier this week, however, she did what Chris Cardona failed to do. She sued for libel against Mark Camilleri. This promises to be very interesting.
Mark Camilleri also pointed at former minister Manuel Mallia. The frmer criminal lawyer turned politician turned diplomat was elected on the Labour ticket and emerged switfly in the limelight for the wrong reasons. His first assets declaration said he had no less than €500,000 in cash at home. He quit office when his driver whipped out a gun at someone else.
Camilleri's accusations are more serious. He alleged that Manwel Mallia helped launder profits from the contraband ofLibyan fuel. Camilleri also alleges Mallia had a more active role: "Emmanuel Mallia owned a ship, It-Turu (dedicated to his father) along with another oil smuggler. This ship used to go to Libya and buy contraband diesel from Fahmi's mafia and in return sell it to Falzon and Falzon, the oil bunkerer."
Manwel Mallia denies this. He responded by calling on Camilleri to retract. Camilleri replied that the former minister should proceed with any legal action he was planning. Manwel Mallia has yet to file for libel. Why?
Manwel Mallia is still waiting for the British authorities to accept his nomination as Malta's High Commissioner in their capital. We wait breathlessly.