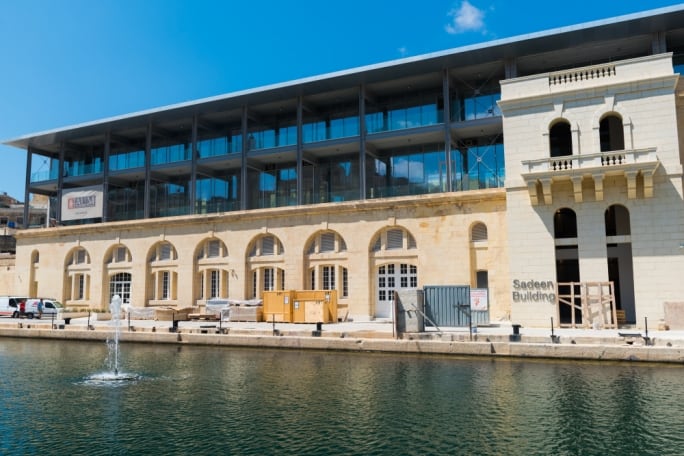 Let's just stop pretending that AUM is a university. Newly leaked documents shed further light on its dirty dealings if any more proof was needed that AUM is not and has never been an educational institution. Most of the leaked information has emerged alongside the government's announcement that public land stolen by the government will be returned to the people while AUM disappears into Smart City, a Dubai Holding paradise.
On 6th July, PN MP Karol Aquilina published a secret agreement between Keith Schembri and Hani Salah, originally published on this blog in November 2021. In this deal, Schembri gifts the AUM an additional 3,022 square metres of land at Żonqor on behalf of Malta Government.
On 9th July, Aquilina published another secret document – a letter to Hani Salah signed by then economy minister, Chris Cardona, reaffirming the government's generous intention to invest in Sadeen Education Investment Ltd (aka Hani Salah) from anywhere between €2,500,000 and €3,000,000.
More secret documents have been published and reported on by Malta Independent in both a series of articles and an editorial. These include discussions between the government and AUM over the latter's use of the PL-owned Rialto building in Cospicua and the Casinò di Venezia in Vittoriosa; the OPM's control over 'media attacks' on AUM and the specific involvement of Keith Schembri and Adrian Hillman in this; revolving doors between staff employed by AUM and the NCFHE, which originally granted AUM its license; the close relationship between Schembri, Joseph Muscat and Hillman, selected as the government's representative on the AUM's board of trustees.
Memory refresh: both Schembri and Hillman have been charged with serious financial crimes, including money laundering and fraud.
Amongst the leaked AUM documents are promises made by the government to bolster student numbers if AUM fails to reach its targets. The agreement concerning 'Government Selected Students' was sealed in an addendum to the original 2015 Heads of Agreement and was signed by Cardona, Hani Salah and Evarist Bartolo, then minister for education and employment. First referred to on this blog in September last year, students are selected by the government while Sadeen (aka Hani Salah) charges the government not only for their tuition fees but for their tuition on top, at a price set at Hani Salah's discretion.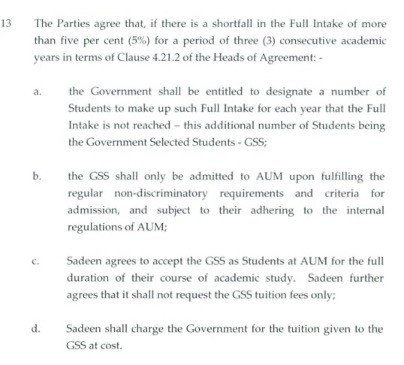 For the Maltese taxpayer, things keep on getting worse. If there's any dispute as to the price tag attached to the students, 'an independent audit firm' is brought in to adjudicate, with the cost of this process being equally split between both parties.

If need arises, no guesses as to who the 'aforementioned audit firm' might be. RSM are the auditors for both the Labour Party and the AUM, those you can rely on to 'properly' register the AUM's confidential donation to Michelle Muscat's Marigold Foundation.
Given that the illicit Government Selected Students scheme had been publicly exposed, AUM's response last Saturday 'to waive tuition fees for Maltese nationals' was bizarre to say the least. The sudden interest in Maltese students was equally bizarre as not a single Maltese student has enrolled since the inception of this highly controversial 'project'.
Most significant is the fact that discriminating between Maltese nationals and other EU nationals is a breach of EU law, a rather fundamental issue immediately pointed out by more discerning critics. Operating in an EU country, AUM seems to have no idea of and/or no concern for the rules which govern their operations. This doesn't look good on them nor on Sadeen's legal adviser, Kevin Deguara, also appointed as a director to Sadeen Education Investment Ltd in December 2020. A man of many hats, Deguara happens to be one of the shareholders of the Shoreline Project at Smart City where AUM is about to relocate its assets.
Memory refresh: Deguara's home and offices were raided last September in connection with the corrupt Vitals deal.
Deguara Throwback:
Not dodgy at all…

A winning team: #KarlCini (#NexiaBT Fame) & #DFAdvocates (#Vitals #Shoreline #AUM fame) off selling #GoldenVISAs #PassportsforCash in #India pic.twitter.com/CyQWNV8VEG

— BugM (@bugdavem) April 25, 2018
4 days after the announcement of their illegal plans and once their illegality had been rumbled, the AUM has done an abrupt turnaround and is now waiving tuition fees for all EU students. It's bargain bonanza time.
Even if we ignored the illegality and the blatant insanity, AUM is mired in debt, begging the question as to where the money's coming from to fund all these freebies. In 2020, according to the aforementioned RSM auditors, the total liabilities of Sadeen Education Investment Ltd 'exceeded its total assets by €24,041,647'. In the same year, the company earned a paltry €223,725 in tuition fees. Yet 2 years on, AUM is opening its doors for free to any EU student crazy enough to think this is for real. And all this at the same time as the Government Selected Students scam has been exposed.
The one thing that is real is the dearth of students currently enrolled. While AUM claims there are 200, the actual figure is considerably less. According to an inside source, the total number is 116. 30 students enrolled in September 2021, adding to the 96-strong student body. 6 of these dropped their registration while 4 disappeared elsewhere, no doubt with their newly-acquired EU visas. The remaining 20 new students are on full scholarships.
In the original licensing conditions, AUM was required to increase its student numbers on a yearly basis. The current number of students is 16 more than that expected in its first year of operation (100) and 1,104 less than that stipulated for its fourth year of operation (1,220). AUM is about to embark on its sixth 'academic' year. Despite breaching the license conditions beyond measure and failing its Quality Assurance Audit, AUM was inexplicably given a one-year extension on its license in September last year, a stay of execution which expires at the end of this month.
If we want to insist on playing let's pretend, in its statement released last Saturday, the AUM President claims that 'Over the past few months, we have been engaging with the community as much as possible, both on a regional level and the national level.'
Memory refresh: this AUM President was ushered in without any fanfare at the end of last year after a 2-year hiatus when AUM operated without a president. The new president, Dr Michel Najjar, is the ex-minister of public works in Lebanon, criminally investigated for his role in the 2020 Beirut explosion.
Placing Najjar's dubious past to one side and assuming his claim is true, who were the AUM representatives concerned and which 'community' did they engage with? Where are the details, the photos or the minutes of these community meetings? Where's the documentation? Where's the proof? Given the months' worth of 'community commitment', it's curious, too, that none of this was mentioned in the parliamentary resolution passed in July.
The AUM statement further claims that the decision to waive tuition fees for Maltese nationals was taken 'following discussions made by the board of trustees of the American University of Malta and proposals made by the management'. Disregarding the fact that discussions aren't 'made', has this board of trustees had an emergency meeting with management since Saturday to extend free tuition fees to all EU nationals?
It would also be helpful to know who's actually on this board of trustees now that one of its former members, Hillman, is currently awaiting indictment. The AUM's Wiki page needs updating as the link it provides to its AUM Catalog 2019-2020 still includes Hillman's name as well as that of Dr Lewis Walker, who resigned as president in November 2019. Prof Derrick Gosselin's name remains there, too, exposed for his revolving door activities in a 2018 European Parliament report on EU corruption.
Before resigning from the board of trustees, entrepreneur Talal Abu-Ghazaleh expressed his 'serious concern about the viability of the University financially' in an email to Hani Salah back in March 2018.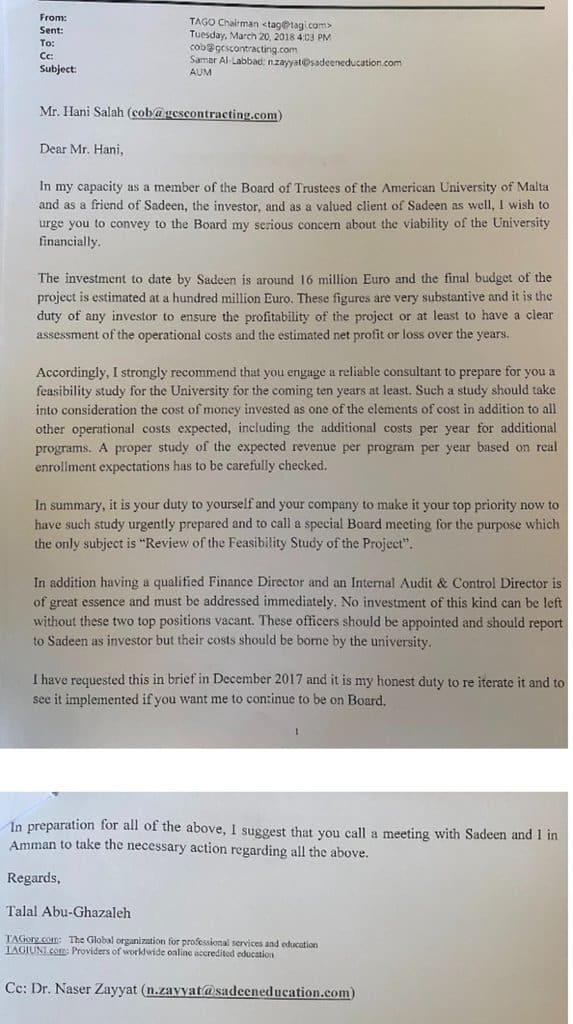 It seems no-one was listening just as Joseph Muscat turned a blind eye to ex-AUM member, Dawn Saliba, who imagined the now disgraced prime minister would be disturbed by the news that  'AUM is lying to you' and it is not a 'bona fide institution'. Saliba also wrote to the NCFHE in Feb 2018 warning them that the AUM 'is truly placing the students' well-being at risk' and that 'AUM never conducted any kind of assessment of their teachers whatsoever.'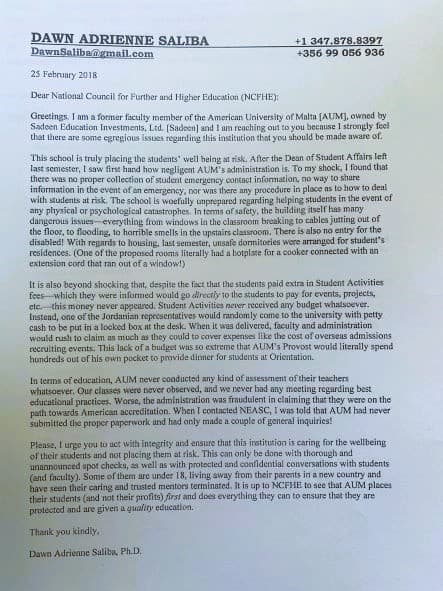 Doesn't bode well for all those EU students who AUM is trying to lure on board. Nor does the number of teachers available to teach them. Excluding the president and the provost, 12 academic staff are currently in place. AUM is yet again off-the-scale in breach of the licensing conditions which stipulate approximately 79 academic staff by its 4th year of operation. AUM is about to enter its sixth year, pending its license renewal or another magic wand extension.
The above warning bells were sounded in February and March 2018, yet in April that year, a letter was sent by Carlo Mifsud, CEO of the Lands Authority, reassuring Sadeen of the government's continued support 'in the elimination and/or mitigation of obstacles and constraints faced.'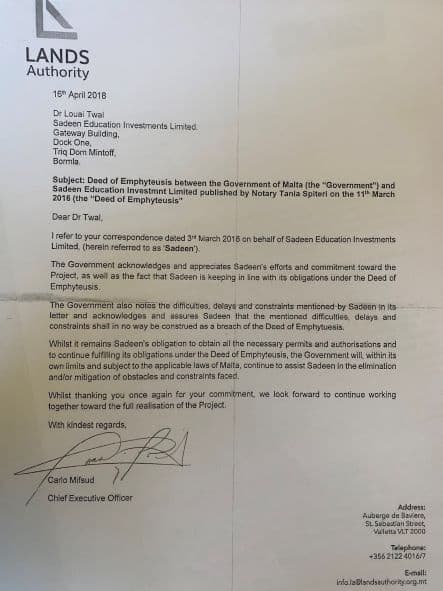 Let's stop calling AUM a university when it's part of the same mafia roadmap as Vitals, Electrogas, Pilatus Bank and every other corrupt deal rolled out by Joseph Muscat, Man of the Year in Crime and Corruption, and played out by all those murderous gangsters who he works for and who work with and for him.