Financial Services regulator Joe Bannister was a speaker at at least one event organised by Appleby whose records of clients laundering money were revealed by the ICIJ in last week's Paradise Leaks.
In April 2013 Joe Bannister was guest speaker at an event organised by Appleby in the Isle of Man. He was introduced as an expert on financial services speaking "about the reforms he's led within Malta's financial services sector, now said to be in a strong position to capitalise on the country's EU entry. The speaker has been a key figure in negotiations with the EU, OECD, IMF and supervisory organisations".
Indeed he has.
But at the same time he was also half way through a personal venture in Russia also revealed by the ICIJ Paradise Leaks.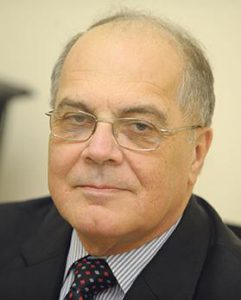 This The Times report says how he was involved in the British Virgin Islands firm ACP Special Situations No. 2 Limited, which serves as an investment vehicle for the London-based company ACPI. Bannister was involved in the BVI-based company that invested in a Russian venture, and that e-mails sent by a company behind the Russian mining venture to Appleby referred to Prof. Bannister as being part of "management" in the BVI firm ACP Special Situations No. 2 Limited.
Speaking to The Times, Bannister stressed that his involvement was as a non-executive director. He speaks as if he did not know anything about the project although Appleby, a firm that invited him to speak at at least one of its events, is shown by the Paradise Leaks to have been made aware he was managing the concern.
On this, Bannister said that at a board meeting "it was advised" (note the use of the passive voice) that there would be an investment by the EBRD, and that the EBRD then invited ACPI to participate. "We agreed that they should participate."
"Around two years later we were told of some difficulties with this investment." (Again the passive voice). Subsequent to that, for reasons, and the way things were developing here, he said he told them he was resigning in 2015 as he had to take care of the Maltese Presidency of the EU.
He said that he had no recollection of the name of the company – until it was published in the press, and didn't know it was in Russia.
He said that he is currently telling government that he wishes to retire from the MFSA as he has a personal situation and cannot continue dedicating so much time to the MFSA. "My contract ends at the end of 2019." He said that the sooner he retires the better as his situation at home has deteriorated and he needs more free time.
The picture with this post is by Matthew Mirabelli.