Italian police have arrested Benedetto Bacchi known as "Ninì", nicknamed the King of Slot Machines. He was part of the Palermo Cosa Nostra. He was arrested with another 30 suspects the closure of 50 slot machine outlets and the arrest of 4 million euro.
Benedetto Bacchi ran an operation of some 700 outlets generating a million euro a month which were laundered here in Malta through a Maltese company held by GVM Holdings Limited a fiduciary company owned by David Gonzi, Keith Massa and Angelo Vella.
David Gonzi had already been cleared by an earlier investigation into another Italian on line gaming business that turned out to be a money laundering operation for the 'Ndrangheta.
The company has been licensed in Malta since 2016.
Update: 19.21.  In October 2016 GVM Holdings Limited filed notice of termination of fiduciary services with the company registry which means that since that date it has not held ownership of the Malta company named in the Italian investigation.
Yesterday on Michele Santoro's show I explained how the mafia launders money in Malta and commented on the old case David Gonzi had been cleared from. The recording is from several days before the arrest of Bacchi.
The police have now nabbed Bacchi, one of the largest Italian businessmen in the gaming and betting sectors. The police believe he is central to the Palermo police investigations. He is now in a cell accused of participating in organised crime and laundering the mafia's money. The investigators speak of a contract he had with Cosa Nostra backed by the rest of the mafia clans that have ensured his monopoly in the business.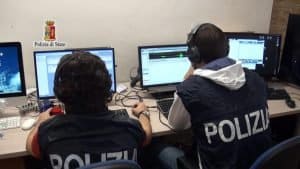 Benedetto "Ninì" Bacchi became slot machine king in betting outlets thanks to his relationship with Francesco Nania, a Mafioso from the Partinico family, he set up a network of 700 outlets.
These were not licensed by the Monopolies and Customs Agency of the Italian state. Nor where they licensed by the local authorities. He built a system that generated more than a million euro a month. Twenty per cent of that revenue went to Cosa Nostra head office in Palermo.
Most of Ninì Bacchi's outlets operated within the framework of Phoenix International Ltd, a Maltese company.
The Maltese regulator has today announced it has suspended the gaming license held by Phoenix International Ltd.
The business of Bacchi and Nania started in 2013 and has produced a mountain of money that Bacchi has laundered in two large construction companies run by the Partinico clan: Devis Zangara's CEV and SICOSE that belongs to Alfredo Cannone.
The two forms won public contracts within the province of Palermo to build LIDL supermarkets. The mountain of cash was also used to buy a villa from an ex-Palermo football player. Bacchi showed interest in all sorts of economic activities: buying news house "Live Sicilia", petroleum trading and manufacturing cutting edge solar battery technology.
To launder his money, Bacchi was prepared to pay 7 million euro in cleaning fees to make his business look legitimate.
Meantime while they were researching how mafia money is laundered through gaming in Malta, Santoro's team interviewed me. Here's the clip from yesterday's show.