This was sent in earlier today by Marion Pace Asciak, respected veteran PN stalwart of many years.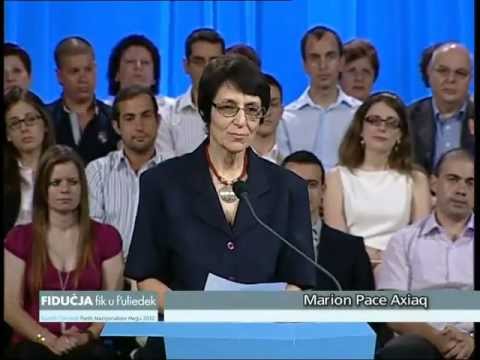 I am an ex MNPN president, an ex PN administrative council member and an ex executive council member. I have formed part of the PN for decades and I have worked with Party leaders Eddie Fenech Adami, Lawrence Gonzi and Simon Busuttil. I surely cannot say that I have always agreed with the decisions that have been taken. However, I can strongly affirm that I have always felt welcomed and accepted. I never had any problems to air my views, and my opinions have always been taken into consideration.
I must admit that during all these years, I have shared the political vision of the Party which undoubtedly has always included the aim of implementing justice and fighting against corruption. This guiding principle not only has been always present, but it has been a priority and on the agenda.
During recent years, when lack of justice and widespread corruption have led to a hijacking of all our institutions, Simon Busuttil as Leader of the Opposition, had a very hard task to fight against this disastrous situation.
In my opinion, he has done his very best and many of those who now want to sack him, had applauded him vigorously. Simon Busuttil has been the protagonist who paved the way for us to join the EU. He has opened the Party to a wider spectrum of PN members and although some might not agree with this, I have to say that it would be better if we examine how these changes have been implemented.
Simon Busuttil has fought wholeheartedly against injustice and corruption and I can never in anyway accept that this makes him a culprit. 
I fully understand that PL wants to get rid of Simon Busuttil not only on a national but also on an international level: he is surely a threat for them and for crooks of all sorts. However, I can never come to terms with a decision taken by the PN to shoot down the person who has always been on the forefront against corruption. It would be of greater good for the Party and for the country if it stands up against corruption and carries out its role of a party in opposition. 
The only conclusion I can reach, at this stage, is that this cannot be the Partit Nazzjonalista that I have always loved and respected. 
Marion Pace Asciak