At an event hosted yesterday by MEP David Casa in memory of Daphne Caruana Galizia, Joseph Farrugia stood up to do something too few artists did this past year. He spoke out against the murder of a journalist and in defence of artistic and journalistic freedom. I am reproducing his moving speech below. But I am also showing here images of a few of a set of works he has exhibited at yesterday's event inspired by the events of the past year.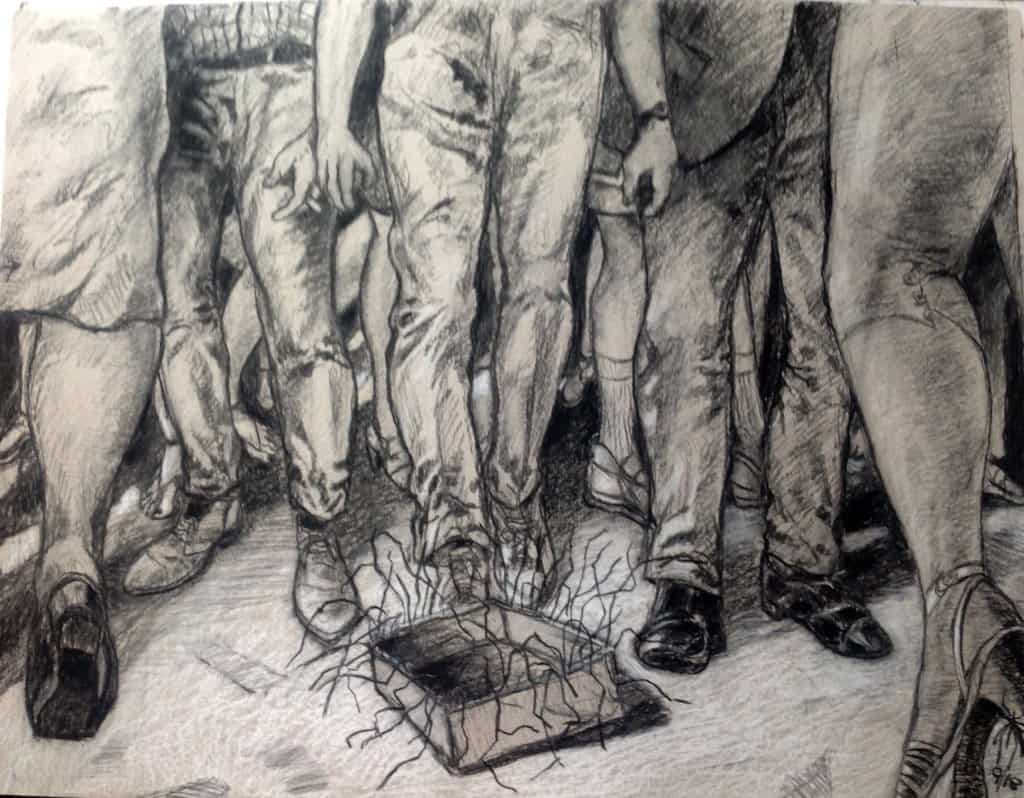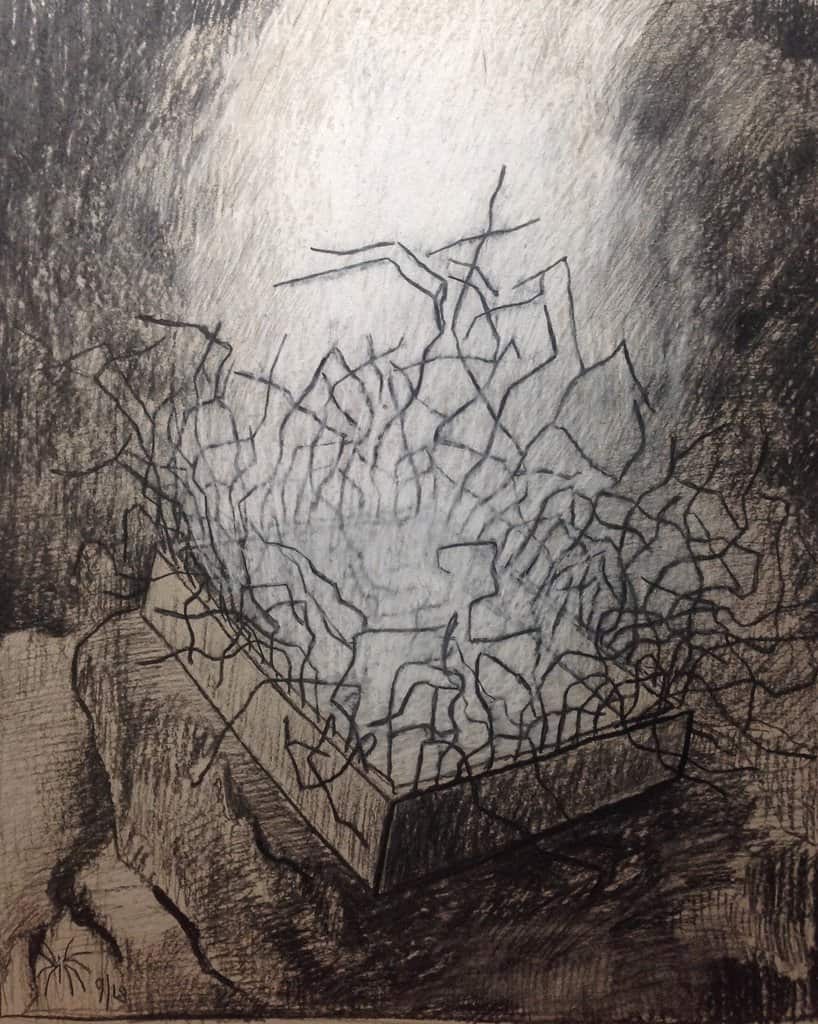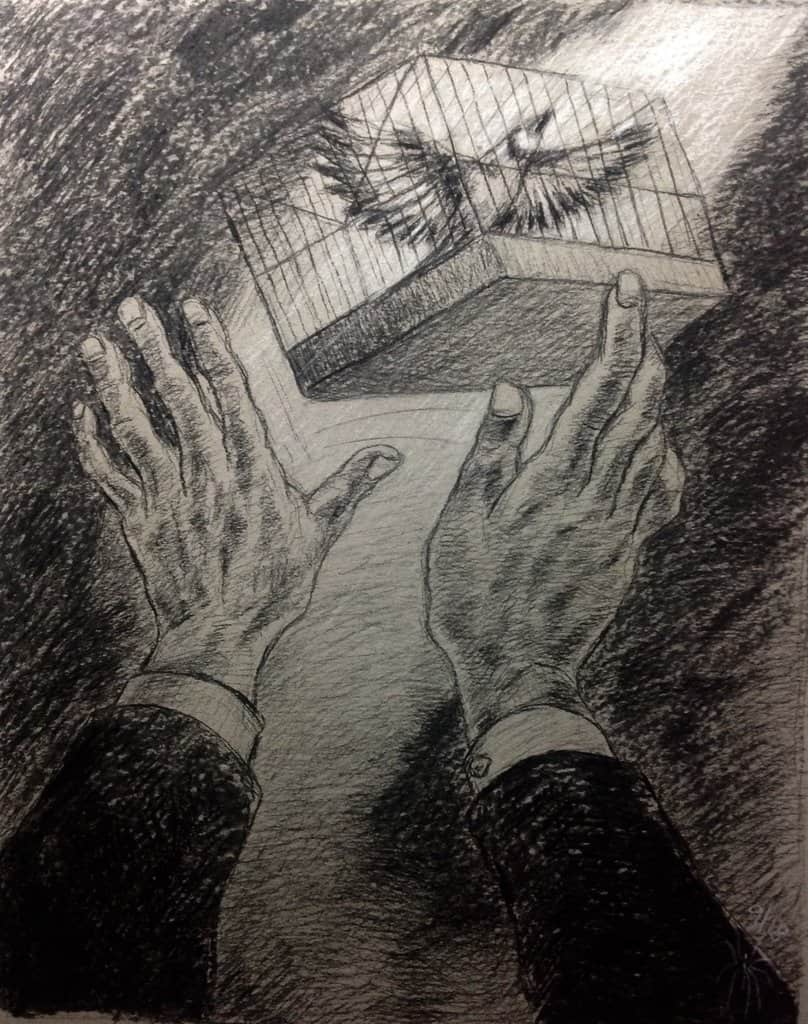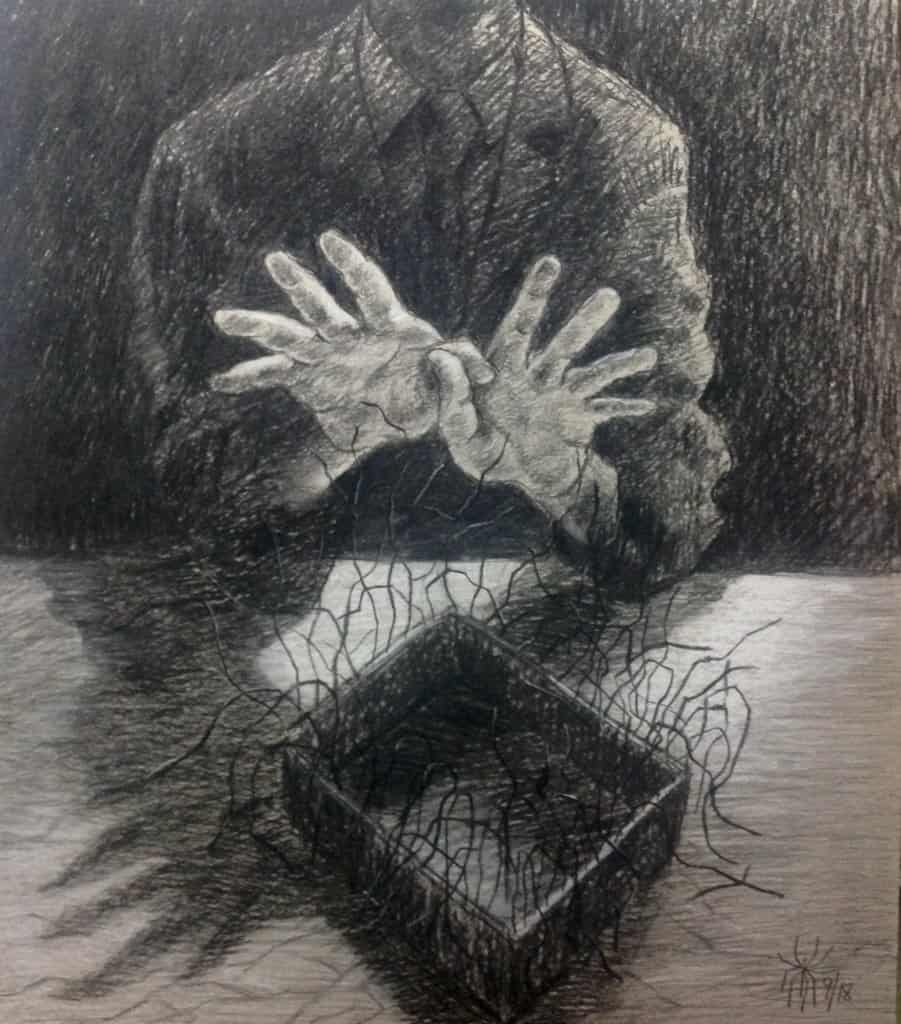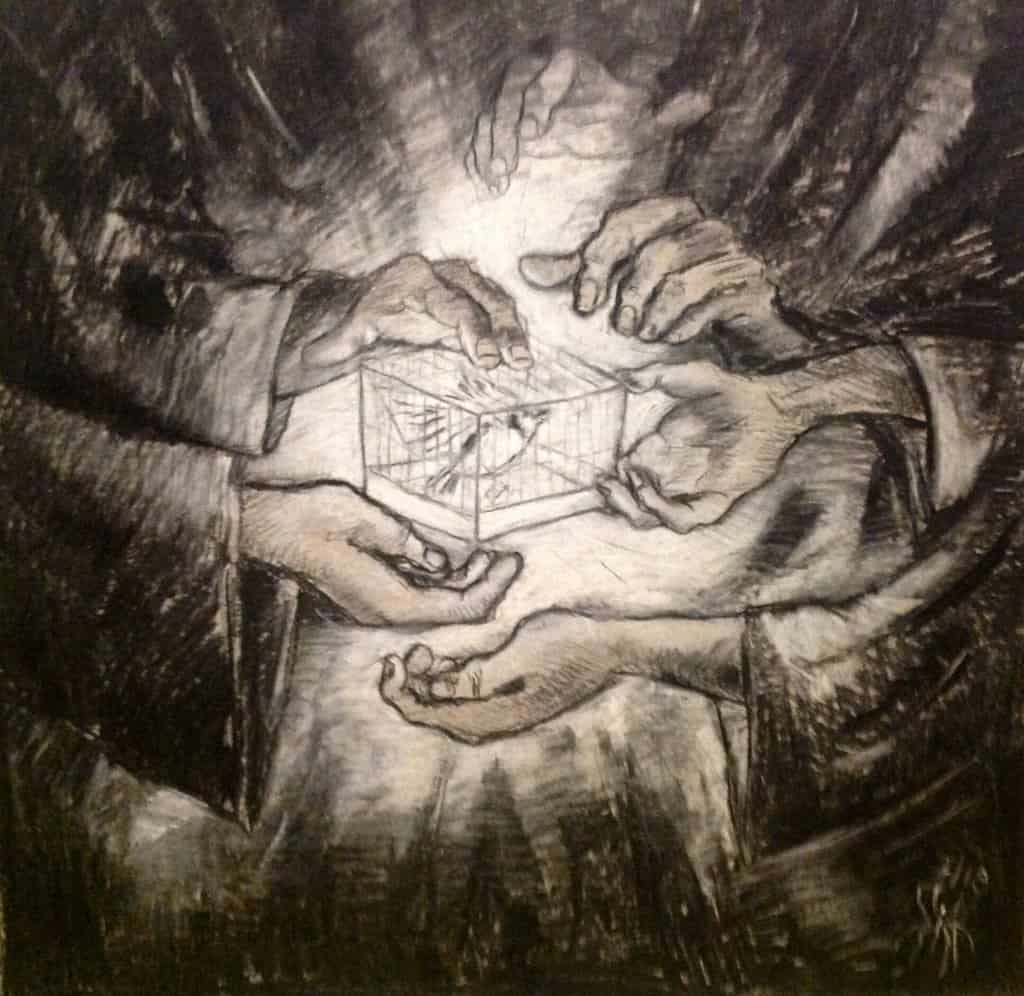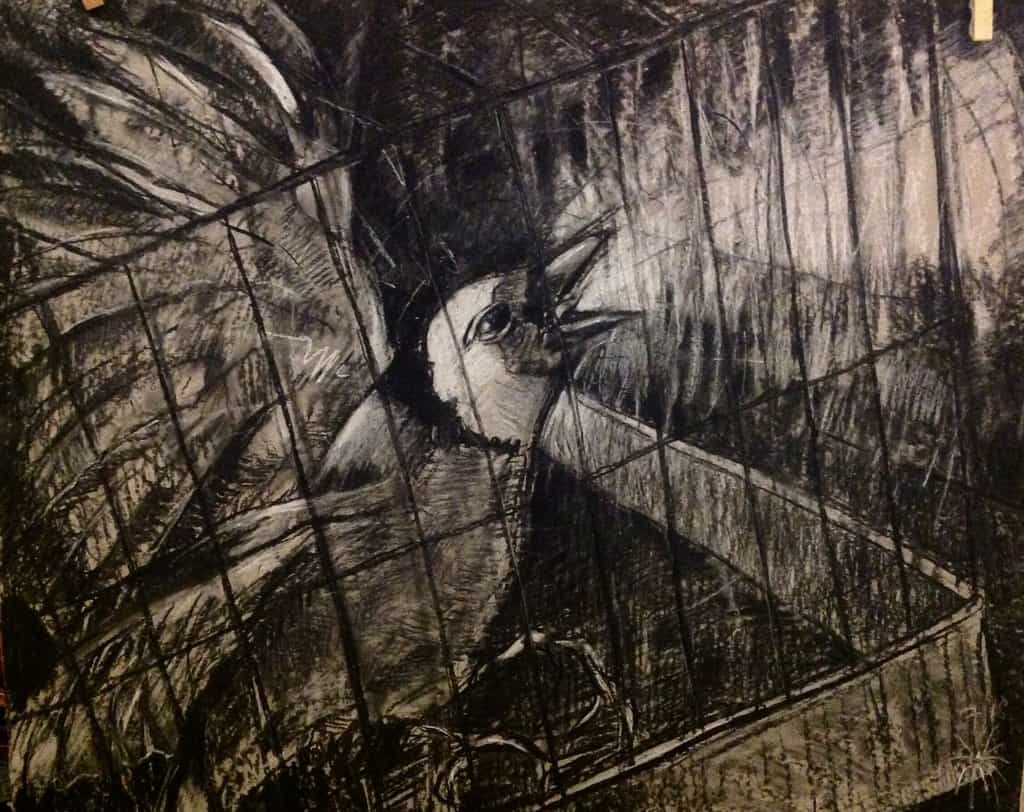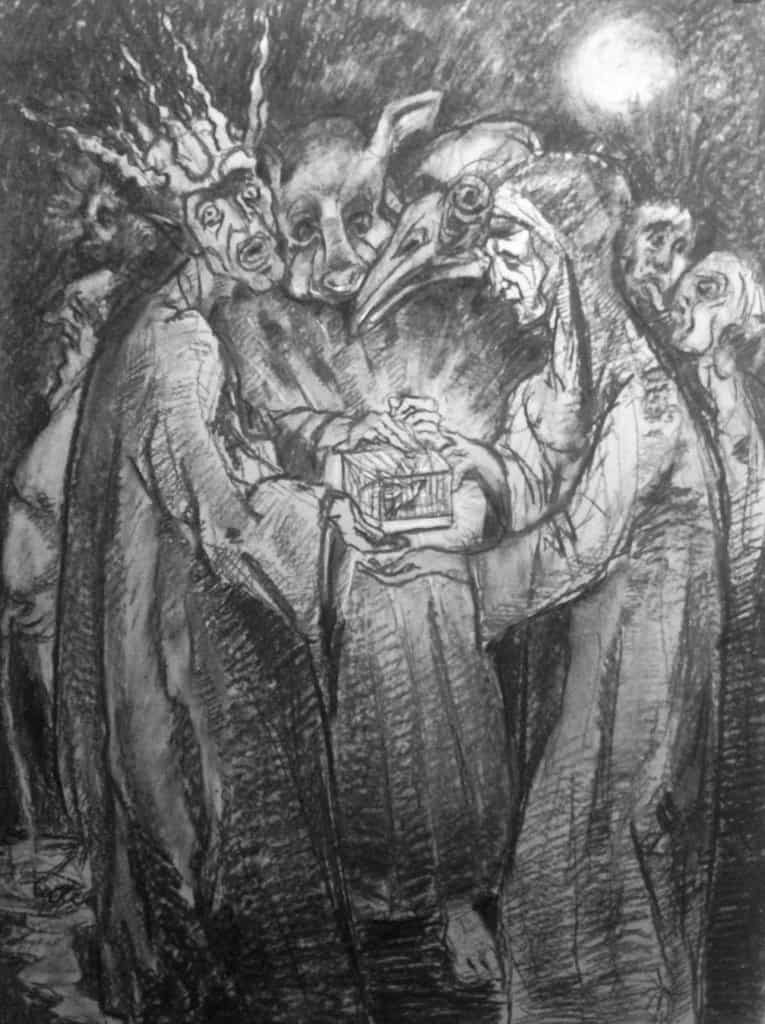 I would like to thank the organisers of this event for the opportunity to share with you these works.  Although they are being shown here in Valletta at a time and place where our capital city is being hailed as a European City of Culture, they exist outside of Valletta 18. What we are here for is not Valletta 18. It is the reality of Malta 18, and indeed Europe 18, that concerns us.
I had started this series a few months before the tragedy that struck Malta a year ago to this date, incited by a disquieting gut feeling that some worrying trends in my country were about to get worse. The first of these works was executed in colour, but, following the assassination, I felt that I needed a change in medium to something more austere, intimate and immediate. Hence the works are conducted in charcoal, thus creating a contrast with the sunlit and warm palette generally associated with Maltese art. The beautiful colours characteristic of the goldfinch are neutralised, and the black and white imagery  imbues it with a tragic aspect, as it appears to exist not in a sunlit Mediterranean country, but under siege in a world of menacing shadows. The monochromatic character of these works also instils in them universal appeal, as threats to freedom of expression are repulsive wherever they occur. The goldfinch is also being featured since it is frequently portrayed in medieval and renaissance iconography to represent virtue, perseverance and sacrifice by artists like Raphaello Sanzio and Carlo Crivelli. 
What is being exhibiting today is part of a series which is still in development, and there is a sequential element to it which tells the story of a beautiful bird which refused to be silenced, or sing other people's tunes, or live under the delusion of false liberties. Its cage was simultaneously a prison and a refuge from constant persecution. The notes it sang connected the dots that formed tunes that exposed truths some found inconvenient and threatening to their power and criminal dealings. There were forces that conspired to silence this free spirit. A cabal plotted its demise, others turned to diverse forms of aggression, a savage mob harassed her incessantly in persistent attempts to drown her song with their taunts and insults, which she reciprocated. In spite of her courage and strength, these dark forces eventually overwhelmed her, and her song was silenced forever.
I would have liked these works to be a fairy tale, not a metaphoric depiction of what happened a year ago in my country, and what has since been repeated in Slovakia and Bulgaria. These are drawings which I would have preferred not to carry out, but I have been driven by an irresistible compulsion to vent my anger and protest, and hopefully to contribute in a small way to keeping this story alive.
I must express shame and disappointment that our artists have, with few exceptions, remained silent and detached themselves from this reality, through a soulless blend of fear, apathy and opportunism. Yet I see a ray of hope as I address you today, because if you were indifferent you would not have attended this activity. History teaches us that artists and journalists share a common arch enemy – the iconoclast, as a destroyer of images and distorter of history. It is our collective responsibility to keep her memory alive, to fight the iconoclasts for whom her assassination was not enough. If we let them have their way, they will sadistically murder her repeatedly by erasing her from the collective memory, or, even worse, replace her image with one that suits their agenda. We are here today to ensure that this does not happen.
The goldfinch may not be around to sing anymore, but her song has been passed on to us – artists, journalists and all people of good conscience. Now it is not a solitary voice that is singing, but what I see here is an international chorus that I am convinced will become ever stronger and persistent in its cry for justice and truth. For those who want to stifle freedom of expression, who may contemplate that this atrocious murder will make the rest of us bow in submission – both in Malta and elsewhere – I repeat the words: Daphne Caruana Galizia, Daphne Caruana Galizia, Daphne Caruana Galizia.