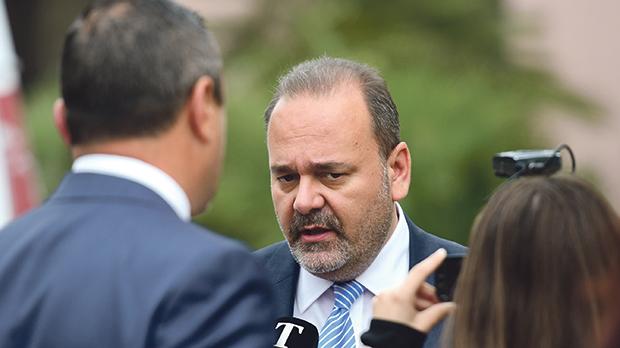 Chris Cardona gave a controlled interview to Saviour Balzan today, perhaps making up for not answering questions from NBC about how well he knew a journalist's alleged assassins. Or maybe he was making up for the fact he's so far dodged testifying under oath to what he told Saviour Balzan today to avoid prosecution for perjury.
Chris Cardona does not remember seeing Alfred Degiorgio at a bachelor's party. But he does not rule out the fact Alfred Degiorgio was there.
He also does not remember being summoned by magistrates inquiring into Daphne Caruana Galizia's murder. Except he was. By Consuelo Scerri Herrera the night of the murder.
And he does not remember objecting to revealing the mobile phone location data that would have confirmed whether he was in a brothel that night in January or asleep in a hotel room 20 miles away.
Chris Cardona's memory is very flimsy.
Let us refresh it for him.
8 May 2017: Chris Cardona files an objection for courts to preserve phone records. Here's a report from the day on The Malta Independent. In a court application, Chris Cardona's lawyer Paul Lia argues that the request for the preservation of phone records is a "fishing expedition".
Paul Lia argued Chris Cardona was entitled to his privacy so his phone records should not be looked into. He did so even as he was suing Daphne Caruana Galizia denying that in his privacy he was shagging prostitutes on government time.
That wasn't enough.
12 May 2017: Chris Cardona thinks of more grounds to object to having his phone records published in open court. He says the request by Daphne Caruana Galizia's legal team was based on a law declared invalid by European Courts.
The Malta Independent challenges Chris Cardona on why he asked the court not to order his phone data preserved and he personally — not his lawyer now: Chris Cardona himself goes on the record with the newspaper saying why he objects.
He first says he'd rather keep his arguments for inside the court but then says that Daphne Caruana Galizia's lawyer made a request based on a law that was declared invalid by the European Court.
So Chris Cardona's memory failed him one more time today. He did object to the phone records being preserved. Most vehemently at that. Then he said the request to preserve them was based on an invalid law. The judge, as we know, ruled against Chris Cardona's objections.
What happened next? Daphne Caruana Galizia is killed. Her heirs declare they want to continue the case and he creatively withdraws it.
And after all that he now says he never objected to the phone location data being released.
Well, the data is yours Chris Cardona. Let's see it then.
Chris Cardona decided to take the stand in his own defence today. And was caught lying. Of course, he was.
His sophistry that Alfred and George Degiorgio and Vince Muscat are "not his friends" and they "don't go to each other's house" is neither here nor there. "I was a lawyer for one of them for a while". Right.
It's not friendship that the police should be investigating you for Chris Cardona. It's for something altogether more sinister.