Owen Bonnici has written a piece about culture.  Or so he claims. In actual fact, it's an advertising promo for Heritage Malta's Heritage Passport and this is the only example of 'culture' he alludes to throughout, trumpeting its success with the words 'let me remind you'.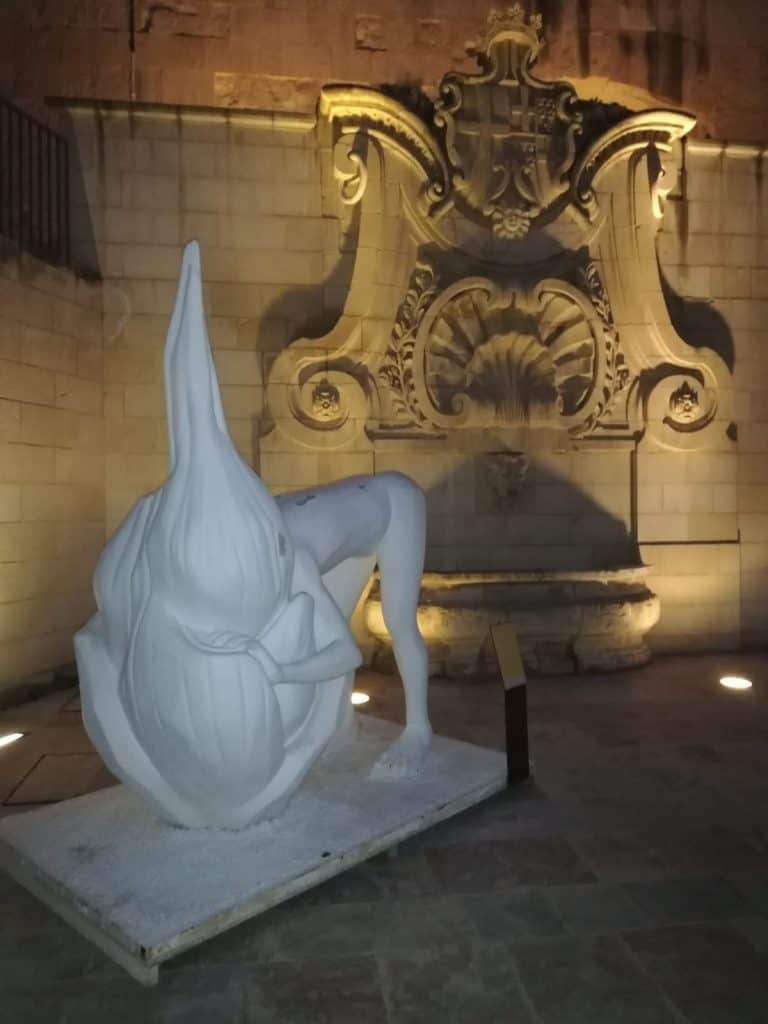 How could we forget when only two minutes ago, Bonnici was making a fool of himself in front of the Council of Europe? But here he is again eulogising about culture and bragging about heritage. Heritage: an endangered species since his government assumed power 6 years ago.
Permits are given out like sweeties so much so that people have begun drilling and banging without even bothering to wait for permission. 'Very urgent' was the excuse given by Infrastructure Malta when challenged about roadworks being carried out regardless.
This blanket negation of responsibility was echoed by Ian Borg with his refusal to consider the part roadworks may have played in the fatal traffic accidents of last weekend.
Road widening works have destroyed natural valleys in Rabat and again controversy surrounds the permits used by Infrastructure Malta in its defence. 
Our skyline is awash with cranes. Balconies are collapsing under the pressure.  Construction workers are falling to their deaths. 
Building on archaeologically sensitive sites has become a national sport as unregulated as hunting and Silvio Debono's monstrous towers are about to darken the landscape thanks to a state-captured PA with a private jet to fly one of them in from Sicily to add her consent.
And then, of course, there's the Gozo tunnel, given cross-party parliamentary support last Wednesday in what Ian Borg (yes, him again) described as an "historic moment" from which there was no turning back.
Heritage? We can't blink for its demise.
As the custodian of Malta's internationally derided European Capital of Culture, Owen Bonnici has a lot to answer for.
Who could forget his cringe-worthy appearance at Leeuwarden who, let me remind you, boycotted our festivities due to the abhorrent behaviour of the V18 Chairman Jason Micallef. In case you've forgotten, Micallef posted a St Patrick's Day message on Facebook last year in which he gloated over the assassination of Daphne Caruana Galizia through crude parody of her final words, incorporating a grammatical error in the process. Impossible to forget Owen's attempt to defend such behaviour on the grounds of 'freedom of expression' while his enlightened Dutch audience looked on aghast.  
Let me remind you, Owen, that over 250 international writers signed a petition for the removal of Jason Micallef as Chairman of V18, a demand supported by 72 MEPs and over 130 local artists. Let me remind you of the open letter from PEN International to Joseph Muscat in opposition to the promotion of Micallef as Chair of the Valletta Cultural Agency.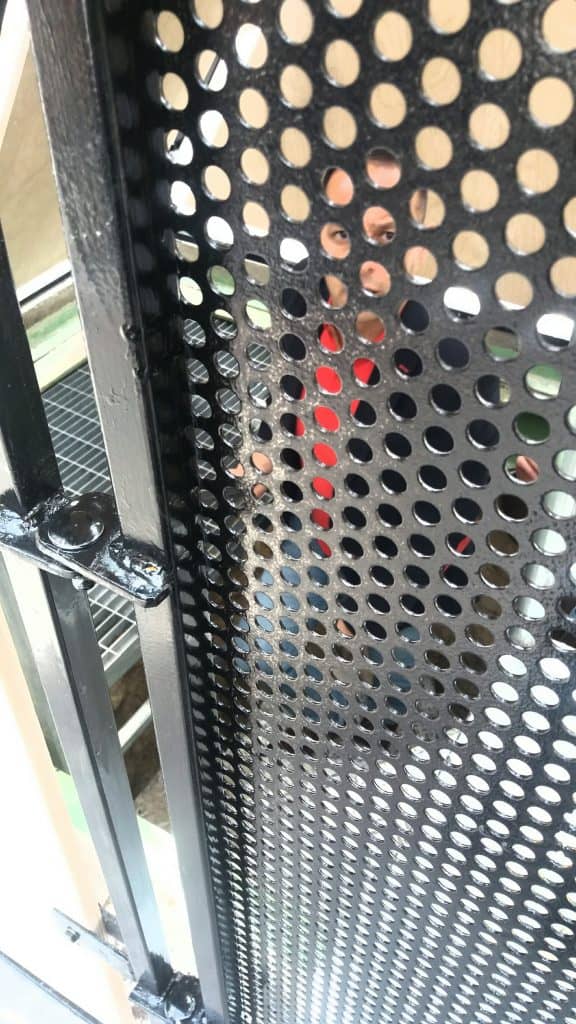 Nevertheless, you waived Micallef's stated conflict of interest when crowning him king of this newly-established enterprise, set up specifically for your barbarian counterpart to become head hoodlum. Let me remind you, Owen, that once again PEN International has asked for this decision to be 'urgently reconsidered'.
Let me remind you, too, that the Malta Arts Council, which falls under your remit and is headed by your other crony-in-arms, Albert Marshall, dished out 65 direct orders worth over 1.5 million euro in the first half of 2018 despite warnings from the Auditor General about the Arts Council's financial shortcomings. And let me remind you that this lavish sum of money wasn't some act of artistic benevolence but wads of cash were stuffed into the hands of hired staff, individuals and companies, who give their unwavering support to Partit Laburista. Dancers of steel in the case of Felix Busuttil who added a 'like' to Micallef's mocking Facebook post. 
And let's not forget that some of this money was also used to buy paintings by Ebba von Fersen Balzan, the late wife of Malta Today's editor, Saviour Balzan, who recently attacked Matthew Caruana Galizia for being a purveyor of 'lies…supposition, bigotry, classism and gutter journalism'. 
Let's never forget this, Owen.
And let me remind you, Owen, as you try to seal up our human rights and civil liberties stone by stone and brick by concrete brick, that you barricaded up your very own and much lauded national monument – on Independence Day as well and while the then President was still laying her wreath – in your attempt to prevent the democratic right to protest.
And let's not forget that you conceded that any damage supposedly caused to this monument wasn't the fault of flowers and candles placed there by protesters as you 'had no proof'. But there you were, Owen, spinning the same old lies at the Council of Europe about how your national monument – made by one of Malta's finest sculptors no less! – had been damaged by those who democratically resist your non-democratic government of injustice.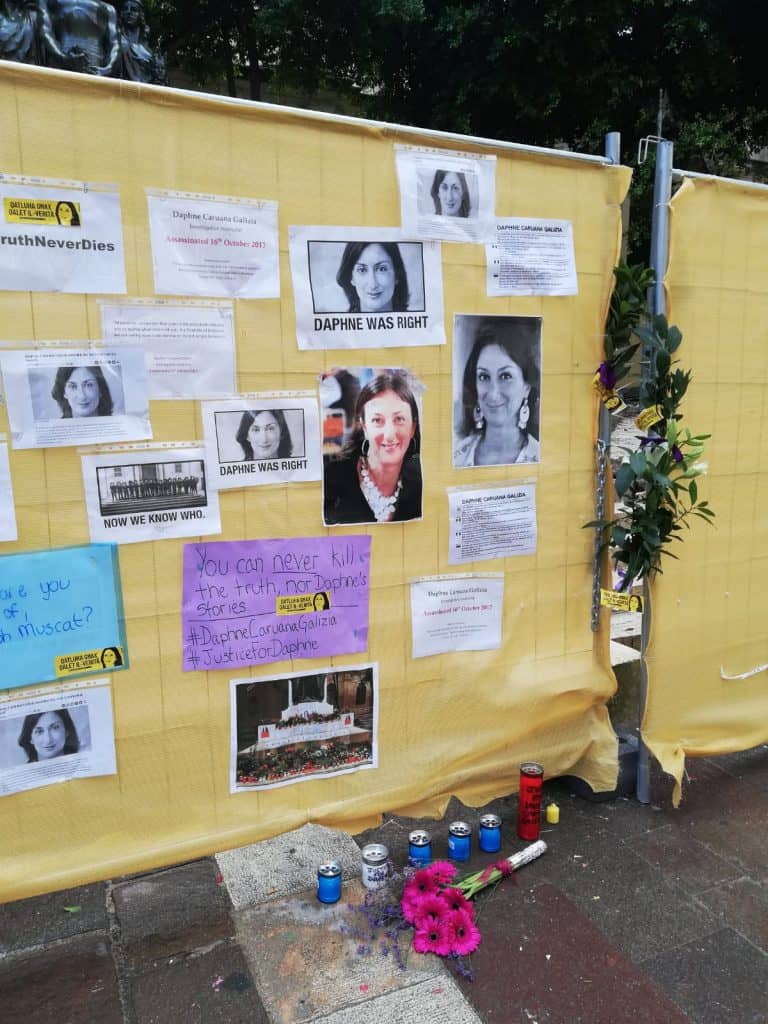 The Council of Europe swallowed that as much as they fell for your further and easily disproved claim that the Venice Commission arrived at the bidding of the Malta Government.
Really, Owen, you should remember who you're talking to when you venture outside this tiny island and expose yourself abroad. 'Embarissing' as your pal, Rosianne Cutajar, might say.
'Why do you take away the memory of Ms Caruana Galizia?' was Pieter Omtzigt's simple direct question.
On that one, Owen, we're still awaiting your reply.
While we're waiting, let's return to your eulogy on making 'culture accessible to all'. You refer to the new Heritage Malta scheme as one in which 'our young ones will begin to appreciate different forms of artistic expression leading to a more creative potential amongst the students'. Let me remind you that it was 'our young ones' who first placed tokens of respect at the monument which, on your orders, is cleared several times both day and night. 
Our slightly older ones, students, are cited as beneficiaries of this new Heritage Malta initiative. Does this include students at the transparently fraudulent American University of Malta built on stolen public land? Does the Heritage Malta Heritage Passport include visas for those who might want to bypass Malta's culture and head straight on and into Europe? And what about the AUM's plans to refurbish the Knight's building at Dock 1 when the Knights of Malta are an integral part of Malta's heritage? 
Perhaps you don't remember, Owen, so let me remind you that the Superintendence for Cultural Heritage himself called on the Planning Authority to reject the AUM's application. What kind of heritage do you support?
Oh, yes, it's to benefit our 'senior citizens' who were recently told that their pensions could be threatened without an influx of foreign workers, although whether or not this included 2,500 Turkish workers being paid peanuts Muscat didn't say. 
Owen's party political broadcast via the Malta Independent speaks triumphantly of 'making positive strides forward in the cultural sector', of 'safeguarding' and 'strengthening our local heritage, which forms an intrinsic part of our national identity', and not only 'leaving it as a legacy to our future generations, but…making sure that our rich historical patrimony is enjoyed by all during their lifetime.'
All this for free. And it needs to be because it's in scarce supply. Book now on the Malta Heritage Hotline to avoid disappointment when the tickets, like our culture, have run dry.
And a blessed happy Easter to you, too. Don't choke on the rabbit.